Consumer Snow Machines
Zigmont Magic FX - Effect Specialist® Special Effects Designer Making Special Effects Magic At Your Event
Professional Artificial Snow Machine Rentals or Full Service Hire Nationwide Since 1995
We Offer Over A Dozen Different Professional Artificial Snow Machine Rental Options to Select From and these are our lower performance Consumer series of snow machines for home, churches, local theaters.
The right snow machine makes all the difference and many snow machines look-a-like, but they don't all perform the same as Snowmasters Snow Machine Brand. The machines listed below are Low range - Low output 900 flakes per min or less NON (not) EVAPORATING (meaning foamy wetter snow) Consumer Grade (china/Hong Kong made) 1990 designed brand machines, Don't be fooled by sales hype of others as they will say anything, but you get what you pay for in this world.
We could never get the results we do with any of these listed consumer grade snow machines,these are not the machines as seen in our video demos. Plus these machines do not hold a UL rating and your insurance company will want a UL Listed machine on your property.These are not to be used outdoors in weather or are rain or spash proof. If these consumer machine were any good why wouldn't theme parks, who use hundreds of machines for each park, use them? They don't!
. Your not getting the special effects machines adopted direct from Hollywood Movie Sets and the Standard of Theme Parks if you machines are using these consumer names below, as these are the license standard 1990 (electrical parts) consumer brands machines;

Warning Not Professional Machines, you won't find these at Disney!~
Best for Home, Stores Fronts, Churches, Schools and Local Theater. Consumers snow machines are to be kept dry, they are for indoor use, not designed for outdoors, the machine is not water or even splash proof. Moisture, water, rain, snow fluid gets inside the housing unplug or risk damage... This is not a water proof outside snow machine and snow is aerated at particle too great to make realistic looking snow.
Consumer Snow Machines
(1) Consumer Machine Rental is the Little Blizzard or DMX/SP;
The Little Blizzard® SP/DMX Consumer Industry Standard

CITC Little Blizzard Snow Machine is like a Hybrid, Half Professional model Half Consumer Model.
The CITC little blizzard 3000 flakes per min snow machine is similar to a older professional model with very little flake control and make larger flakes. Plus you can't get a high volume or long range of snow produced as compared to the Snowmasters brand. Even with their blower modification. It appears that the sound proofing restricts air flow for making the machine quieter. I have used and owned Little Blizzards from 2001 and this is from my history and use of these units. Recommend for churches, Schools, private events.
(2) A Consumer Machine Rental is Le Maitre Arctic Snow Machine

A good consumer snow machine design for indoor snow. Recommend for churches, Schools and local theater. As good as the CITC for half the price. Has the same 1990's nozzle, pump and board in a modern appearance and with better air intake vents and sprays 19 feet. Recommend for Churches, Schools and local theater.
Make sure you're comparing machines and fluid equally. Apples to apples so to speak, top professional machine to consumer machines is not comparing equally.
Evaporating snow fluid or snow juice that evaporates after floating for 30 feet, Making a superior looking flake with the smaller 1/6 -1/8 - 1/4 sizes. Dry and fluffy! No-slip formula. Disney Tested. Not harmful to plants, skin or eyes. An extremely dry flakes after its floats over long distances. Our Evaporating Snow fluid is timely as it drys out in time instead of feet, 30 - 90 seconds. The water content evaporates leaving a beautiful falling flake that is dry when you touch it and disappears on contact without residue or mess.
(3) A Consumer Machine Rental is Chauvet Snow Machine Antari Lighting SW-250X 600W Snow Machine

A good consumer snow machine design for indoor snow. Recommend for Churches, DJ's, Schools and local theater.
(4) A Consumer Machine Rental is True North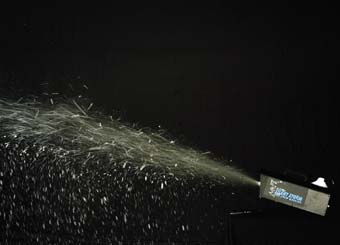 Consumer machines include these brands below - Chauvet - Flurry - Silent Storm - True North - Antari - OmniSistem they all spray foam which is tiny bubbles but these are 1990's technology do a wetter, less volume, larger flake londer snow.

(5) Our Third Consumer Snow Machine is Called Snow The Amazing Snowman 2012- 14;
The Amazing Snowman 2012- 14 Model consumer snow machines for sale noot rent.

At 40 Inches its a large snowman, weighing 26 pounds. Great for entrances, outside doorways,near holiday decor. Fabric covered Polypropylene Structure and rugged snow blower.




(6) Our Fourth Consumer Snow Machine is Called Snow In The Box
Snow In the box 2010 Model


The Inflatable Snowman / Snow-in-a-Box

Designed for the ultimate decorator. This five foot inflatable hides the snow machine inside the bag the snowman is holding. The snow machine is called "Snow-in-a-box". It can be used without the snowman. Very portable. The snow machines can produce snow up to 20 feet and can cover a large area. This is the ultimate yard snow machine. It can also be used on a float or in a stage production. Uses SFC-1 snow concentrate and can produce snow up to 4 hours on one gallon. Not designed for professional use. Included with the unit are stakes to hold the snowman in the ground, a blower motor for inflation, and four 4-ounce containers of SFC-1C. Each SFC-1C ounce bottle mixes with one gallon of water. Assembled here in the United States with a one-year limited warranty.
Snow in a Box shown below
The Results is Snow That Looks as Real as Mother Nature.