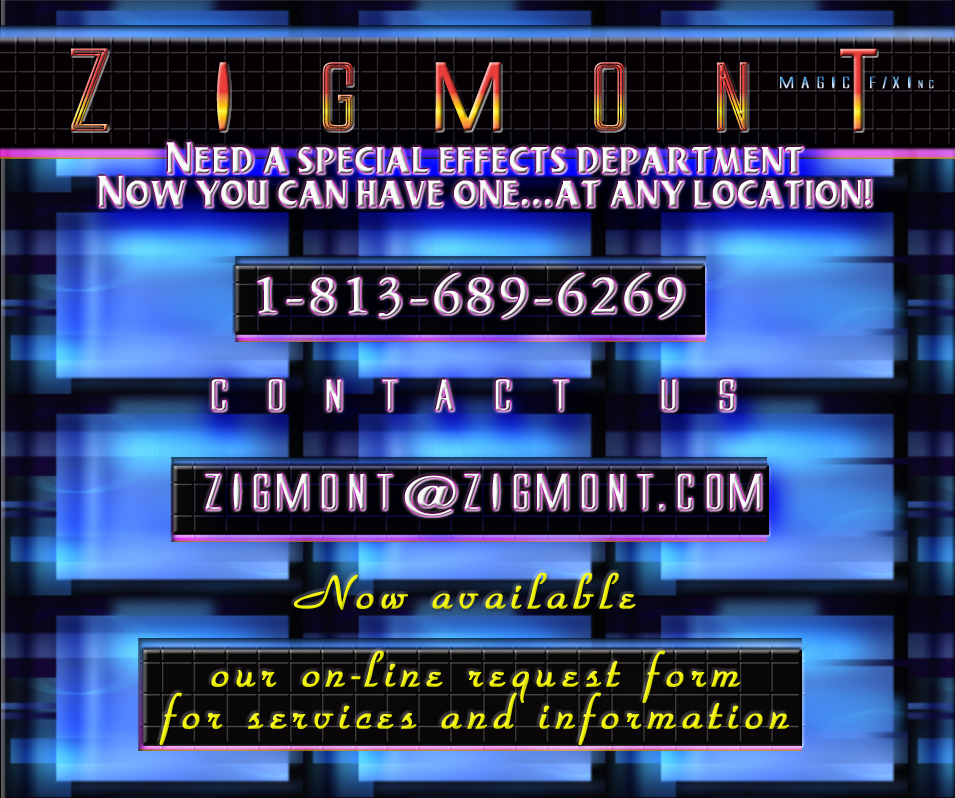 Zigmont is a Certified Effects Professional, Special Effects Company Effect Specialist®
Working under tight deadlines, limited budgets and getting it right when it counts is our specialty.
To contact us Call 813.689.6269
E- mail us zigmont@effectspecialist.com

References and Written Recommendations
We worked with some of the biggest names and provided special effects for some of the biggest events in the country;
NASCAR Budweiser Shootout Champions... CSE... FOX TV... NBA- DL... NFL... Orange Bowl National Championship ABC TV... Warner Brothers & Director Robert Zemeckis Polar Express Premiere... David A. Siegel Westgate Resorts... IBM Corporation... Summer Bay Time Share Resorts.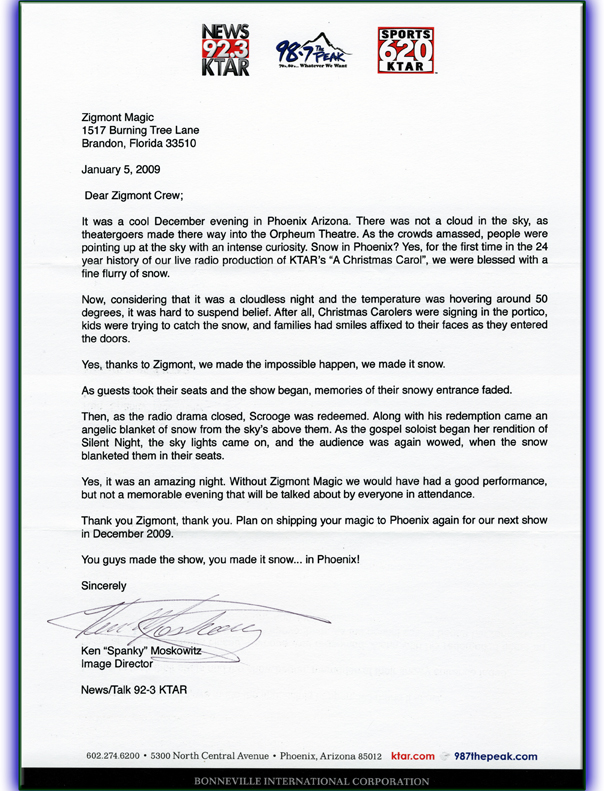 ---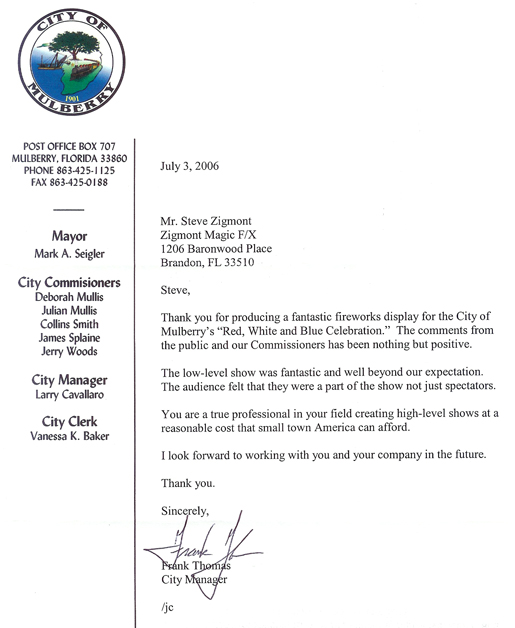 ---
GlenLakes Country Club Florida 2006
Steve & Lisa
Thank You, Thank You, for making our first 3rd of July a success!!! Please reserve the 3rd of July, 2007 for GlenLakes. From ther manager David Craighead himself, who lives across from the lake said " that was the best GlenLakes ever had." Everyone is still talking about how great everything was, especiall\y the fireworks.
Thanks again, Call me
Roseann Latoria
GlenLakes Country Club
10485 GlenLakes Blvd.
Weeki Wachee, Florida 34613
352-597-9200
rlatoria@tampabay.rr.com
---
City of Mulberry Florida
"The crowd loved the low level display and reacted better than the high aerial displays we had in the past with other companies."
Mulberry Town Counsel
"The best fireworks I seen in a long time, we will have you back next year"
Mulberry Town Commissioner
City of Mulberry Florida 2006
863-425-1125
---
June 30, 2006
The display was awesome, we will have you back next year.
Tonya Gandy
Director of Marketing
Venetian Bay Town & Country Club
New Smyrna Beach
386 423-3852
---
Sub: Boston Scientific Global Sales Meeting 2006
Thank you again for your services! It was a great event and your snow machines made all the difference.
Take care,
Elizabeth Naert
Director of Client Services
Destination Services of Colorado
719 540 2010
---
01/18/06 Omni Orlando Resort at ChampionsGate
Steve,
YOU ROCK. I wish I was able to meet you in person to thank you. This was an Awesome ending to one of the best shows we ever had.
Thanks again!
Ken Geary
Multimedia Specialist
Honeywell Security & Custom Electronics
172 Michael Drive, Syosset, NY 11791
516-921-6704 x1824 Fax: 516-921-1661
ken.geary@honeywell.comThe Miami
---
Hi Steve:
Feb 10, 2006
Just a note of follow up from last evening. The show was fantastic and much appreciated by all of us. One of the heads of the Chinese delegation said with a smile on his face, "There is nothing like fireworks to bring out the five year old child in us all!"
Thank you again. A job well done.
Randall A. Loy, MD
Center for Reproductive Medicine
3435 Pinehurst Avenue
Orlando, Florida 32804
407 740-0909
---
Hi Steve
Sub: Boston Scientific Global Sales Meeting 2006
Thank you again for your services! It was a great event and your snow machines made all the difference.
Take care,
Elizabeth Naert
Director of Client Services
Destination Services of Colorado
719 540 2010
---
The Miami Herald
Posted on Thu, Dec. 15, 2005
MUSEUM OF ART
King Tut exhibit opens to fanfare
The highly anticipated 'Tutankhamun and the Golden Age of Pharaos' opens today at the Museum of Art in Fort Lauderdale
BY ROBERTO SANTIAGO
rsantiago@herald.com
The stairwell descent into King Tut's tomb leads to darkened rooms that showcase, among other things, a holographic image of the young ruler's golden casket. The layers slowly peel off, until a stunning sight is revealed: the image of gruesome, mummified remains. With slippers on his withered feet.Getting a feel for what archaeologist Howard Carter first saw when he discovered King Tut's tomb in 1922 is the climax of the two-floor, 11-room exhibit, Tutankhamun and the Golden Age of the Pharaohs, which opens today at the Museum of Art/Fort Lauderdale. At a reception Wednesday night, archaeologist Zahi Hawass, secretary general of Egypt's Supreme Council of Antiquities, told a crowd of VIPs that ``Egypt is the oldest civilization in the world and America is one of the youngest, so we hope this union of art will bring us closer.'' The reception was followed by fireworks that filled the sky over Fort Lauderdale -- a spectacle grand enough for royalty."
For reference; bharris@artsandexhibitions.com or 214.477.0334
Bryan Harris "You guys are Awesome"
---
The John and Mable Ringling
2005 UNGALA GALA
SATURDAY, OCT. 15, 2005
The performance, by Sarasota Ballet dancers, exposed the strength and determination of both sides, but, in the end, good was victorious and fireworks shot through the air in celebration. The sparkling finale jump started the rest of the evening with dancing under the stars in the Courtyard.
---
Please review our most recent feedback letter from a client, keep in mind this was our minimum 2 minute wedding display package.
Oct 20, 2005
Zigmont Magic F/X Inc.
Brandon, FL 33510
Steve,
Susanne and I have just returned from our honeymoon and I cant tell you how many calls and e-mails we got about the firework display at the conclusion of our reception. WOW!!!! Zigmont Magic exceeded all of our expectations.

You and your team proved to be experienced, attentive and very professional.

When we original considered a fireworks display, we had no idea how cost effective and easy you and your team would make it and we certainly had no idea of what kind of impact it would have. We discussed doing something "over the top" and I have to say.........ZIGMONT DID IT!

Thanks a million for making our wedding a once in a life time experience.

We and our guests will never, never, never forget your contribution.


Sincerely,
Joseph M. & Susanne Quirk
800 Ocean Drive
Juno Beach, Fl 33408
617-513-3342
---
We have setup and executed special effects and pyrotechnical displays in the following cities, states and countries:
Major Cities; Boston, New York City, Las Vegas, Long Island New York, Albany New York, Buffalo New York, Los Angles, Washington DC, Philadelphia, Hartford, Montreal, Toronto, Rochester, Buffalo, Detroit, Chicago, Tampa, Orlando, Minneapolis.
US States; Nevada, California, Tennessee, New Jersey, Pennsylvania, Ohio, West Virginia, Kentucky, Indiana, Illinois, Iowa, Wisconsin, Maine, Florida, North & South Carolina, Georgia, Delaware, Vermont, Colorado, Virginia, and Puerto Rico
WORLDWIDE Countries; Finland, Norway, Sweden, Germany, Italy, Austria, Czechoslovakia, France, Belgium, Holland, England, Brazil, Argentina, Mexico, Canada.
---
A More Recent Written Recommedation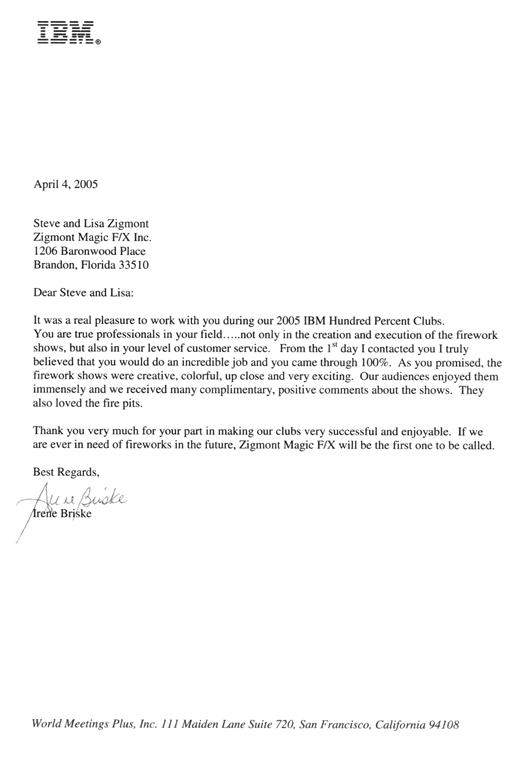 ---
LITTLE ROCK, AR, (NAMC) - The American Taekwondo Association (ATA) World Championships will celebrate the sport of taekwondo's 50-year anniversary with six days of competition, seminars and a spectacular opening ceremony June 14-19 2005 in Little Rock.
Organizers plan for the Fri., June 17 opening ceremonies, scheduled to begin at 8 p.m., to feature the most ambitious and dazzling pyrotechnics show ever presented at ALLTEL Arena.
Zigmont Magic F/X Inc SUPPLIED THE SPECIAL EFFECTS
---
To Whom It May Concern:
We at Andrew College contracted with Steve Zigmont company to perform a 10-minute show at our Homecoming celebration this past year. Steve was very informative and helpful in the weeks leading up to the show. We knew exactly what to do in order to be properly prepared. On the day of the show Mr. Zigmont was prompt on arrival and began set-up on time. The show was more than we had bargained for and the crowd was overwhelmed. I even had a couple of folks come up to me afterwards and say that the show was better than the one they had seen the night before at the Perry Fair. The Perry Fair is a national fair! We were very pleased with his service and the quality of the show and would definitely recommend him for future endeavors.
Sincerely,
John (J.J.) Seman
Director of Alumni Relations
Andrew College
John (J.J.) Seman '97
Assistant to the President
Phone (229) 732-5928
Director of Alumni Relations
Phone (229) 732-5941
Fax (229) 732-5991
www.AndrewCollege.edu
October 2004

---
Summer Bay Resorts VP of Operations Philip T. Demer said after we provided many low Level aerial fireworks show at his home for his private party. "Your fireworks WOWED some of Orlando's most influential business professionals who are well traveled and has seen it all. Your display was the best I ever seen, better than Disney. I will be using Magic F/X for all our events at Summer Bay Resort time share properties. Please have anyone who would like a reference of your work to call me".
"Disney can't compare when it's this closeup, simply an amazing display."
Summer Bay Resorts
Philip Demer
Vice President of Operations
25 Town Center Blvd
Suite C
Clermont, Florida 34711
(353.242.1100 ext 7401)
http://www.summerbayresort.com

November 4, 2004
December 31st 2004
February 19th 2005
June 9th 2005
July 3rd 2005
August 13th 2005
December 31st 2005 "Thank you for the great show on New Years Eve. As usual you were terrific."
Booked for July 4th and December 31(New Years) 2006
---
12/5/02
Good Morning Steve,
The fireworks were beyond any of my expectations. There was no way I could have imagined how beautiful the low level fireworks turned out to be. What an amazing, amazing display. Everyone truly enjoyed the show at my wedding.
Thank You for everything!!
Kimberly Bellestri
Kimberly A. Lichota
925 North Lapeer Road
Oxford, MI 48371
---
"The Best Indoor Snow I've ever seen, very beautiful!! I want to book Magic F/X for a Dreamworks event."
Veteran Hollywood Film Director Robert Zemeckis-
With our presentation of indoor falling snow at for The "Polar Express" 2004 Premiere party at Disney's House Of Blues Orlando Florida.
October 27, 2004