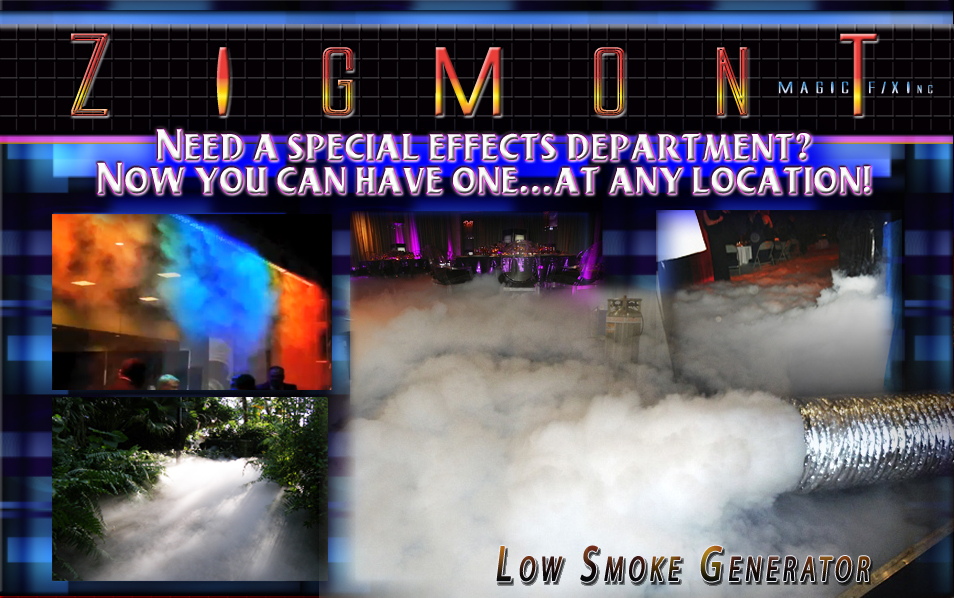 Get the proven Professional Results, when it has to be right you need Effect Specialist™
The NEWEST Cryo Device in years light weight Portable Cryo unit
Cryo Gate Table Top or Floor Model for Low Lying Fog Look Solutions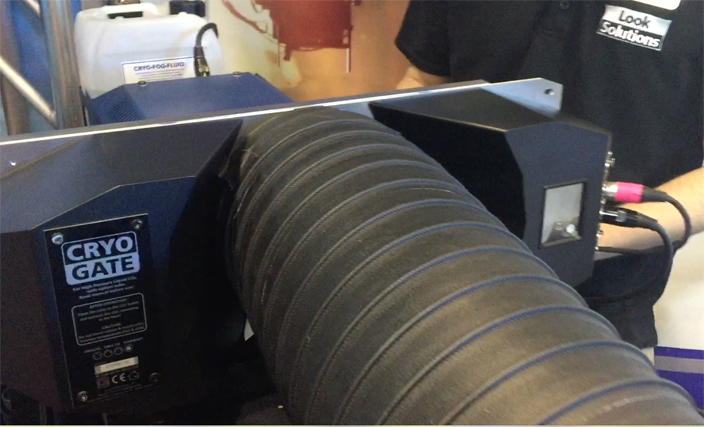 With the ability to shoot long distances because of the use of high preasure co2, powerful smoke machine and the gate feature which alows more air higher flow for faster output speeds and higher fog levels.
Zigmont Magic FX Inc. - Effects Specialist® - Special Effects Designer - We provide the entire spectrum of Special Effects for Events Since 1990 Doing Cryo for 20 years!
The Low Lying Smoke & CRYO Cold Flow Effect Specialist™ zigmont@zigmont.com 813.689.6269 zigmont@effectspecialist.com
This is the answer for churchs, stage shows and stage productions which needs professional results within a budget. The saving is in the shipping and cost of the bigger dewar co2 tanks.
The NEWEST Cryo Device in years
Cryo Gate Table Top or Floor Model for Low Lying Fog Look Solutions Most Broadway shows, movie productions, and theme parks rely on our products to provide consistent performance day after day from Look Solutions Special Effects. Best method for smaller jobs where short durations under 12 min is needed.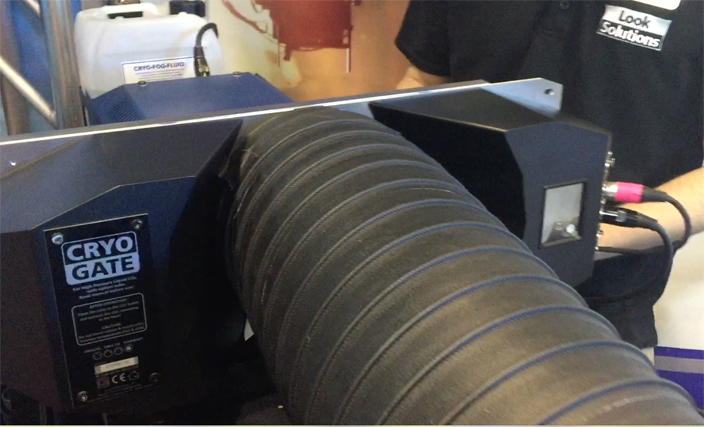 The Cryo Gate is an small 24"W x 8" H x 7" D which is an external CO2 device that can be put in front of any preexisting regular smoke machine. (use a DMX Smoke machine w/1200 watts or higher or rent one from us, the higher the wattage 1200 - 2000 watts the beter results) It uses common high pressure CO2 to create a low-lying fog from the output of any professional fog machine, when an appropriate fog fluid is used. Can comes with an 8 inch 20 ft Black Hose. Can run analog with the following Protocols; preset panel, DMX, Ethernet, sACN Universes and IP Config.
We use 20 pound co2 tanks which can be T together for longer run times or larger bottle used. Smoke flow for continuous flow should be 50% volume or less. You can burst smoke for under 40 seconds. Cryo Gate runs the smoke machine.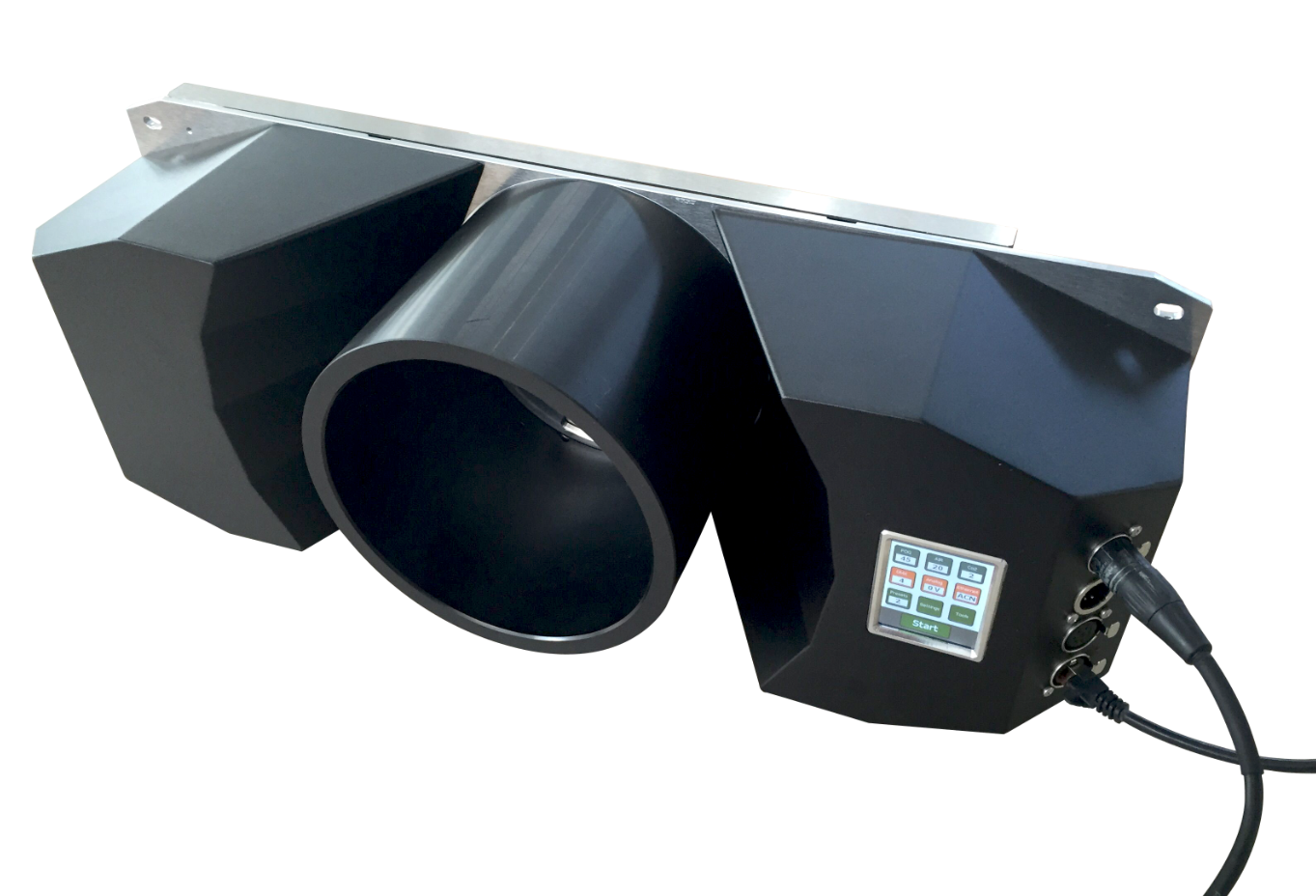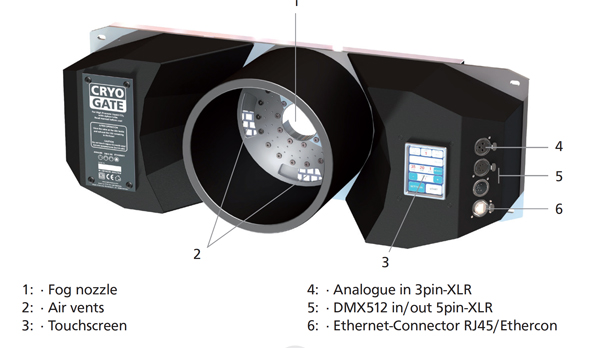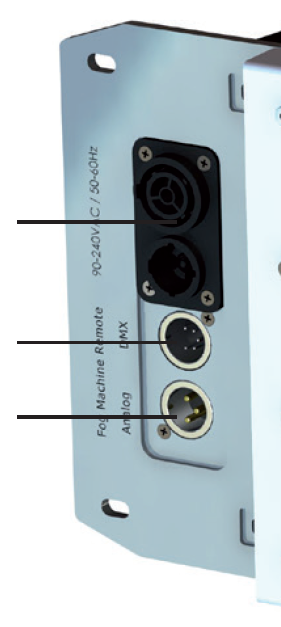 Cryo gate is small and can be used with you DMX smoke machine., uses light weight and cheaper cost 20 pound bottles of co2 which lasts 5 min with a 20 pound bottle and 50 pound tank for 12 minutes and tanks can be T together and daisy chained bottles hoses. CryoGate Uses and runs 3 DMX Channels for DMX operation and has 3 preset for analog panel operation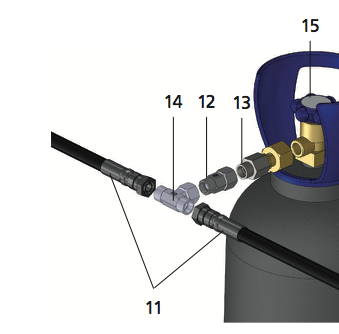 T- Unions can connect several bottles
The 3 DMX channels are as follows;
Ch 1 smoke pump and volume control through the 2 inch opening the smoke machine needs to be 1/2 to 3/4 of an inch from the rear hole align centered.
Ch 2 is the gate which is an electric control series of curved panels which open and close allow air to flow into the mix like a venturi flow allowing the fog to raise and more air allows higher output speed. The gate along which the high pressure co2 can allow fog to flow up to 60 foot x 40 foot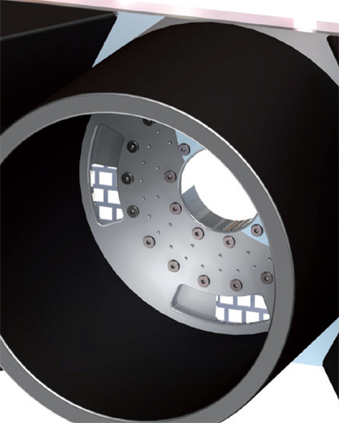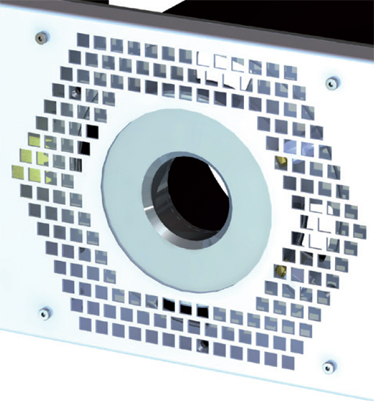 See above The air can be adjusted with electronic shutters which act as a venturi.
The Ch 3 controls the Co2 flow as the need for more smoke comes the need for more co2. Low co2 flow makes 4 inches high low fog in 1 min., med co2 flow makes 6 inched high fog in 1 min., high flow of co2 makes 8" of fog height fog in 30 sec..
On the preset
The DMX co2 flow usage. The menu tells you how much co2 was used. A tank is 18KG and how high the fog will be from 10 CM - 20 CM which is from 4"- 8" off the ground. More air pushes the fog out further but rasises the effect. The high wattage smoke machines is the driving force of the smoke. The 10 foot hose is like an accumlator and helps to cool off the effect.

You can preset your own settings as well.
On the preset non DMX control Analog mode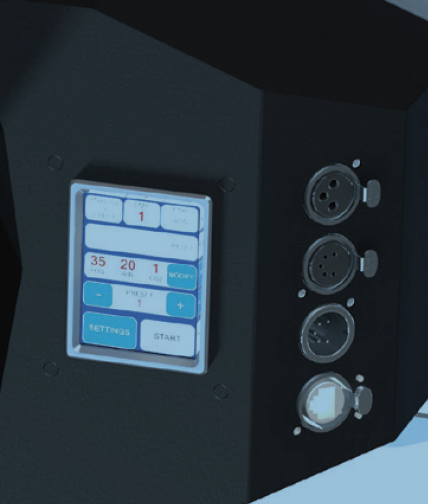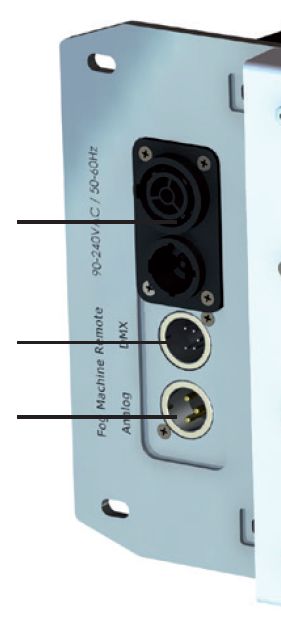 Front panel has menu and DMX 3 pin in andDMX 5 pin in/out , reat remote in and smoke machine DMX out for smoke machine.

The simple analog menu, we can add a DMX controller
The video shows the cryo Gate on a table top for easy access to use.
The CryoGate is an external CO2 device that can be put in front of any preexisting regular smoke machine. It uses common high pressure CO2 to create a low-lying fog from the output of any professional fog machine, when an appropriate fog fluid is used.
In General
Cryo Fog requires a dewar of Liquid CO2, which is typically 180 liters and weighs 600-700 lbs. Two common supply chains are Airgas and Praxair. The cost is usually around-$200 - 300.00, including delivery, pickup, Gas and tank rental. This will provide 90 minutes of fog at maximum output, and 3 hours of fog at typical output for cryo fog and 45 minutes maximum on the LSG and 90 inches at typical output.
The supplier may ask if they can substitute a high pressure tank with a siphon tube, and the answer is no. Cryo Fog requires 300 psi and the high pressure tanks are 1,000 psi. The supplier may ask if they can put a Regulator on the high pressure tank to reduce the pressure to 300 psi, and the answer again is no. Cryo Fog requires liquid CO2 and when liquid goes through a Regulator it partially changes to gas.
Upon delivery, you should ask the supplier to place the dewar in the location where you will be using it. It's very difficult to move the dewar later, without the proper cart. It should be located as close to the CryoFog as possible in order to prevent liquid CO2 from turning to gas in the connector hose, which causes a significant delay every time you want to make fog. The LSG can be 300 ft away.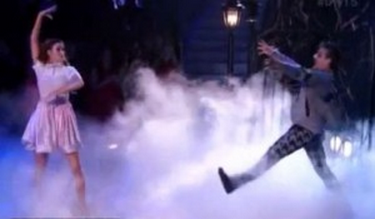 Remember when people walk/dance thru or the theatrical lighting that gives off heat is on the floor, that will Hinder the low crawling fog effect and make the fog raise and twirl the fog up.
The dewar has a "pressure-builder" on it which can adjust the pressure up to 350 psi. 300 - 325 psi is a good level to use with the Cryo Fog. Open the pressure-builder when you want to increase the pressure in the dewar. Please note that it takes several hours for the pressure to rise.
The dewar has both Gas and Liquid outlets. Be sure to connect the hose from the Cryo Fog to the Liquid outlet. When you're not using the fogger, you should close the main valve on the top of the dewar. Then you should run the smoke machine for a few seconds, to exhaust the CO2 from the connector hose.
Smoke Fluid
SAFE FOR USE ON "LIVE STAGE PERFORMANCES" – This product has been included in the "Equipment Based Guidelines For the Use of Theatrical Smoke and Haze" that has been prepared with the support of Equity-League Pension and Health Trust Funds, ESTA, et al.
To view the Calibration Factors for Monitoring Theatrical Smoke, Fog and Haze
Guidelines for the Use of Theatrical Smoke and Haze, prepared by ENVIRON
International Corporation for the Equity-League Pension and Health Trust Funds, June 8, 2001.
In the United States, the current, widely recognized guidance levels for maximum exposure to actors of fogs, smoke effects, hazes, and other atmospheric effects using glycol, glycerol, and mineral oil
faster dissipation . This thick, clean, white fog is an optimal solution for a dense low-lying fog effect when chilled with the LSG
ENVIRON has developed a protocol use of safe smoke effects
MATERIAL SAFETY DATA SHEET Molecular Fog Fluid
Material Safety Data Sheet: Liquid CO2
Why ENVIRON?
ENVIRON has conducted smoke and haze testing at numerous productions, including:
Beauty and the Beast Miss Saigon
Cats The Phantom of the Opera
Chicago Ragtime
Jekyll & Hyde Rent
Les Miserables Smokey Joe's Cafe
The Life The Sound of Music
The Lion King Titanic
Mamma Mia! Wicked
Spamalot Joseph and the Amazing Technicolor Dreamcoat
We have worked with smoke and haze equipment from a wide range of manufacturers, including:
CITC, MDG Fog Generators, LSG,
High End Systems Reel EFX
Le Maitre Special Effects Rosco Laboratories
Look Solutions/Theatre Effects SFX
Martin Professional/Jem Smoke Factory
Because we collected the original exposure measurements on which the guidance levels are based and developed the air sampling protocol recommended by Equity for theatrical smoke and haze testing, we are uniquely qualified to provide testing services and documentation that would be responsive to any inquiries made by your cast or Equity.

THEATRICAL SMOKE, FOG, AND HAZE TESTING
Call Magic F/X 813.689.6269 for special effects

Warning
Do not attempt to recreate any FX effects seen on this site. We are professional and only experienced and legally approved over 21 can provide these services. Attempting to use propane with our the safety devices that are built in to our gear as well as firing pyrotechnics devices without training is dangerous. C02 can be very dangerous if your not a Certified effect specialist.
Effectspecialist.com provides pyrotechnics displays and propane flames presentations with full services nationwide We operate in North America United States we can service you in the follow cities with speedy services in;
Special effects for Entertainment Venues and clubs, snow machines Service in Alabama; Anniston, Birmingham, Dothan, Huntsville, Mobile, Montgomery, Tuscaloosa
High Range - High Volume Artificial or Fake Snow Flake Machines Service in Arizona; Flagstaff, Phoenix, Tucson, Yuma
Propane flames Service in Arkansas; Eureka Springs, Fayetteville, Fort Smith, Jonesboro, Little Rock, Monroe
Snow machines from flurries to a beautiful full blown Snowstorm Blizzard , cryo co2 and ground fog Service in California; Anaheim, Antelope Valley, Antioch, Bakersfield, Burbank, Chico, Eureka, Fresno, Hollywood, Huntington Beach, Inland Empire, Lake Tahoe, Livermore Valley, Long Beach, Los Angeles, Medford, Monterey, Napa Valley, Oakland, Orange County, Palm Springs, Pasadena, Sacramento, San Diego, San Francisco, San Jose, Santa Barbara, Santa Monica, Temecula, Ventura County, Yuma
Theatrical FX and indoor pyrotechnics displays Service in Colorado: Aurora, Boulder, Colorado Springs, Denver, Fort Collins, Grand Junction, Vail,
Special effects Service in Connecticut, Danbury, Hartford, New Haven, Stamford
LSG, Fake snow machines gas FX flames Service in DC; District of Columbia
Low-level Displays Super Bowl Style Pyro and cryo Service in Delaware; Dover, Georgetown, Wilmington
special effect fake snow machines, foam machine, LSG cold flow fog, pyrotechnics, fireworks and Propane dragonfly flames Service in Florida; Boca Raton, Daytona, Florida Keys, Fort Lauderdale, Fort Myers, Fort Pierce, Gainesville, Jacksonville, Marco Island, Melbourne, Miami, Ocala, Orlando, Panama City, Pensacola, Sarasota, Tallahassee, Tampa Bay, West Palm Beach
Fireworks fix Pyrotechnic al, fake snow machines Service in Georgia; Albany Athens, Atlanta, Augusta, Columbus, Golden Isles, Macon, Savannah
Special effects Co2 outdoor snowfall machines Service in Hawaii; Hawaii Island, Honolulu, Kauai Island Lana Island, Maui, Molokai Island
foam machine rental Service for Idaho; Boise-Pocatello, Coeur D Ale ne, Idaho Falls, Lewiston, Sand point, Twin Falls
Pyrotechnics and flames Service in Illinois; Bloomington, Champaign, Chicago, Davenport, Evanston, MT. Vernon, Oak Lawn, Peoria, Quincy, Rockford, Springfield, Wheaton
FX fire and pyrotechnics table top verbs Services Indiana; Evansville, Fort Wayne, Hammond, Indianapolis, Lafayette, South Bend, Terre Haute
Evaporating DRY Snow machines, pyrotechnics and flames Service in Iowa ; Cedar Rapids, Davenport, Des Moines, Ottumwa, Quincy, Rochester, Sioux City
Fireworks pyrotechnics, propane flame, snow machines Service in Kansas ; Dodge City, Good land, Great Bend, Kansas City Lawrence, Manhattan, Salina, Topeka, Wichita
Full event services, snow machine FX Kentucky; Ashland, Bowling Green, Elizabeth town, Hopkinsville, Lexington, Louisville, Owensboro, Paducah
Bubbles FX, pyre Service in Louisiana ; Alexandria, Baton Rouge, Lafayette, Lake Charles, Monroe, New Orleans, Shreveport
inside Pyrotechnics or outdoors pyrotechnics displays Service in Maine; Augusta, Bangor, Lewiston, Agincourt, Portland, Presque Isle, York
cryo and snow falling displays Maryland; Annapolis, Baltimore, Columbia, Eastern Shore, Laurel, Montgomery County, Rockville, Salisbury, Southern,Western
Magic FX Service in Massachusetts with low ground fog; Berkshire County, Boston, Cape Cod, Lowell, Springfield, Worcester, Service for Michigan , Ann Arbor, Detroit, Flint, Gaylord, Grand Rapids, Jackson, Kalamazoo, Lansing, Marquette, Port Huron, Saginaw, Saint Clair Shores, Sault Saint Marie, Traverse City, Trusties, Warren,
party foam machines and cryo jets Service in Minnesota; Duluth, Mankato, Minneapolis, Moorhead, Rochester, St.. Cloud, St.. Paul, Twin Cities
Fireworks and pyrotechnics, flame FX, snow machine rentals Service in Mississippi; Biloxi, Greenwood, Hattiesburg, Jackson, Meridian,Service in Missouri . Clinton, Columbia, Jefferson City, Joplin
Flames and propane fire Kansas City; Ottumwa, Paducah, Quincy, Sedalia, Springfield, St.. Joseph, St.. Louis,
Next FX pro technics products used in Servicing in Montana; , Billings, Bozeman, Butte, Glen dive, Great Falls, Helena, Missoula
Fake snow machines, Snow falling events, cryo jets, crawling smoke, consulting Service in California; Anaheim, Antelope Valley, Antioch, Bakersfield, Burbank, Chico, Eureka, Fresno, Hollywood, Huntington Beach, Inland Empire, Lake Tahoe, Livermore Valley Long Beach, Los Angeles, Medford, Monterey, Napa Valley, Oakland, Orange County, Palm Springs, Pasadena, Sacramento, San Diego, San Francisco, San Jose, Santa Barbara, Santa Monica, Tenacula, Ventura County, Yuma
Special effects foam machines , pyre services Nebraska ; Beatrice, Cheyenne, Fremont, Grand Island, Lexington, Lincoln, Norfolk, North Platte, Galilee, Omaha, Scotts Bluff
special effect propane cold flow, Flame effects and indoor pyrotechnics , snow falling Service in Nevada; Lake Tahoe Las Vegas, Reno
Bubbles machines and foam machines Service in New Hampshire; Concord Dartmouth, Lakes Region, Manchester, Monadnock Region, North Woods, Seacoast Region, Southern, White Mountains
Full service special effects for movies and theme parks Service in New Jersey; Atlantic City, Bayonne, Belmar, Bloomfield, Camden, Carteret, Hackensack, Hoboken, Jersey City, Montclair, New Brunswick, Newark, Old Bridge, Paramus, Point Pleasant Seaside Heights, Secaucus, Trenton, Wildwood
Confetti and streamer and Snow Service in New Mexico Albuquerque, Santa Fe
Confetti and streamers special effect, artificial snow lsg cold flow, Service in New York; Albany, Binghamton, Brooklyn, Buffalo, Burlington, Elmira, Hudson Valley, Long Island-Nassau County, Long Island-Suffolk County, Long Island-The Hamptons, Manhattan New York City, NY City, Oneonta, Queens, Rochester, Rockland, Staten Island, Syracuse, Utica, Watertown, Westchester,
Pyrotechnical and fireworks, snow machines Service in North Carolina; Charlotte Durham, Fayetteville, Greensboro Greenville, Raleigh, Rockymount, Western, Wilmington, Winston Salem
special effects Service in North Dakota; Bismarck Dickinson, Fargo, Grand Forks, Jamestown, Minot, Williston
Pyrotechnicians and flame operator Services in Ohio; Akron Cincinnati, Cleveland Columbus Dayton Lima, Toledo, Wheeling, Youngstown, Zanesville
Special effect events, Gale Force Wind FansService in Oklahoma; Oklahoma City, Tulsa, Wichita Falls
FX machines, snow machine rental Services in Oregon; Bend, Eugene, Klamath Falls, Medford, Portland, Salem,Service in
Magic FX pyrotechnics, flame FX Special effect rentals Pennsylvania , Allentown, Erie, Harrisburg, Johnstown, Philadelphia, Pittsburgh, Poconos, State College, Wilkes Barre, York
Cryogenic Venturi Smoke Effects FX services in Rhode Island; Newport, Providence
snow displays Services in South Carolina ;artificial indoor snow Charleston, Columbia, Florence, Greenville, Hilton Head, Myrtle Beach, Rock Hill
Aerotechnics Confetti & Streamers, Foam machine Service in South Dakota; Rapid City, Sioux City, Sioux Falls
snowmastesr snow machines, propane flames, Licensed flames pyrotechnics operatorService in Tennessee; Chattanooga, Jackson, Knoxville, Memphis, Nashville, Tri Cities
Pyrotechnics and Gas Flames operators, lsg cold flow, Motorized Spinning gerbs snow machines, Licensed flames pyrotechnics operato services for Texas ; Abilene, Amarillo, Austin, Bay City, Beaumont, Corpus Christi, Dallas, El Paso, Fort Worth, Galveston, Harlingen, Houston, Laredo, Lubbock, Odessa, San Angelo, San Antonio, Texarkana, Tyler, Victoria, Waco, Wichita Falls
FX consulting Service in Utah; Provo, Salt Lake City
indoor snowfall machines Service in Vermont; Burlington, Manchester, Middlebury
Pyro and flame Services in Virginia; Charlottesville, Fairfax, Fredericksburg, Hampton, Harrisonburg, Manassas, Norfolk, Northern, Richmond, Roanoke, Vienna
special effect machines and pyrotechnics and fireworks Service in Washington; Olympia, Seattle, Spokane, Tacoma, Vancouver, Wenatchee, Yakima
Confetti and bubble machines Service in West Virginia; Beckley, Charleston, Clarksburg, Huntington, Parkersburg, Wheeling
Smoke FX for corporate events Service in Wisconsin; Appleton, Ashland, Eau Claire, Green Bay, Janesville, Madison, Milwaukee, Oshkosh, Prairie du Chien, Racine, Rhinelander, Superior, Waukesha, Wausau
Theatrical effects and pyrotechnic Service in Wyoming; Casper, Cheyenne, Gillette, Jackson Hole, Rock Springs