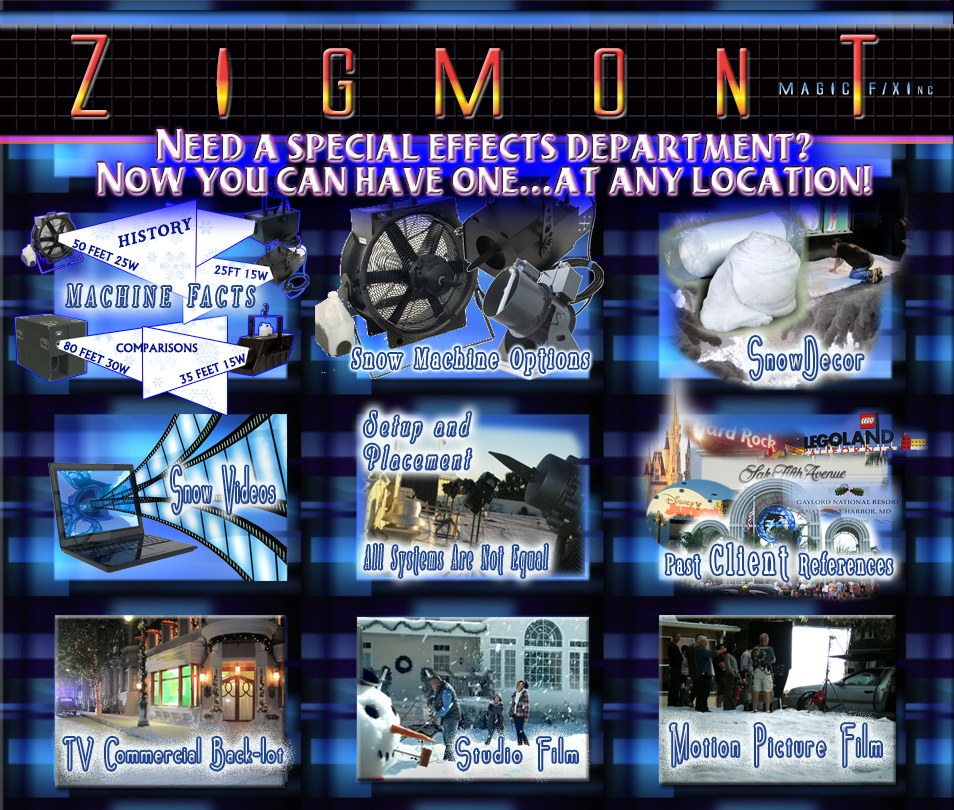 Your Source For Hollywood Movie Quality Snow in Florida
Call and talk to us 813 689 6269 or zigmont@effectspecialist.com
Mega Power Snow Machines Designed for Professional Effect Specialists working in Live Entertainment, Recreation Events, Television. TV Films and Cinema Studio Movies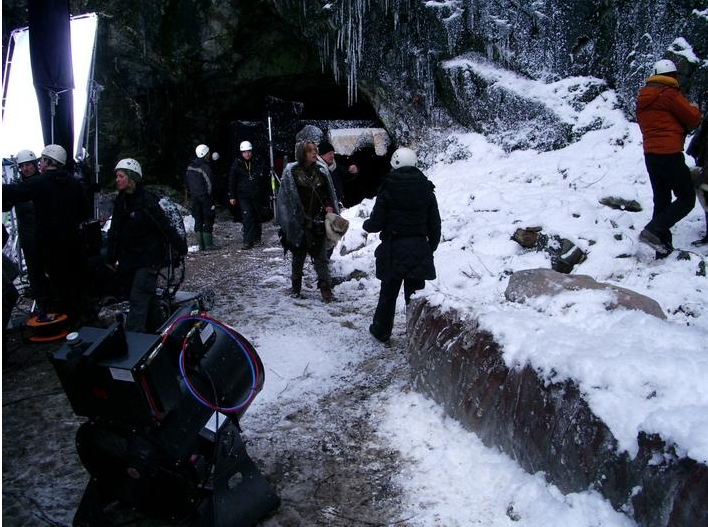 Designed for our professional effect specialists and will be used as a service for hire this 2010 season, the new (Roof/Ground) Blizzard Snow Cannon put the blizzard coverage exactly were you want it. This largest special effect snow generator with 6 times the volume output of the T-1500 max and the longer distance's than the T 1500 Max. The Snow Cannon Blows 68 ft. with the a powerful 20 inch 2HP fan which blows 47 MPH @ 8652 CFM which is double the CMF of the T-1500. The Snow Cannon is a 1.5 Horse power blower. The Blizzard Snow Cannon snow machine is a 150,000 flakes per min unit. A T-1000 has the out put of 15,000 Flakes per minute, a T-1600 has 12,000 flakes per min, a T-1500 Mini 20,000 per min and T-1500 Max is 25,000 per min and a T-1100 is 8,000 per min where as a consumer brand machine a non snowmasters label is 1200 flakes per min or less. The dry foam snow fluid slowly melts away contact with any surface.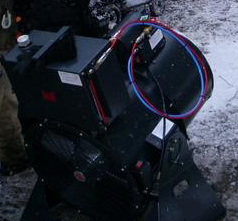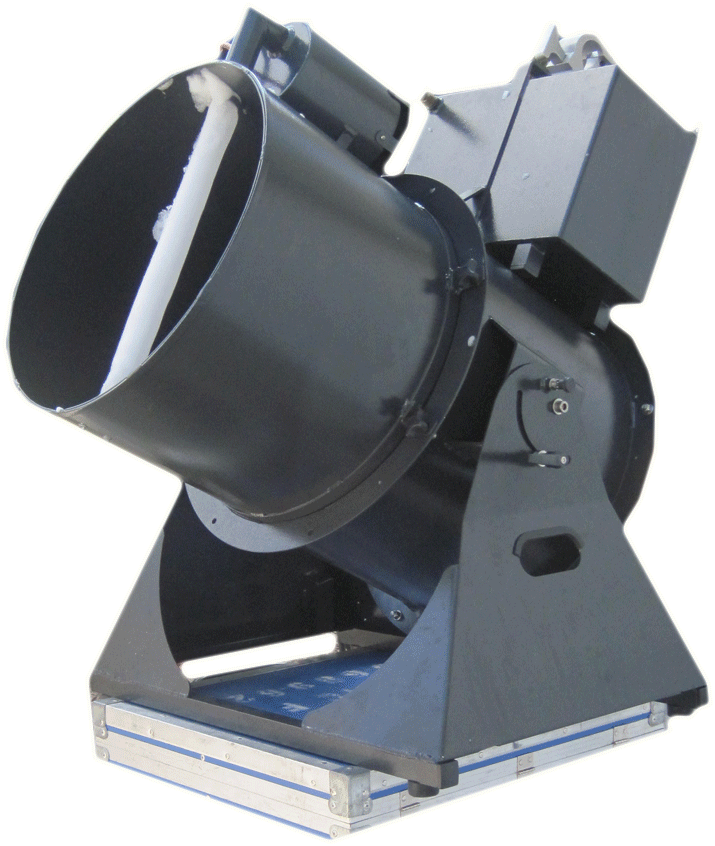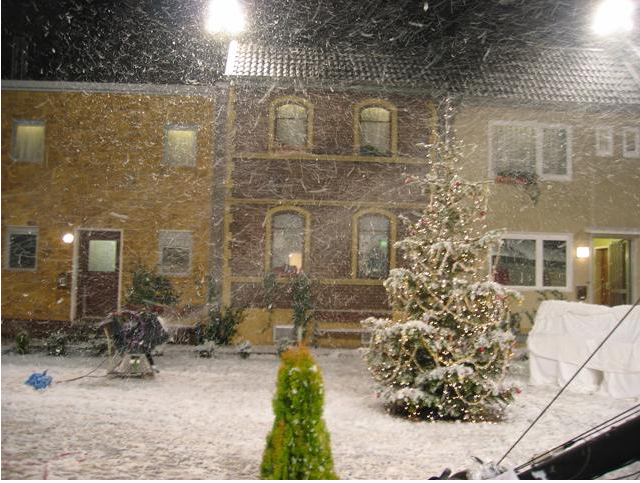 The Blizzard Snow Cannon in Action.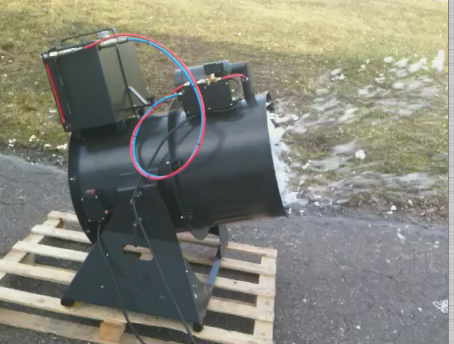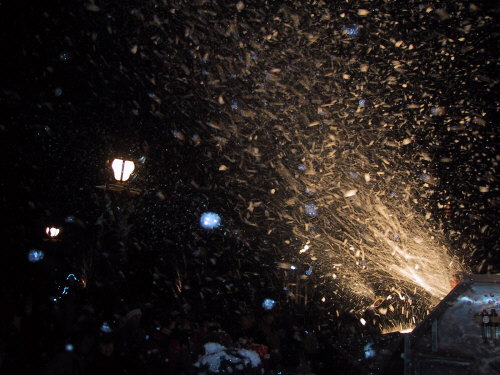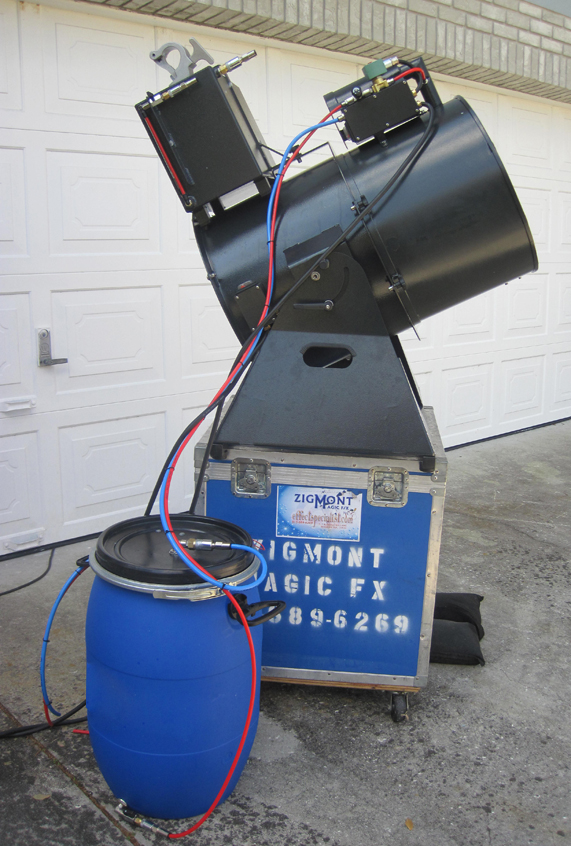 When huge amount of snow is needed on demand with minimum gear, the Blizzard snow cannon is the answer. These machines use a lot of fluid, the Blizzard Snow Cannon machine consumes 7 Gallons of Snow fluid every 30 minutes, with a 16 gallon external tank the snow will last 72 minutes. Noise is 91Db indoor and 81 dB outdoor (low level noise that is easily masked by wind or street activity) and fluid consumption rate of fluid is 16 for 72 minutes of operation. This one machine is like more than ten T-1000's which would use 10 gals of fluid. The Snow cannon make smaller and larger snow flakes.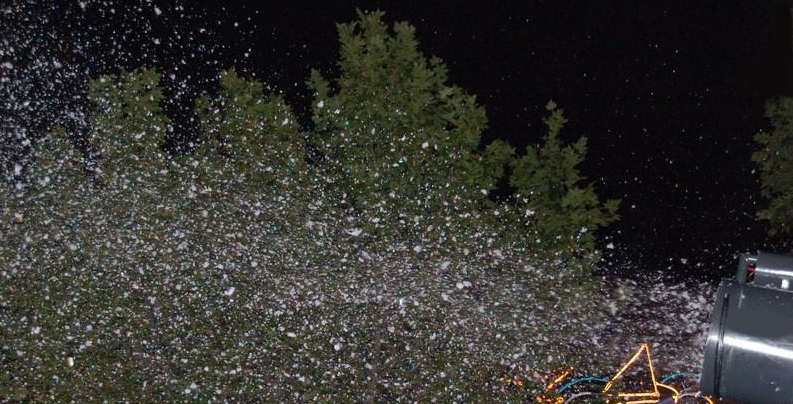 The Blizzard Snow Cannon produces a huge amount of fake snow which is a wetter flocking like snow. These units are used at Disneyland Hong Kong. Below is a instant blizzard.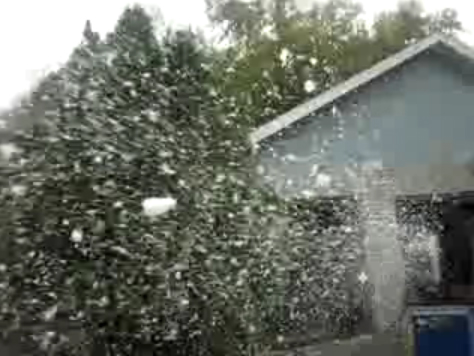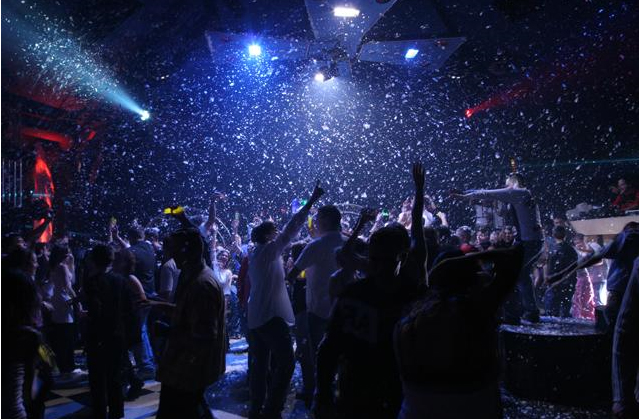 Look at that output! Instant Blizzard.
Mega Snow Cannon
Effectspecialist.com is offering The Single most Powerful and Largest Snow Machine in the industry, that has the Largest Snow BLOWING POWER Ever Seen.
The Machine is a huge 5' x 3' in size which makes the Worlds Largest Snow Machine Spraying snow far and wide. The snow is not a totally dry evaporate snow, but more of a flocking snow that allow's snow in the air as well as the snow to cover on the ground.
For Evaporative dry show to evaporate and disappearing in 30 - 90 seconds we have an entire different line of dry snow machines
The Mega Snow Cannon Spray Large Volumes Snow that reaches 128 feet and is 48 feet wide, that would take over 20 of our dry snow machines to match the output.
A Mix Between A Foam Flocker Machine and A Snow Machine for Movies Productions that have the need to cover large areas in a limited time frame.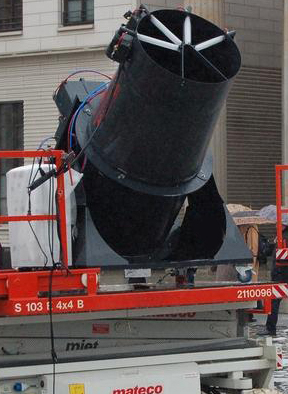 The outstanding power of this Huge output of Snow creates enormous special effects with a 22000 Watts fan engine which is a 3 foot Fan Diameter, blowing @ over 80 MPH/140 Km of wind.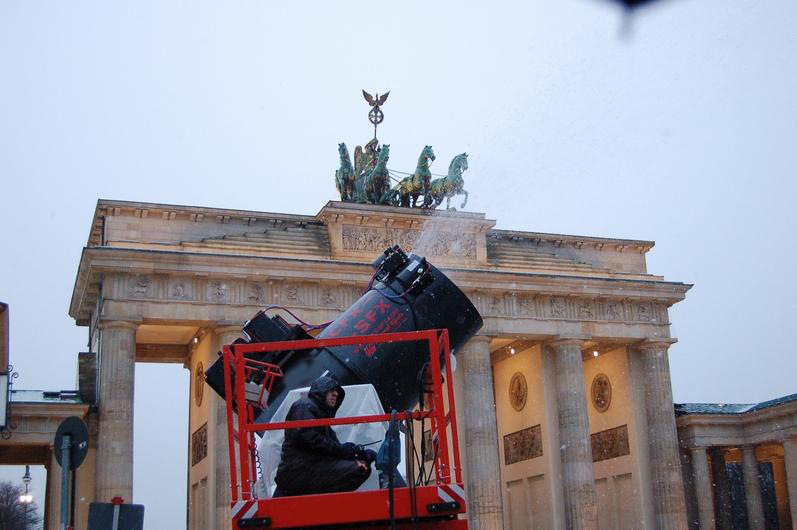 Spraying 600,000 of cluster of bubbles per minute and sprays across 128 feet and 48 feet wide with one machine.
We can provide one machine that can reach great distances allows easy logistics of shooting point and offers a wide frame.
The snow on the ground and snow is the air produced at the same time same machine.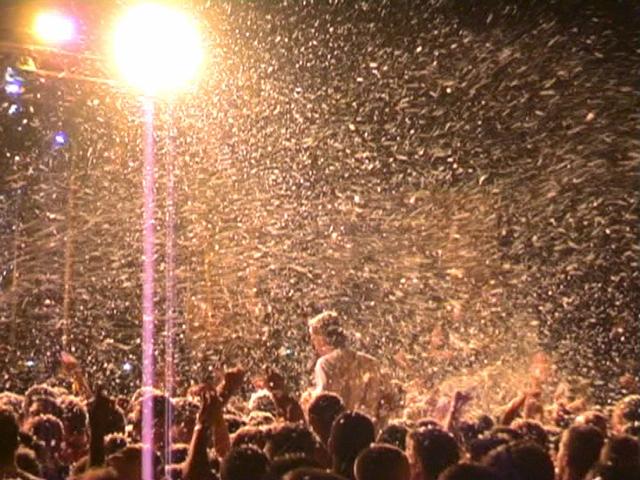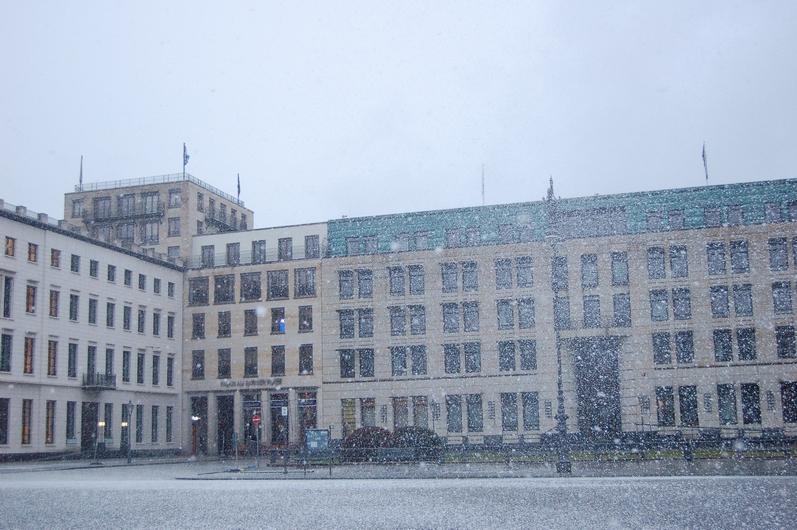 Call us for details 813 689 6269
The mega deleivery technology of blowing snow above with the Blizzard Snow Cannon goes back to the original old hollywood methods seen below. Our above machines are the state of art 2010 methods.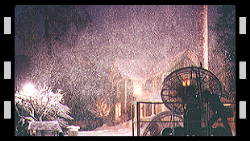 The Large Effects Fan with a foam machine attachment in front of the fan produces snow. This is a machine like the jetex below or a flocking system. The fan breaks up the foam bubbles clusters making fake snow. It made good looking falling snow. This is what our Snow Blizzard Cannon (above) snow machines effect produces. Warnerbros Studios had this Snofoam© & Snofoam© Generators.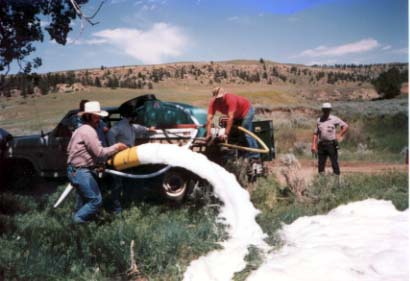 Jetex Foam
Warnerbros Studios Props has this Snofoam© & Snofoam© Generators to produce snow.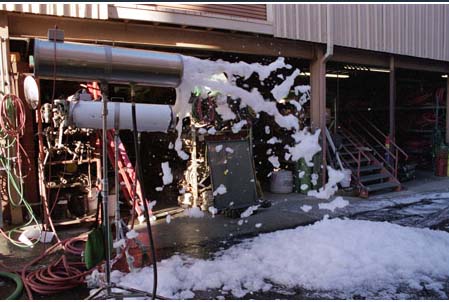 We have a better model of Snow foam machines can produce 6,000 to 8,000 cubic ft of foam in 8 to 10 minutes
Fills a 20 to 40 ft area with foam 5 feet deep! 24,000 sq feet in 40 minutes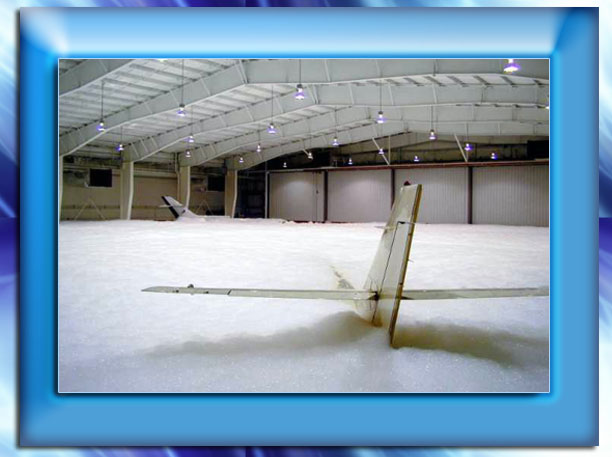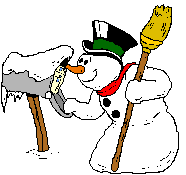 Please see side Menu for all Pages
Systems are Not Equal - Ever Wonder Why/Facts about Snow - Snow Option- Choices - Snow Clients
Magic F/X specializing in Hollywood Movie snow shows, Fake snow shows, artificial snow machines for snowfall events - full service production of simulated realistic snow falling events and indoor blowing, snow machines, snow machine that produces snowfall simulation for theatrical and visual effects , snowmaker, snowmasters, snow maker, Snow Machine Generators.
snow machine, artificial snowflakes, snowflake, snow machine, snow making machine, snowmasters display, snow, making snow, snow manufacturer, snow products, snow system, magic fx snow system, artificial snow,flakes,snowflakes,fake snow, fake snowflakes, plastic snow, holiday window displays, theatrical snow machine, snow simulation, snowfall simulation, snow machine snow maker snow machine for indoor snow shows