Tsunami Water Screens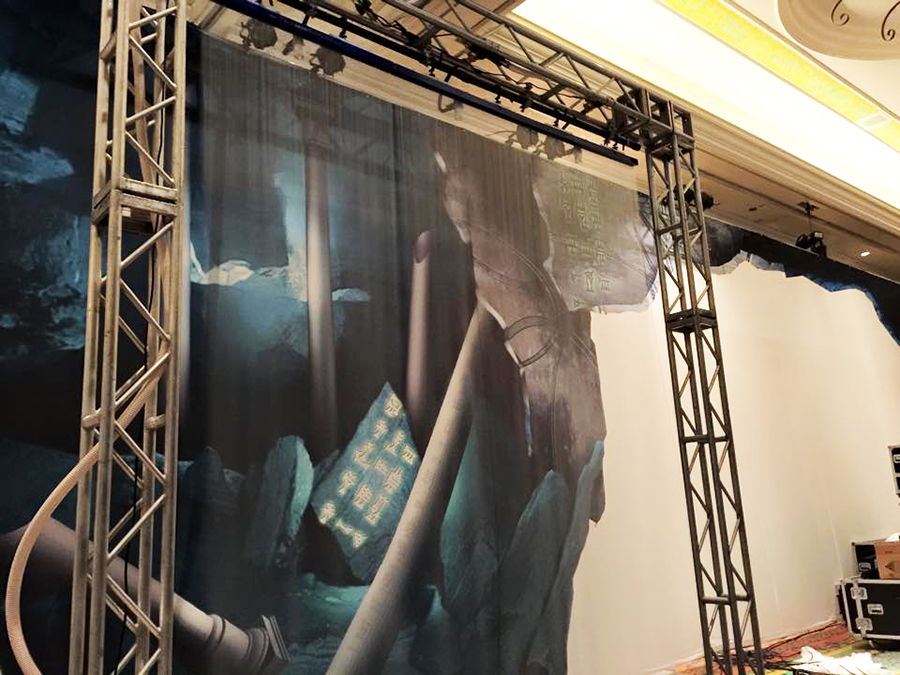 Frequently Asked Questions FAQ's:
Q: How does a Tsunami Water Screen work?
A: It's a video waterfall! The Tsunami Water Screen uses specially designed nozzles to generate a falling matrix of tiny water droplets, creating a flowing droplet plane for images to be projected through. This free-flowing wall of water creates a unique and eye-catching surface for imagery. Thee high-resolution water screen are deceptively simple, but require knowledge of fluid dynamics to get it right. Pulling water to height is hard for any pump because it has to create a vacuum sufficient for atmospheric pressure (only~14psi.) . The Tsunami Water Screens invested over a decade in research and development to bring you the best! Rows of tiny holes make the thick water fall with can be projected on.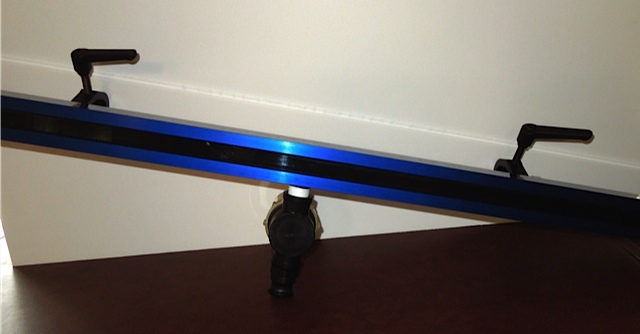 Q: What is the image resolution and quality of the Tsunami Water Screen?
A: The Tsunami Water Screen is the highest-resolution water screen available. Image quality is determined by several factors; such as projection source brightness, viewing/projection angles, water screen droplet density, etc.
Q: Can I front-project onto a water screen?
A: The short answer is no. All water screens are rear-projection due to the unique nature of the screen. A water screen is a refractive-transmissive screen. An image is rear-projected through the screens' free-falling water droplets, refracted and transmitted through to the viewer. The Tsunami Water Screen can be up-lit or down-lit to highlight the screen for an elegant waterfall effect.
Cool Fact: Because imagery is rear-projection only, you can actually project totally different images through opposite sides of the same water screen!
Q: Can I use a water screen both indoors and outdoors?
A: The short answer to both is yes, under proper conditions. All falling water screens are created with water droplets free-falling through space. Because of the fine nature of the droplets produced by a Tsunami Water Screen, it is sensitive to air currents.
Q: How loud is the Tsunami Water Screen?
A: Our Splash & Sound Guard System maintains whisper quiet during operation. 48 DBs
Q: Is wind a factor when using a water screen?
A: Yes, air currents above 5 mph (8kph) may cause the flow of water to fall outside the recycle basin or Dynamic Airflow In the building can affect the curtain.
Fun Fact: Normal indoor air currents cause a slight ripple effect in the falling water. This flowing curtain effect is one reason why water screens are often called a water curtain. You can also use a Tsunami Water Screen as an instantly switchable water curtain for dramatic reveals, just by turning the system On/Off.
Q: Is there any misting when using a water screen?
A: Yes, some of the very small water droplets will float in the air. Air currents will carry these tiny droplets in close proximity to the screen. However, 99.9999%+ of the water falls straight into the recycle basin under normal operating conditions. Also a building air currents or dynamic air, or the ac handler can push the water mist droplets over theand miss the basin.
Q: What is the maximum width/height of a water screen?
A: Width is virtually unlimited. We stock a 12 foot screen. Screen height is generally limited to 25'-30' (8m-9m) for optimal image quality. Note Greater heights create separation in the droplet matrix due to the acceleration of gravity and needs booster pumps
Q: How long does it take to set up?
A: About 2 person/hours per 12' (3.65m) width. Need a lift. Boom arm lift better.
Q: How much does the Tsunami Water Screen weigh?
A: The design of the entire Tsunami Water Screen system to be as lightweight and easy-to-use as possible The full running weight of each 4' (1.2m) nozzle section is just 14 lbs (6.3kg).
Q: Does the Tsunami Water Screen re-use the same water?
A: Yes. Water is pumped from the recycle basin up to the nozzles, then drops back into the basin and is recirculated over-and-over again.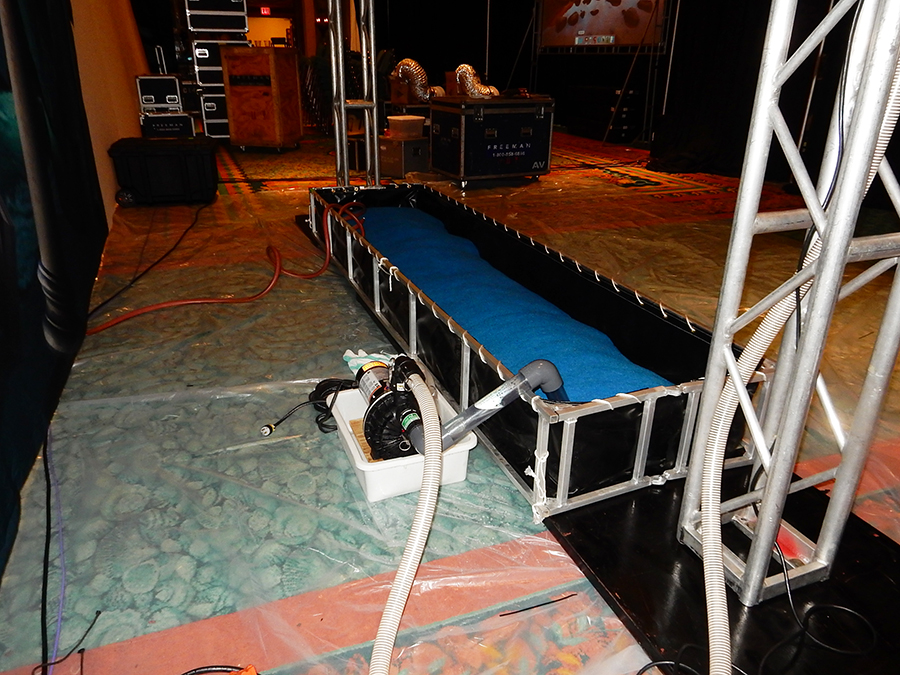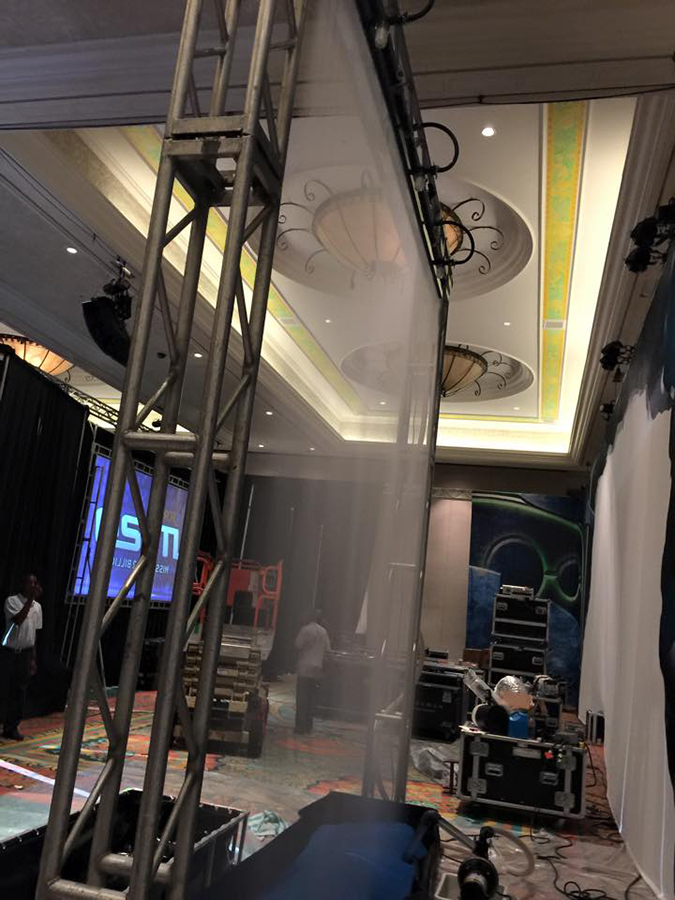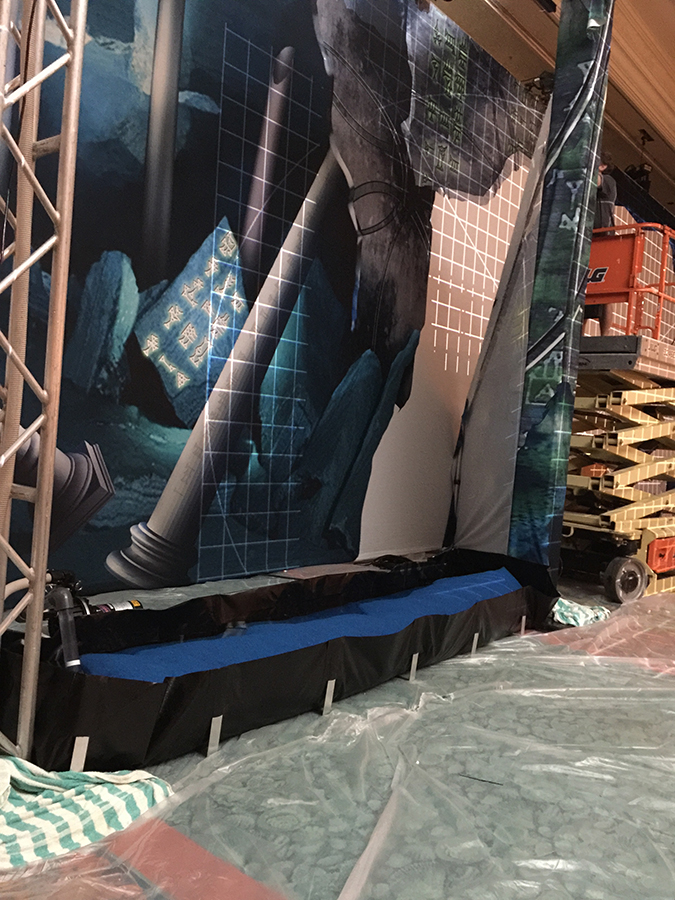 Q: Does the Tsunami Water Screen need a constant water supply?
A: No. Once the recycle basin is filled, water is constantly recycled. The pump is used to help drain the basin after use.Our bain has a steel frame.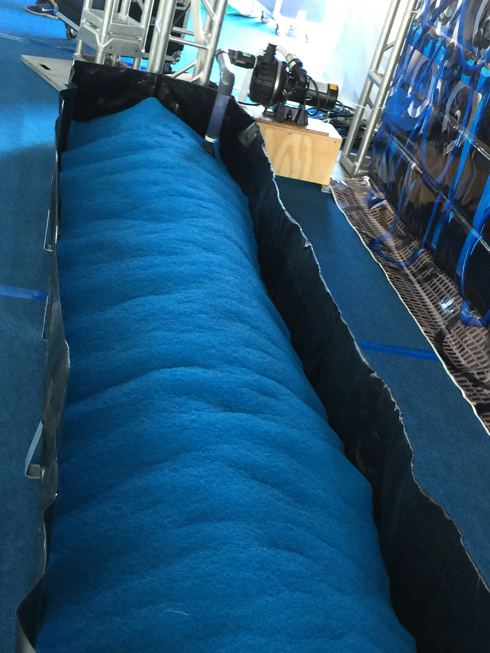 Q: How does the Tsunami Water Screen mount to truss?
A: The Tsunami Water Screen uses a C-clamp on an adjustable mount to accommodate any truss or pipe up to 2" (50mm) in diameter. The Hose goes inside box truss and we wire tie the hose and have special hose holders as well.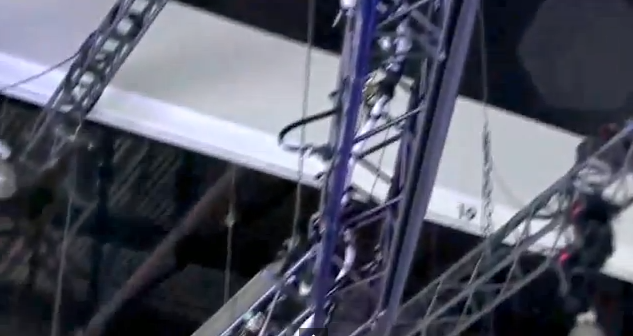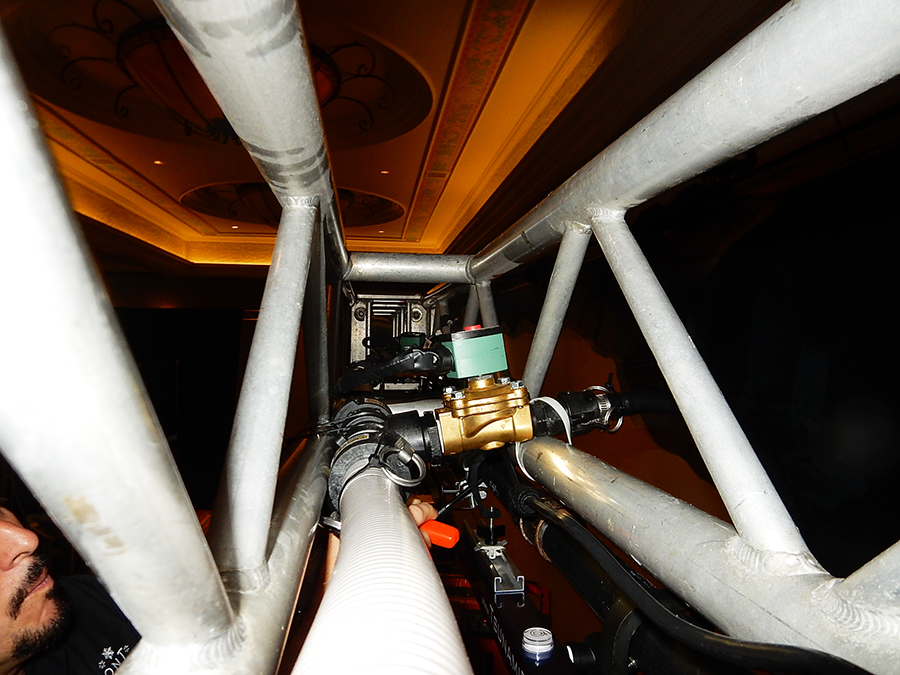 Q: Can I use a water screen against a wall?
A: Yes, but imagery is rear-projection only. You can rear-light the water screen for dramatic waterfall wall effects. We recommend a gap of at least 5' to allow for air currents and lighting.
Power
You can run the pump at 115 Volts on a 20 Amp circuit that is 19.2 volts. The pump comes pre-set for 115 Volts with a 20' cord and lighted power/ground indicating plug. 0- 50 feet distance from pump top supply requires AWG 10/3 - 14/3 electric cor depending on distance. The pump is a high-power external pump that comes with an intake arm and filter.
Water
We filter the water.
Using the Tsunami 12 Recycle Basin basin is 14" High, water requirements are as little as 100 gallons and 300 gallons max. We always use one pump at ground level, and only require a second in series for the most extreme cases of a great height over 20 ft. or extended hose run over 100'. Pulling water to height is hard for any pump because it has to create a vacuum sufficient for atmospheric pressure (only~14psi.). We use solenoids to control the water water flow and keep the flow at the nozzle. We do lay 2 mil clear vis queen poly sheeting to protect the floors 6 feet around the basin. The Pump Intake Arm adds an additional 4"(over the top) at the point where you choose to place the pump. Total recommended clearance is 18".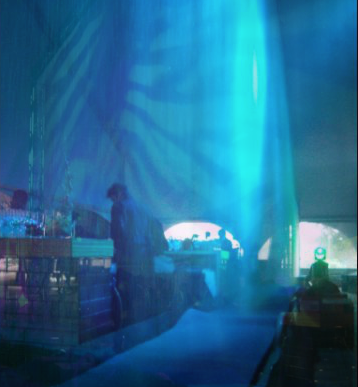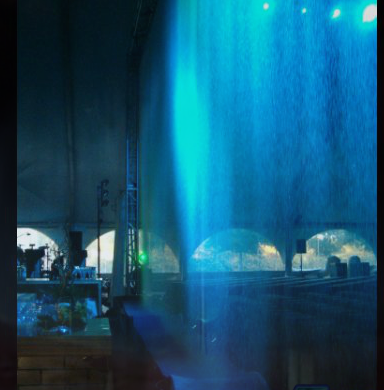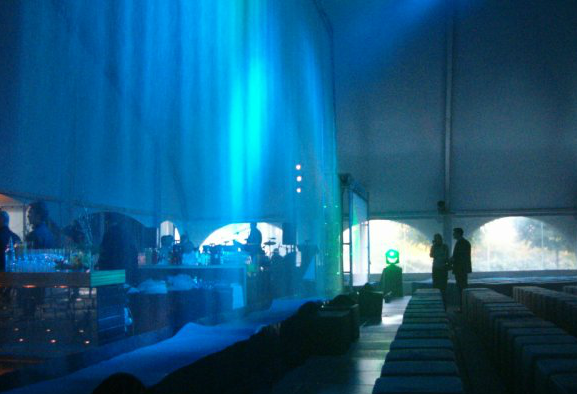 The water screen is seen going to the basin with our Blue Splash Guard system
High co-efficient-of-volume solenoid valves are used.
The controllable solenoid valves are on each manifold connected to each nozzle, besides allow the water to remain at the nozzles. These are direct-acting, high coefficient-of-volume valves with no pressure loss for even flow across the entire screen allow ripple effects.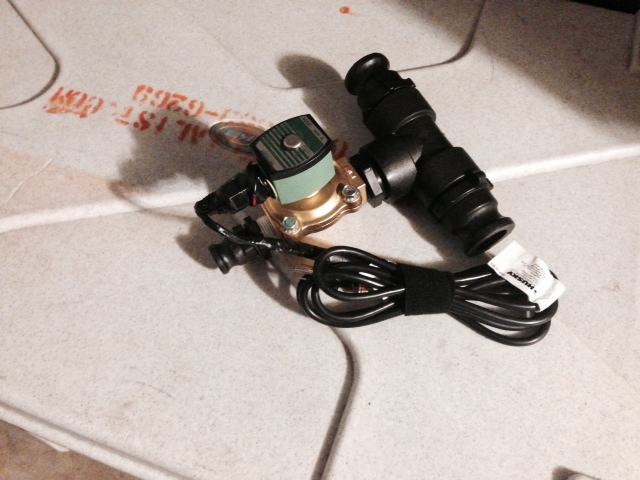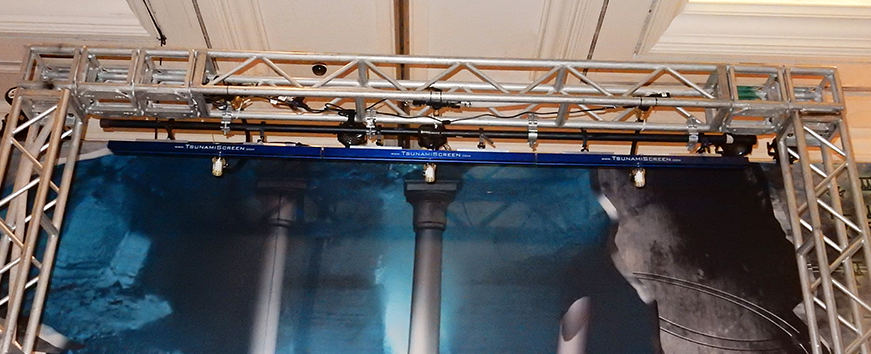 At a pool and the building of a large water screen at event showing the many sections the becomes the screen The piping of water and max ft. of head allows us 100 ft. of hose.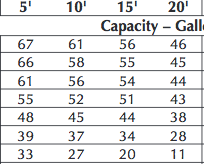 We at 15 PSI with a 23 foot pull we recycling 45 gal a minute. We can have the trim at 30 foot.
The Tsunami Water Screen™ video waterfall system 12 ft. wide waterfall system, rents for $3000.00 a event Min for an event. Plus techs. Need Truss build,access to water or a fork lift with a pallet. Needs box truss and a boom arm lift to assemble.