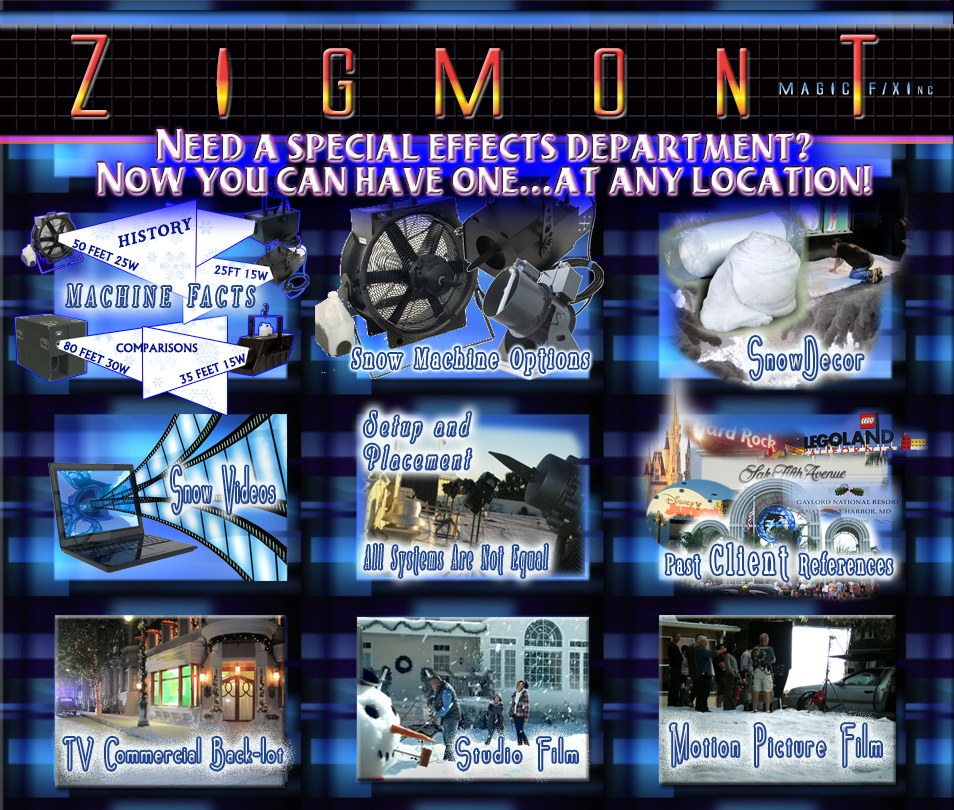 Effect Specialist® Zigmont Magic FX Inc 813 689 6269 zigmont@zigmont.com
Your Source For Hollywood Movie Quality Snow in Florida
Snow Effects for TV - Film Productions - Studio - Live Events
The Snow Specialist Offers Realistic and Creative Snow Effects with Full Service Production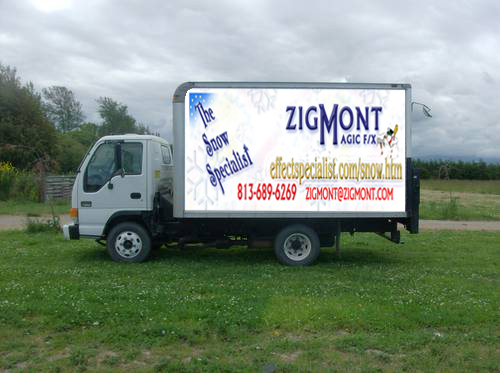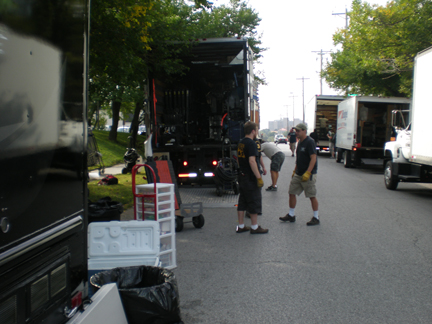 We can load a box truck or trailer with Special Effects ground cover snow and snow falling in the air with all the standard tools for a movie production, film shoots, TV Commercials or special event stage show. We have a few specialty items specifically for productions including 16 different style and type of snow machines. We also offer, Snofoam Flocking , Snowcel Spraying, Snow Fiber Flocking, Snow Blankets, Display Snow. Snow Pellets, Icicles, Snowballs, Frost Looks, Faux Snow, Misting, Cyro FX Cold Flow, Low Crawling Ground Fog, Fog Machines and the experience to conceptualizing and designing the Visual Special Effects your storyboard requires.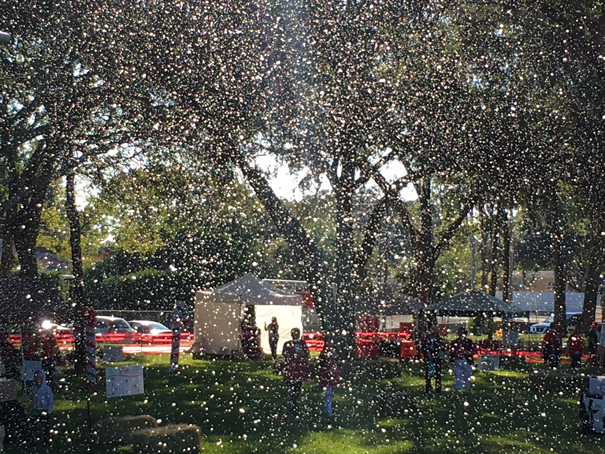 We will stock a Box truck or trailer according to your specific needs and rent by the day or by the week with Special effects technicians or use your labor force with a Effects Supervisor.. This is extremely successful for movie production. We travel Smart with experienced professional Results. Plus you hire a Special Effects Designer, A Snow Best Boy, A Snow Property Master, Special Effects Supervisor and Visual Snow Effects Art Director which is the Effect Specialist Zigmont.
The Snow Specialist Offers Products and/or Full Service Production for Fake Decorative Snow, Snow Scene Dressing and Creating the Illusion of Winter
Effectspecialist.com provides special effects for TV production, studio sounds stages, sets, photo shoots, industrial shows, sports events, studio theme parks, retail shopping centers and private events. Realistic snow for sound stages are accomplished with a variety of effects, including falling snow, Snowcel, faux snow ground cover, snow blankets, snow flocking, snow pellets etc. No one compares to us with snow in the air, we have the best snow machine gear with the experience and knowledge to make a blizzard in any location.
We supplied HSN TV Commercial Shoot at Universal Studios Back lot with snow dressing decor and snow in the air. We used snow blankets and snowcel to dress the street.
The finish video and we did green screen as well 2010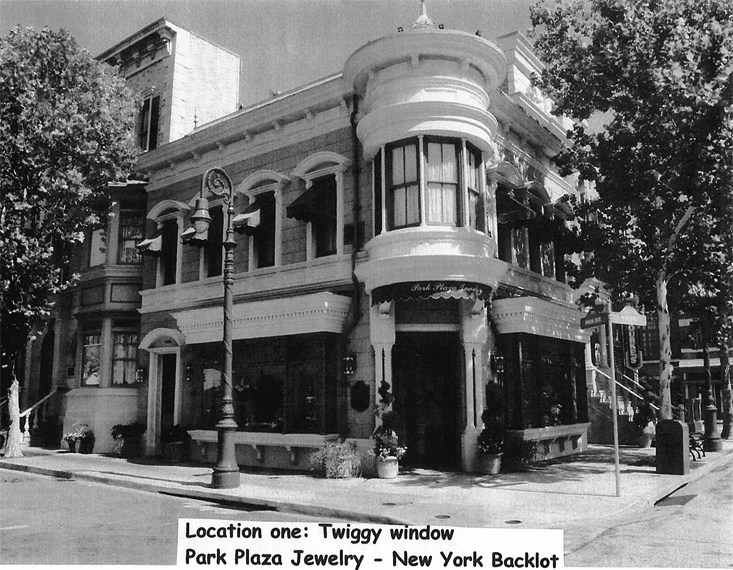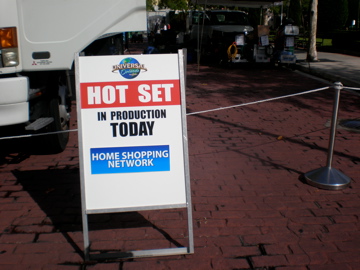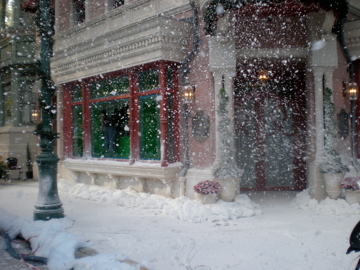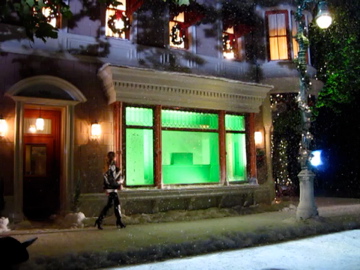 See the art rendering above and the finished snow set we provided.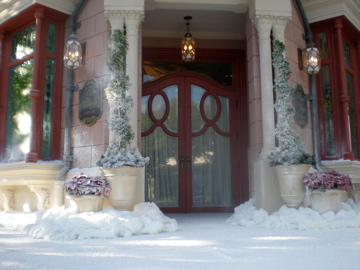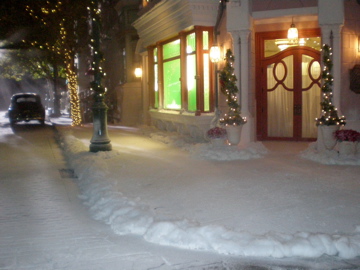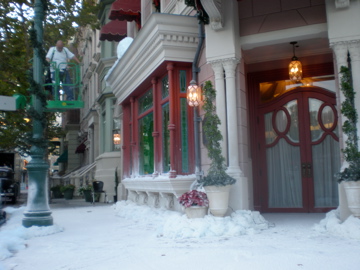 We used 6 different snow decor products to get the look of snow on the ground. No one product will make a snow scene look real, so we use a variety of snow products. It takes a number of different products to make the snow look real.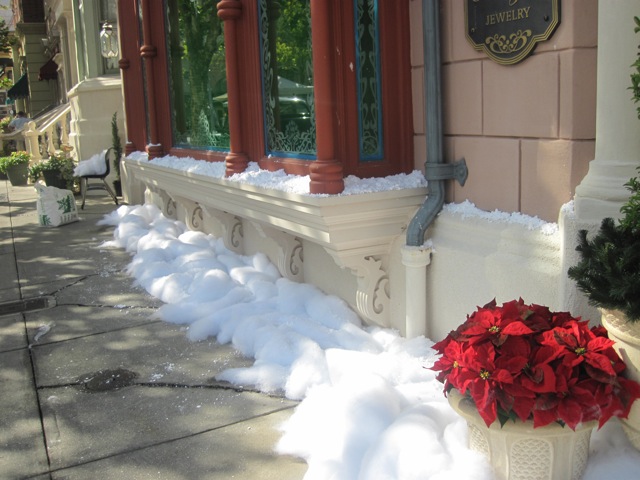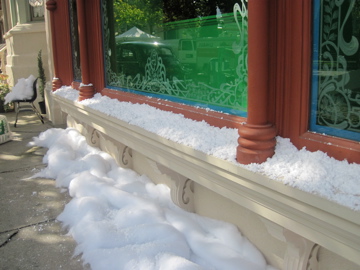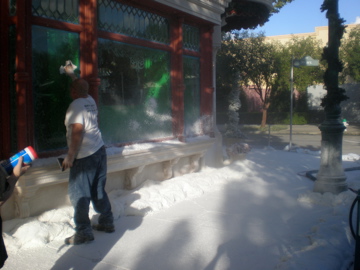 On the Back lot on Universal Studios Florida right next to the Revenge of the Mummy Attraction.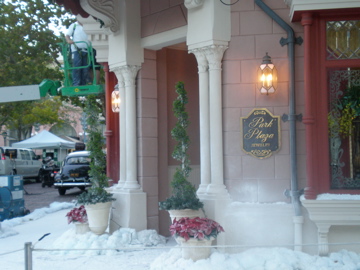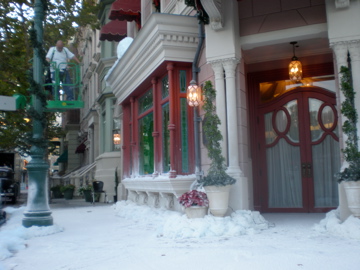 Hard to think it's 90 % outside.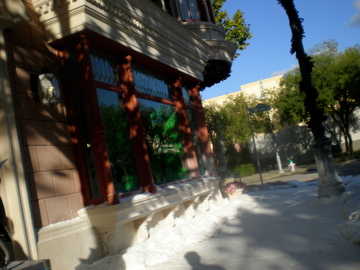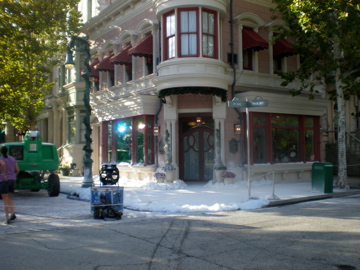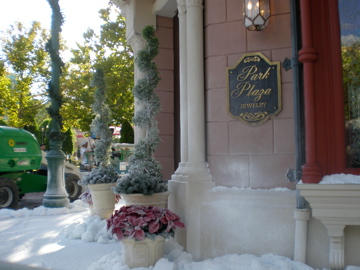 We provided snow machines for snow in the air to complete the look, See the art rendering above and the finished snow set we provided.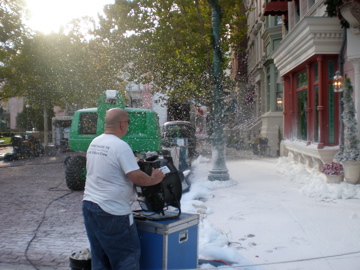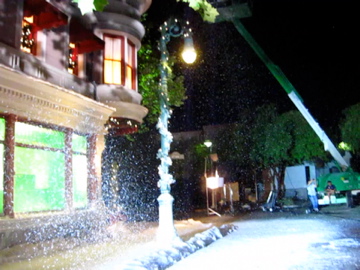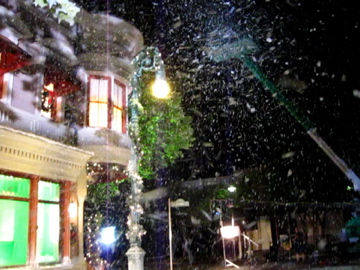 We use one T 1500 director fan model for most snow, we filled in with a T 1600 and T 1000 on a roof for the long shots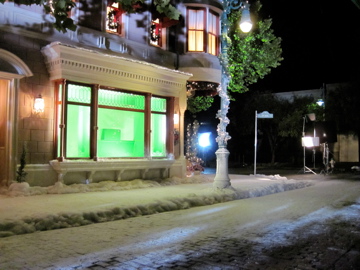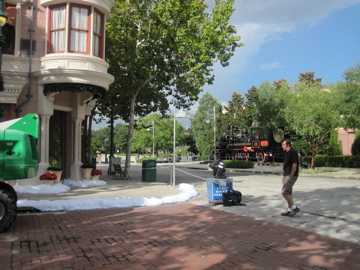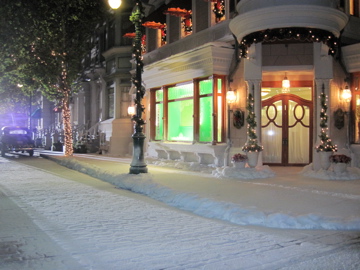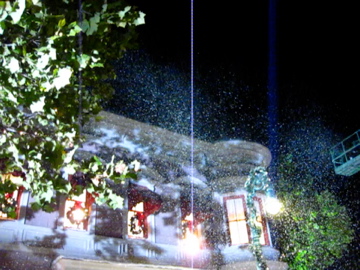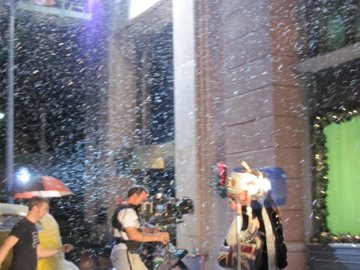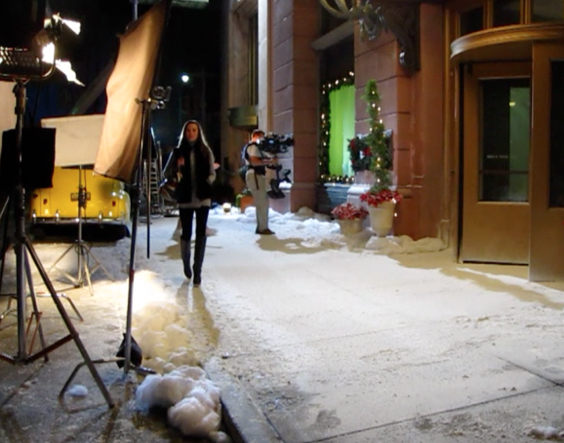 See the art rendering above and the finished snow set we provided. The Universal Studio backlot has a Macy's store front.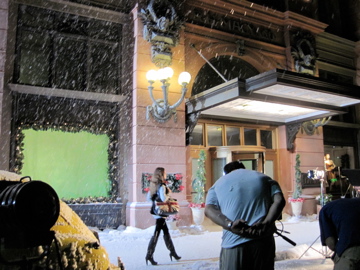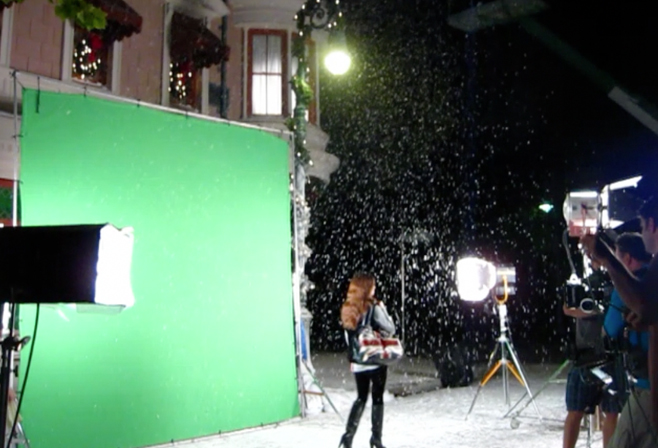 Green screen snow shot.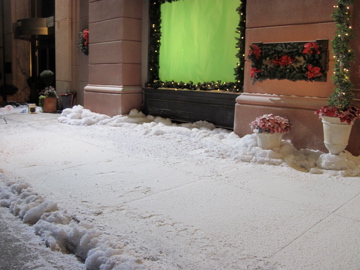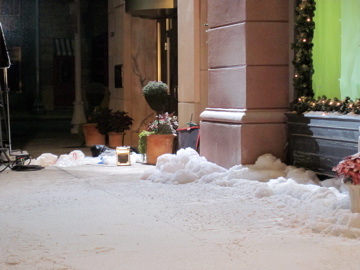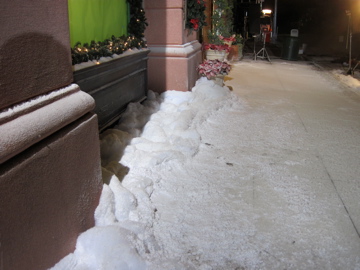 We made the summer day into a winter scene with our movie snow magic.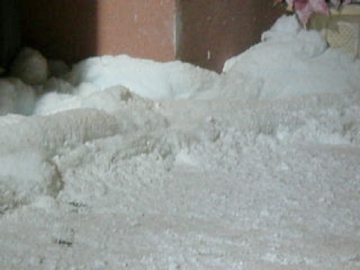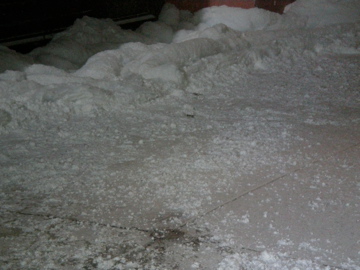 Our snow on the ground decor looks as real as mother nature.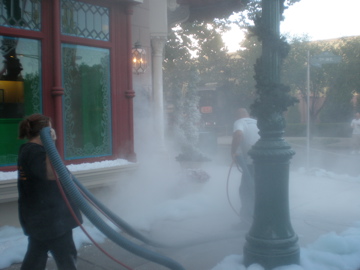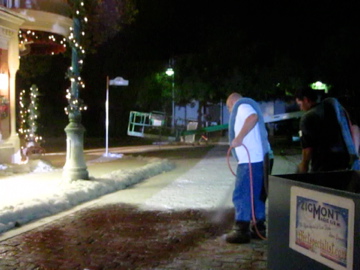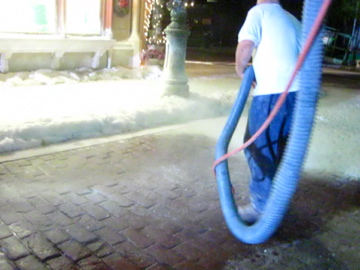 We are applying snowcel, We blow this snow product into place using a blowing system that employs a pressurized mist to apply to the snowcel with just plain water as it's only bonding agent.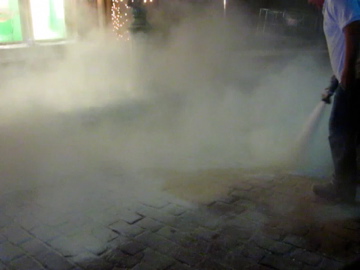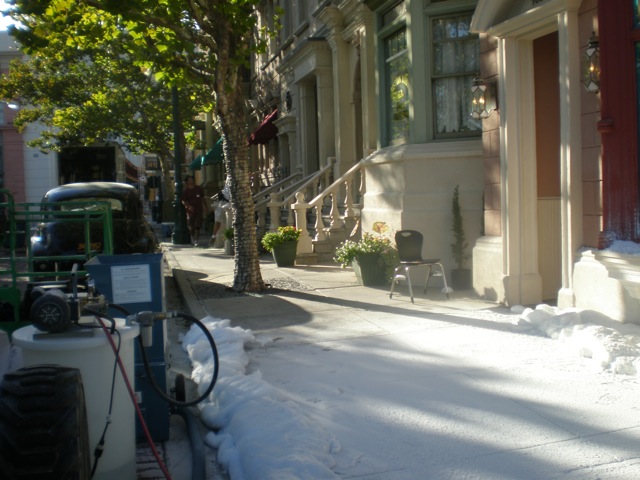 See the art rendering above and the finished snow set we provided.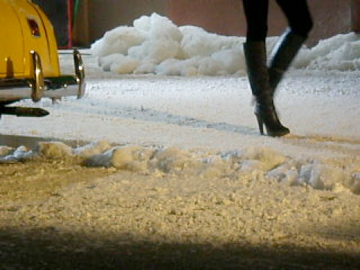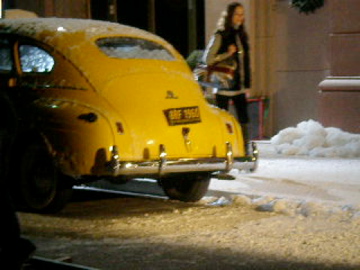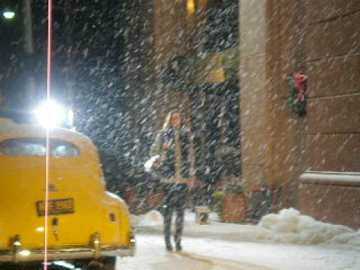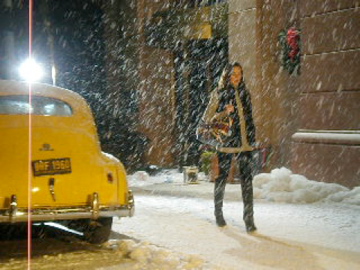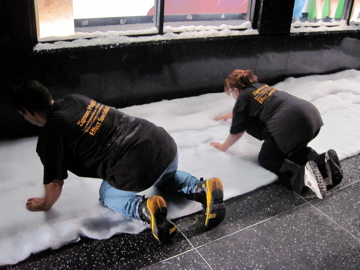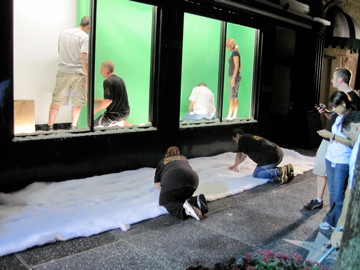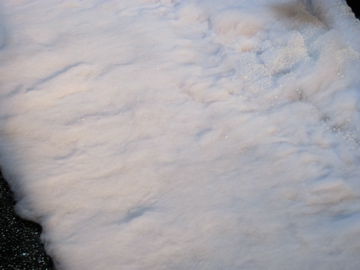 Snow Blankets are a art to mend and blend but we get it prefect. We have display snow on the window ledge.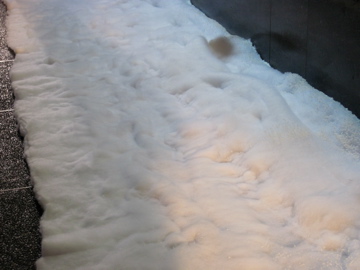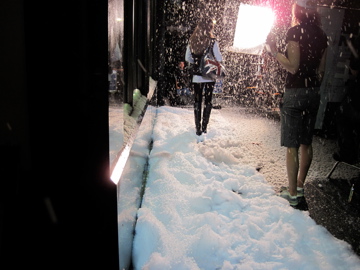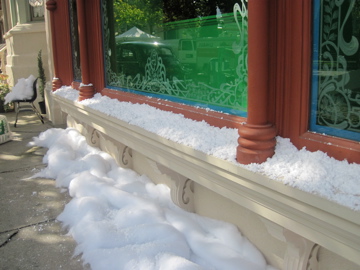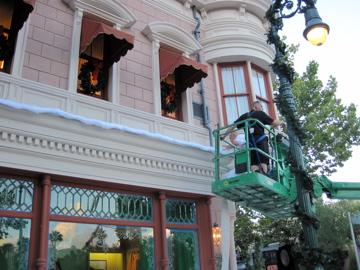 Snow Blankets - Display Snow - Snow Cel - working here.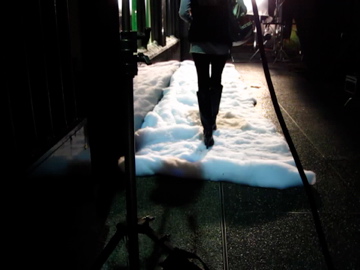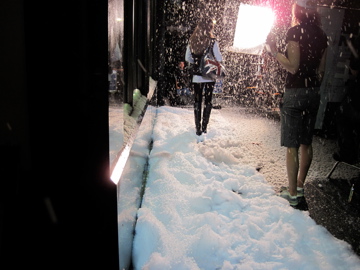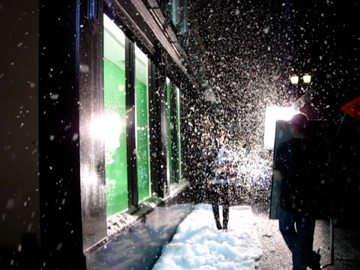 A tight window shot
Snow On The Ground Decor Price Guideline
The Snow Blizzard Cannon for Movie Projects
Decorative Snow, Snow Scene Dressing and Creating Movie Magic Winter Theme Set Decoration
We Can Provide Real Snow with the Snowmasters SnowMagic® System
Full Line of Snow Supply's and Services Offered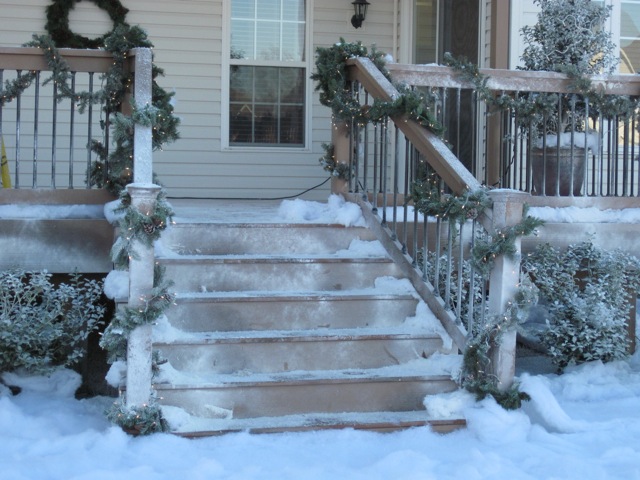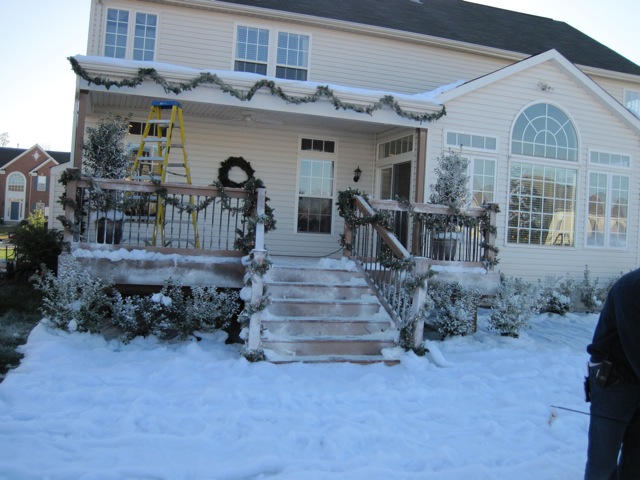 A TV commercial spot for Cincinnati Bell Inc Ohio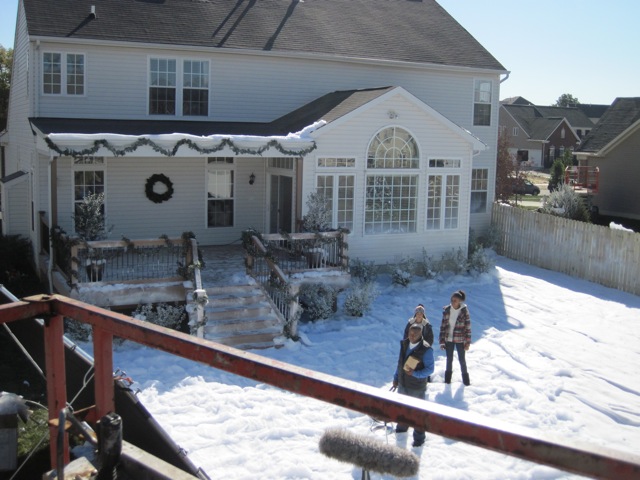 A TV commercial spot for Cincinnati Bell Inc Ohio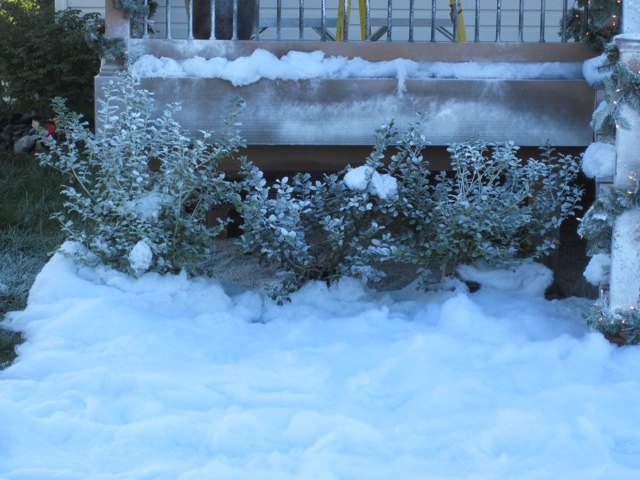 Holiday Nut Roasting with Cincinnati Bell that we did the snow for commercial, 2010.
Snow Flocking and snow showers Holiday for Cincinnati Bell 2010.
Film Studios and Film Locations can be turned into a Snow Scene
We can provide your movie, commercial or event the industry professional standards for decorative snow dressing, bunk display snow with snowcel snow spraying equipment. We will Spray faux snow onto studio back lots, city streets, buildings fronts, on cars, roof tops, store window displays, on a lawn of a private house, country club, malls or on shrubs, grass and trees Christmas props with specialized snow system. Making any location into a winter wonderland or a snow storm white-out as real looking as mother nature. SnowCel Movie Snow FSX is most preferred artificial snow products in the film industry worldwide. The product is versatile as it can be used for snow dressing and falling snow effects. The product is a coarse flake paper snow which can spray on to snow blankets, dirt or any dressed or non dressed set.
We use biodegradable, recycled cellulose paper called snowcel to create a winter wonderland; this had been the standard for the Motion Picture industry. We have a variety of material that can be used to make Special Effects Snow look as you require. Snowcel paper snow of different particle sizes can be used on snow dressing for drifts, roofs, walls, windows, foliage, gardens, pathways, roads, cars, people and around any action. Snowcel can be colored to simulate beach sand, desert, areas damaged by fire, volcanic ash.
Snowcel Faux snow sprayed on and look as real as mother nature.
As we blow this snowcel product into place using a delivery system that employs a pressurized mist to apply to the snowcel with just plain water as it's only bonding agent you can work and walk on the product. The customized produced paper snow is very stable and weatherproof, which allows the snowcel spray to cover everything and can be bulked to show snow drifts or 4-8 inches of accumulation on car tops, roofs. The artificial snowcel products will 'disappear' when it rains, or more durable half cell / full cell fakes snow products that is more weatherproof will stand up better to rain, but harder to wash way. We can lay over the top of lawn or area Snow Blankets Membrane that is a thin white layer to spray on to guarantee to leave any location as found, like it never happened.
Professional Artificial Snow Machine Rentals Nationwide Price Guide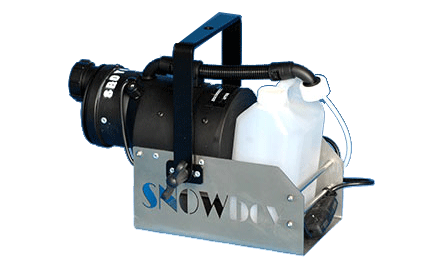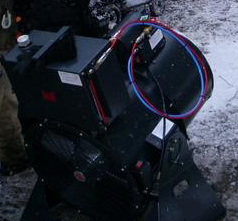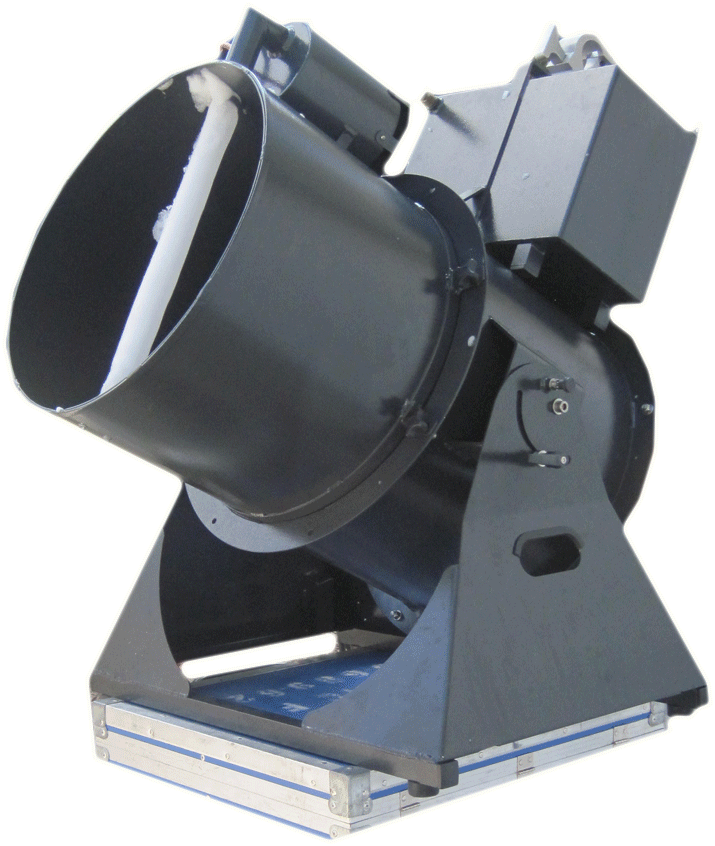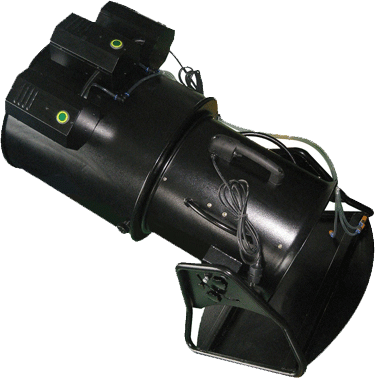 ProductionHub - Your Source For Hollywood Movie Quality Snow in Florida

Magic F/X specializing snow displays, Fake snow shows, artificial snow machines for snowfall events - full service production of simulated realistic snow falling events and indoor blowing, snow machines, snow machine that produces snowfall simulation for theatrical and visual effects , snowmaker, snowmasters, snow maker, Snow Machine Generators.
snow machine, artificial snowflakes, snowflake, snow machine, snow making machine, snowmasters display, snow, making snow, snow manufacturer, snow products, snow system, magic fx snow system, artificial snow,flakes,snowflakes,fake snow, fake snowflakes, plastic snow, holiday window displays, theatrical snow machine, snow simulation, snowfall simulation, snow machine snow maker snow machine for indoor snow shows
Please see side Menu for all Pages
Systems are Not Equal - Ever Wonder Why/Facts about Snow - Snow Option- Choices - Snow Clients
Effectspecialist.com provides snow machine rentals and Snow falling presentations with turn-key snow machine services We operate in North America United States we can service you in the follow cities with speedy services in;
Snowfall Events for Entertainment Venues and Shopping Malls Service in Alabama; Anniston, Birmingham, Dothan, Huntsville, Mobile, Montgomery, Tuscaloosa
High Range - High Volume Artificial or Fake Snow Flake Machines Service in Arizona; Flagstaff, Phoenix, Tucson, Yuma
Evaporative Snow Service in Arkansas; Eureka Springs, Fayetteville, Fort Smith, Jonesboro, Little Rock, Monroe
Snow machines from flurries to a beautiful full blown Snowstorm Blizzard Service in California; Anaheim, Antelope Valley, Antioch, Bakersfield, Burbank, Chico, Eureka, Fresno, Hollywood, Huntington Beach, Inland Empire, Lake Tahoe, Livermore Valley, Long Beach, Los Angeles, Medford, Monterey, Napa Valley, Oakland, Orange County, Palm Springs, Pasadena, Sacramento, San Diego, San Francisco, San Jose, Santa Barbara, Santa Monica, Temecula, Ventura County, Yuma
Theatrical Snow falling Service in Colorado: Aurora, Boulder, Colorado Springs, Denver, Fort Collins, Grand Junction, Vail,
Special effects Service in Connecticut, Danbury, Hartford, New Haven, Stamford
Fake snow machines Service in DC; District of Columbia
artificial snow Service in Delaware; Dover, Georgetown, Wilmington
Faux Snow - Flocking SnoFoam - Snow Blankets - Crystal Clear Acrylic Icicles - Faux Snow™ Ground Pellets Products special effect fake snow machines rentals Service in Florida; Boca Raton, Daytona, Florida Keys, Fort Lauderdale, Fort Myers, Fort Pierce, Gainesville, Jacksonville, Marco Island, Melbourne, Miami, Ocala, Orlando, Panama City, Pensacola, Sarasota, Tallahassee, Tampa Bay, West Palm Beach
snow machine rentals Service in Georgia; Albany Athens, Atlanta, Augusta, Columbus, Golden Isles, Macon, Savannah
outdoor snowfall machines Service in Hawaii; Hawaii Island, Honolulu, Kauai Island Lanaie Island, Maui, Molokai Island
foam machine rental Service for Idaho; Boise-Pocatello, Coeur D Alene, Idaho Falls, Lewiston, Sandpoint, Twin Falls
falling snow with foam bubbles Service in Illinois; Bloomington, Champaign, Chicago, Davenport, Evanston, Mt. Vernon, Oak Lawn, Peoria, Quincy, Rockford, Springfield, Wheaton
Buy falling snow machine Service in Indiana; Evansville, Fort Wayne, Hammond, Indianapolis, Lafayette, South Bend, Terre Haute
Evaporating DRY Snow machines Service in Iowa ; Cedar Rapids, Davenport, Des Moines, Ottumwa, Quincy, Rochester, Sioux City
rent snow machines and sell new machines Service in Kansas ; Dodge City, Goodland, Great Bend, Kansas City Lawrence, Manhattan, Salina, Topeka, Wichita
America's Finest Snow Effect Events Service in Kentucky; Ashland, Bowling Green, Elizabethtown, Hopkinsville, Lexington, Louisville, Owensboro, Paducah
artificial simulated Snowfall FX Service in Louisiana ; Alexandria, Baton Rouge, Lafayette, Lake Charles, Monroe, New Orleans, Shreveport
snow inside a venue or outdoors rentals Service in Maine; Augusta, Bangor, Lewiston, Ogunquit, Portland, Presque Isle, York
artificial outdoor snow falling Service in Maryland; Annapolis, Baltimore, Columbia, Eastern Shore, Laurel, Montgomery County, Rockville, Salisbury, Southern,
Western
Magic FX Service in Massachusetts; Birkshire County, Boston, Cape Cod, Lowell, Springfield, Worcester, Service for Michigan , Ann Arbor, Detroit, Flint, Gaylord, Grand Rapids, Jackson, Kalamazoo, Lansing, Marquette, Port Huron, Saginaw, Saint Clair Shores, Sault Saint Marie, Traverse City, Tri-Cities, Warren,
party foam machines Service in Minnesota; Duluth, Mankato, Minneapolis, Moorhead, Rochester, St. Cloud, St. Paul, Twin Cities
simulating snow flakes Service in Mississippi; Biloxi, Greenwood, Hattiesburg, Jackson, Meridian,Service in Missouri . Clinton, Columbia, Jefferson City, Joplin
snow displays Kansas City; Ottumwa, Paducah, Quincy, Sedalia, Springfield, St. Joseph, St. Louis,
Snow making machines Service in Montana; , Billings, Bozeman, Butte, Glendive, Great Falls, Helena, Missoula
Faux Snow - Flocking SnoFoam - Snow Blanlets - Crystal Clear Acrylic Icicles - Faux Snow™ Ground Pellets Products Snow falling events Service in California; Anaheim, Antelope Valley, Antioch, Bakersfield, Burbank, Chico, Eureka, Fresno, Hollywood, Huntington Beach, Inland Empire, Lake Tahoe, Livermore Valley Long Beach, Los Angeles, Medford, Monterey, Napa Valley, Oakland, Orange County, Palm Springs, Pasadena, Sacramento, San Diego, San Francisco,
San Jose, Santa Barbara, Santa Monica, Temecula, Ventura County, Yuma
Fake snow machines Service in Nebraska ; Beatrice, Cheyenne, Freemont, Grand Island, Lexington, Lincoln, Norfolk, North Platte, Ogallala, Omaha, ScottsBluff
special effect snow falling Service in Nevada; Lake Tahoe Las Vegas, Reno
Fake snow Service in New Hampshire; Concord Dartmouth, Lakes Region, Manchester, Monadnock Region, North Woods, Seacoast Region, Southern, White Mountains
snowmaster snow machines Service in New Jersey; Atlantic City, Bayonne, Belmar, Bloomfield, Camden, Carteret, Hackensack, Hoboken, Jersey City, Montclair, New Brunswick, Newark, Old Bridge, Paramus, Point Pleasant Seaside Heights, Secaucus, Trenton, Wildwood
FX Snow ,Service in New Mexico Albuquerque, Santa Fe
special effect artificial snow Service in New York; Albany, Binghamton, Brooklyn, Buffalo, Burlington, Elmira, Hudson Valley, Long Island-Nassau County, Long Island-Suffolk County, Long Island-The Hamptons, Manhattan New York City, NY City, Oneonta, Queens, Rochester, Rockland, Staten Island, Syracuse, Utica, Watertown, Westchester,Service in North Carolina
Charlotte Durham, Fayetteville, Greensboro Greenville, Raleigh, Rockymount, Western, Wilmington, Winston Salem
special effects snow falling Service in North Dakota; Bismarck Dickinson, Fargo, Grand Forks, Jamestown, Minot, Williston
artificial snow falling events Service in Ohio; Akron Cincinnati, Cleveland Columbus Dayton Lima, Toledo, Wheeling, Youngstown, Zanesville
falling snow events Service in Oklahoma; Oklahoma City, Tulsa, Wichita Falls
snow falling FX machines Service in Oregon; Bend, Eugene, Klamath Falls, Medford, Portland, Salem,Service in
Special effect rentals Pennsylvania , Allentown, Erie, Harrisburg, Johnstown, Philadelphia, Pittsburgh, Poconos, State College, Wilkes Barre, York
snow shows Service in Rhode Island; Newport, Providence
snow displays Services in South Carolina ;artificial indoor snow Charleston, Columbia, Florence, Greenville, Hilton Head, Myrtle Beach, Rock Hill
Foam machine Service in South Dakota; Rapid City, Sioux City, Sioux Falls
snowmaster snow machines Service in Tennessee; Chattanooga, Jackson, Knoxville, Memphis, Nashville, Tri Cities
artificial simulated Snowfall FX Service in Texas ; Abilene, Amarillo, Austin, Bay City, Beaumont, Corpus Christi, Dallas, El Paso, Fort Worth, Galveston, Harlingen, Houston, Laredo, Lubbock, Odessa, San Angelo, San Antonio, Texarkana, Tyler, Victoria, Waco, Wichita Falls
Faux snow, artificial indoor snow Service in Utah; Provo, Salt Lake City
Snow blankets indoor snowfall machines Service in Vermont; Burlington, Manchester, Middlebury
simulated snow flakes Service in Virginia; Charlottesville, Fairfax, Fredericksburg, Hampton, Harrisonburg, Manassas, Norfolk, Northern, Richmond, Roanoke, Vienna
special effect snow Service in Washington; Olympia, Seattle, Spokane, Tacoma, Vancouver, Wenatchee, Yakima
fake snow machines Service in West Virginia; Beckley, Charleston, Clarksburg, Huntington, Parkersburg, Wheeling
artificial snowfall events Service in Wisconsin; Appleton, Ashland, Eau Claire, Green Bay, Janesville, Madison, Milwaukee, Oshkosh, Prairie du Chien, Racine, Rhinelander, Superior, Waukesha, Wausau
Theatrical Snow Service in Wyoming; Casper, Cheyenne, Gillette, Jackson Hole, Rock Springs
Faux Snow - Flocking SnoFoam - Snow Blanlets - Crystal Clear Acrylic Icicles - Faux Snow™ Ground Pellets Products
*Snowmasters invented the snow machine and holds the patents and licenses all Snow Machines Brands