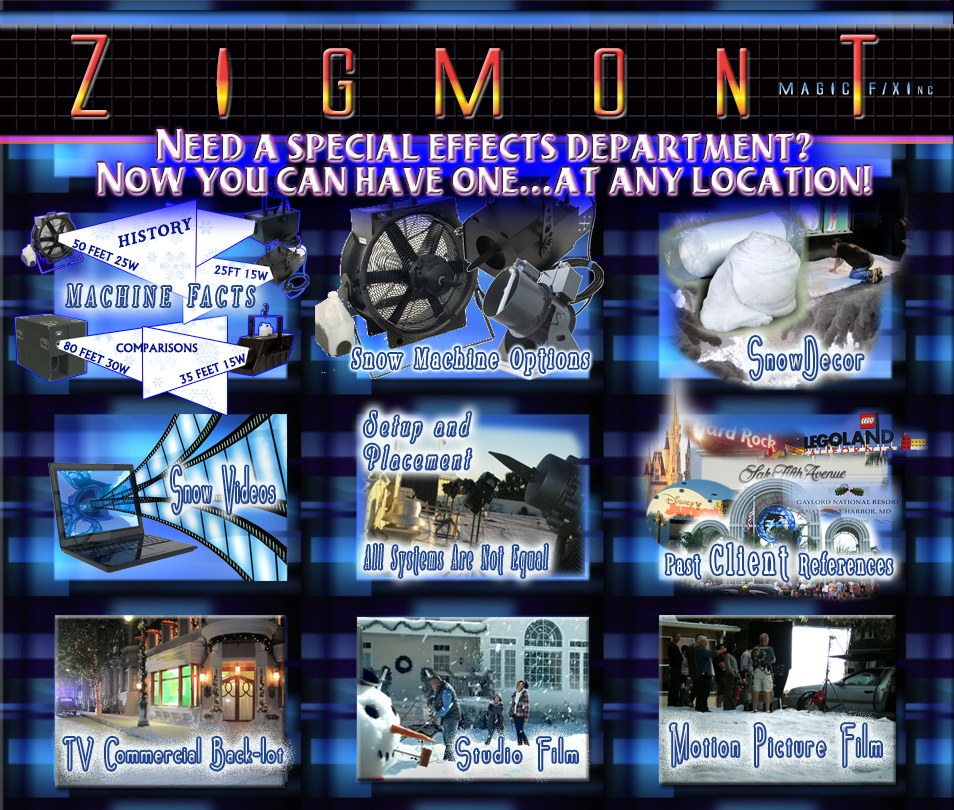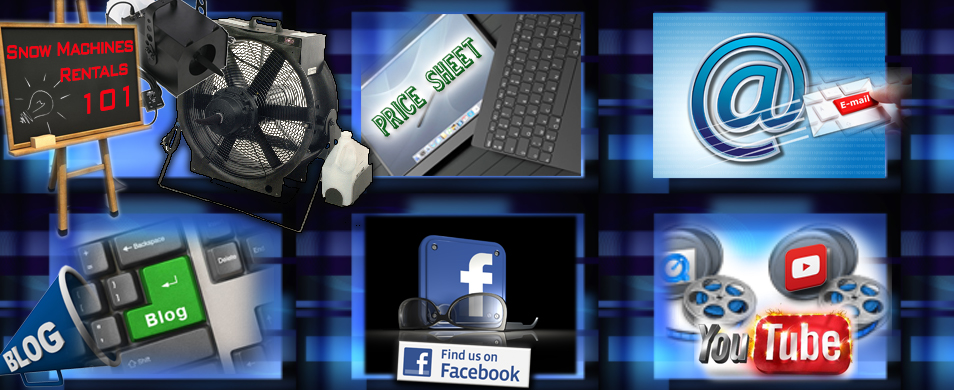 Your Trusted Source for Real Evaporative Snow®. Look at our Professional Results and never settle for less.
zigmont@zigmont.com Tampa Florida Call 813 689 6269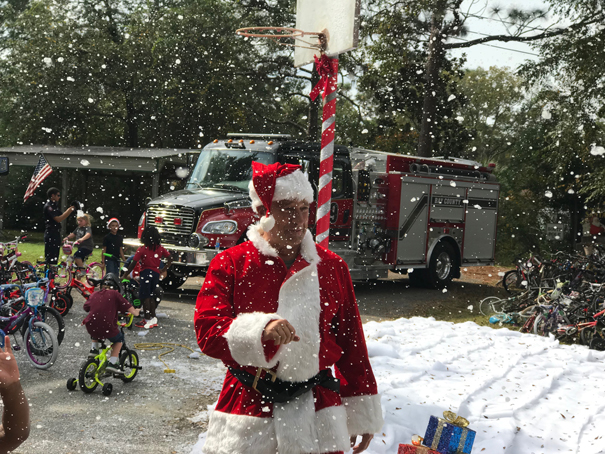 Real Evaporative Snow® is a combo of Snowmaster Machines and Snowmasters Fluid Period! Snow Machine running Wireless DMX!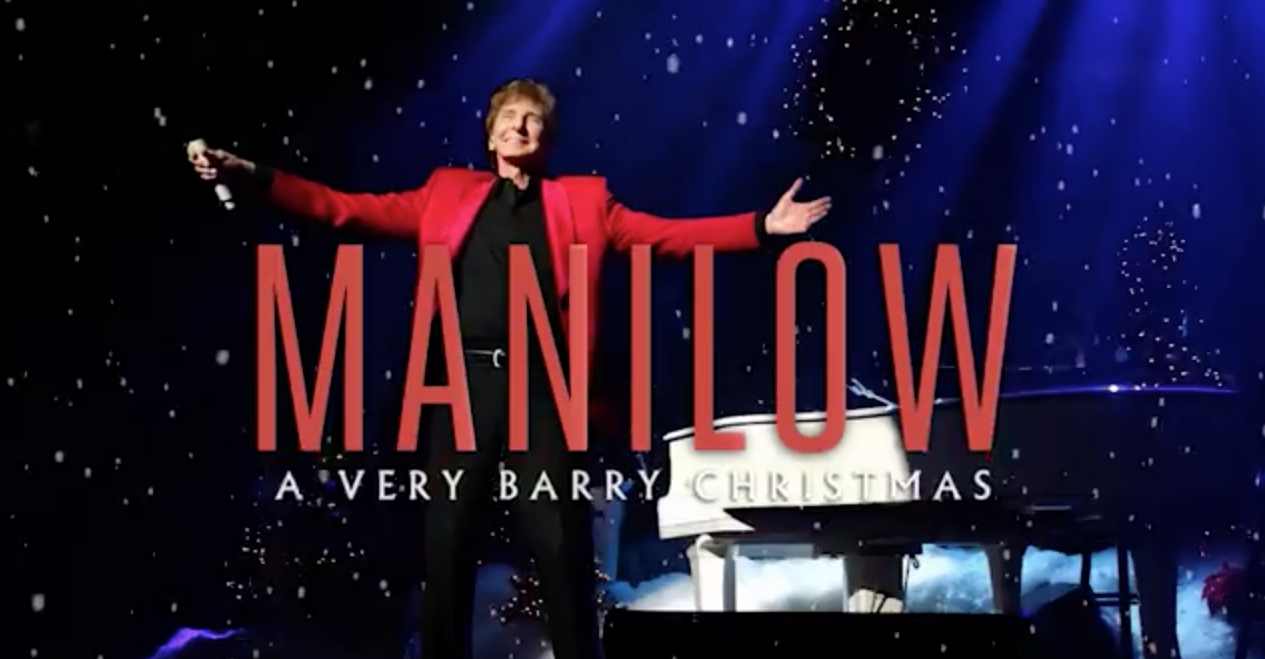 We provided snow machines for Barry Manilow 'A VERY BARRY CHRISTMAS 2017. The stars come to the effectspecialist.com
Zigmont Magic FX - Effect Specialist® Special Effects Designer and Providing Special Effects Snow Machine Services and Rentals for Event Productions, Films, TV Commercials, Malls & Shopping Centers, Corporate Conventions, Production Sets, and Private Parties Since 1995 - Call 813.689.6269. We are the largest Snow Machine Rental company in the nation dealing with the professional Snowmasters brand show machines. The snow machine exclusively used by all Theme Parks. Use what the theme parks uses e mail me zigmont@zigmont.com.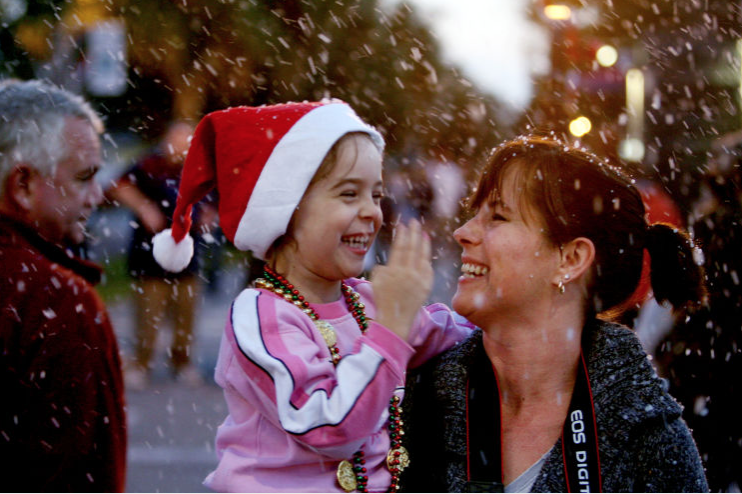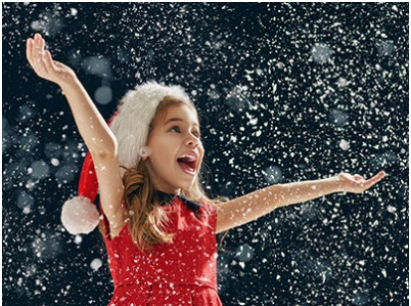 No Body does more Snow for Malls, Shopping Centers, TV Commercials, Corporate, Theme Parks, Parties and Events than Zigmont Magic FX, the most trusted name in the FX Business.

Low lying smoke and snow a match made in heaven.

Snow Machines for Gaylord Palms Resort for press of Cirque du Soleil teaming up at Christmas season 2015, seen are 2 T 1500's.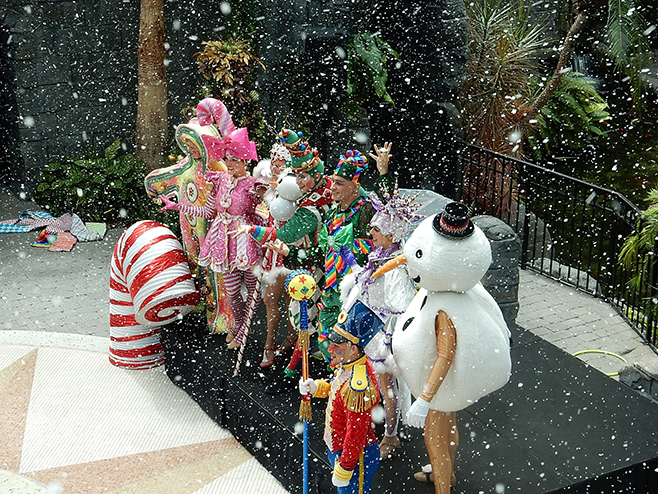 Zigmont Magic F/X Inc. provide the Mercedes-Benz National Dealer 2014 Mercedes-Benz National Dealer Meeting in Alabama, for the Sprinter Meeting rollout a room full of Snow Effects.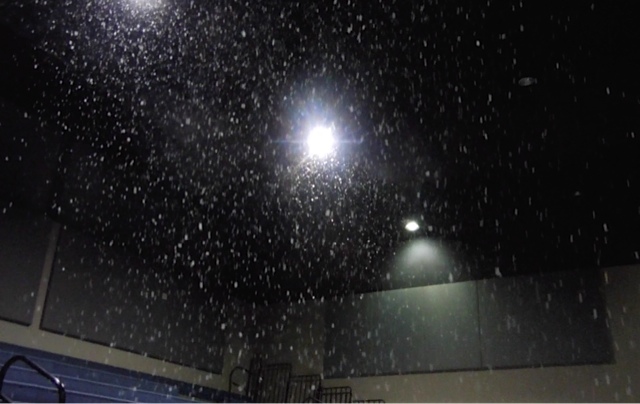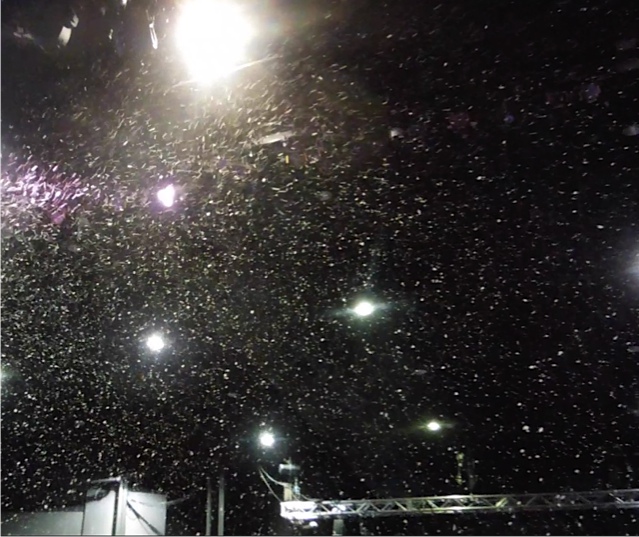 Christmas Events, let us bring that expertise In the same snow machines to your event
Theater Snow machine rentals as well as we designed and installed the snow effects as seen here at Frozen Theater Disney.
You have reached the People that do Theme Park Snow with Spectacular Snowfall Events. Professional Grade T -1500 evaporative Snow Machines Results Guaranteed Nationwide!

The the largest snow event in the world today. We consulted the snow project starting with machine selection, machine placement, install, and point and aim the snow design. Each and every snow storm machine are tweak to Zigmont Standards and goes through his hands when they arrive and final adjustments. These 40 + machines are on 50 % volume.
Zigmont Magic F/X specializes in evaporative snow special effects snowflakes (fake) snow machine with full services and fake Snow Machine Rentals. We provide nationwide service with America's Finest Snow Machine Effects which are also the most technically advanced special effect methods of producing artificial snow available in the world today.
. We have rental services as well as Effect Specialist FX Technicians to hire that will provide the most realistic snowfall you can acquire for a studio shoot or live event for the public. Allow us to design theatrical snow effects, snow effects for projects such as movie and film productions, TV commercials, special events, hotels, shopping malls, and theme tourism attractions.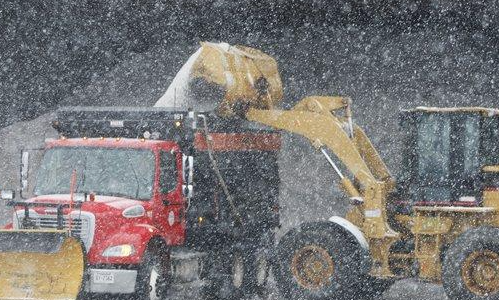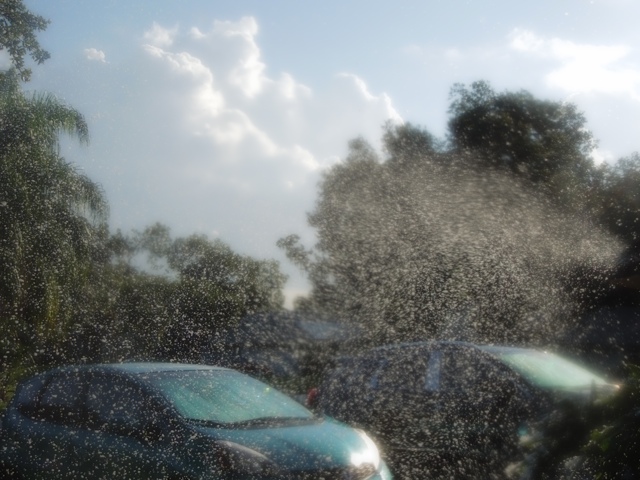 A Real Snow Storm With Snow Falling in the air to the left that looks like the Snow I produced from our Snowmasters T 1000 /T 1100 on the right.
With 18 years experience as a effect specialist with Falling Snow Effects and working for Theme Park,s Cruise Line - Legoland - Universal Studios - Paramount Parks - Bush Gardens - Sea World. We provide Quality Snow Falling Effects Nobody Knows Snow Better!!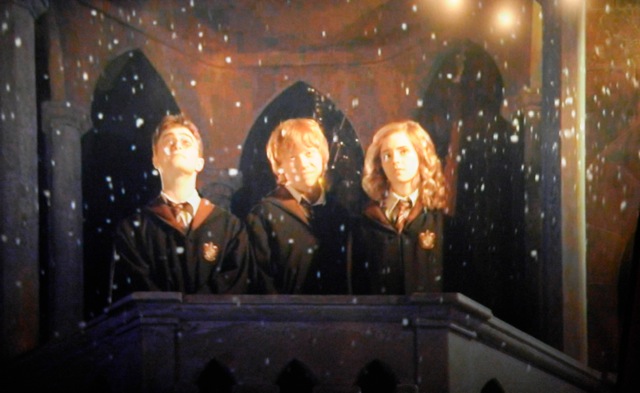 We Provided snow effects for Harry Potter Universal Studios Theme Attraction "The writer, J.K. Rowling, commented on the snow and was quoted to say, "Fantastic, you're bloody brilliant."
No other company will have the diverse array of industrial strength series of snow machines from around the world with over a dozen different snow machines to select from. Featuring High Power - High Range - High Volume Global Special Effects , Snowmasters Evaporative Professional Series, to massive snow from Universal Effects Commercial Series of snow machines, the distinctive SNOWboy Studio Series and Consumer Series fake snow machines. We have all the Leading Brands with the leading brands of Professional and Commercial application fluid-based artificial snow machines from companies around the world.
Our snow machines rental services with Snowmasters machines can spray a large area with consistent size and shape simulated snow that will evaporate within 30 - 90 - 120 seconds of air time depending on settings. Snowmasters with No Staining, No Residue, No Foamy Messy Cleanups, No Accumulation, No Slippery Properties and is Non-Allergenic, Biodegradable, Flameproof, Non toxic and Dermatological tested. Other brands can create flocking with the effect of falling snow. Hire the Company that Theme t Hires Zigmont Magic FX Inc.. Please know what brand machine your going to rent not all machine are equal.
We Rent Snow Machines Nationwide
Snow Machine Renting and User Guide 101
Snow Machine Rental Pricing Cut Sheet 2014 PDF
Snow Machine(s) Rental Agreement, Order Form, Shipping Confirmation and Waiver of Technician Forms 2014

See our Snow Machine Rental Blog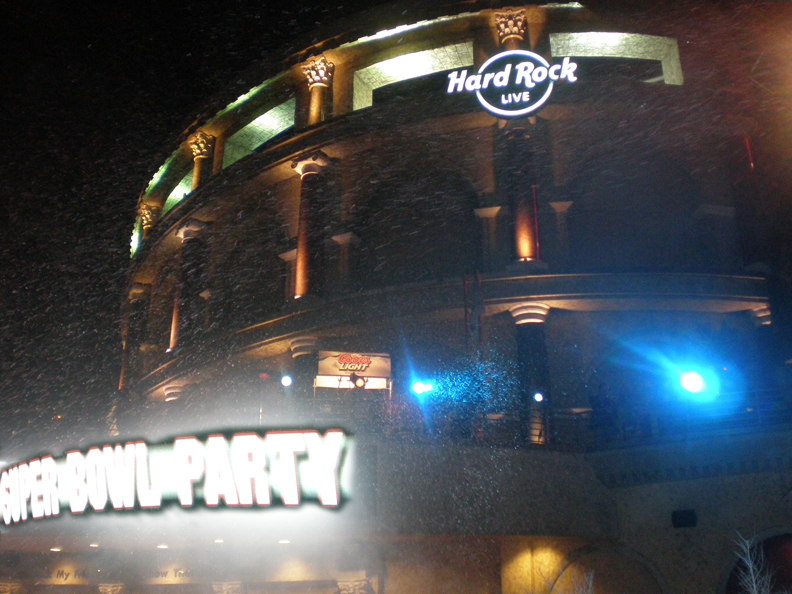 Magic FX leads the industry by providing 100% free 24/7 product tech support to all its rental customers.
Coors Light Super bowl Party at Universal Studios Hard Rock Live Orlando is having snow just like a Hollywood Style Movie Set
Our Team of Special Effect Experts and Certified Snow Technicians having extensive experience with over a dozen different types of snow machines can design and provide a wide range of falling snow effects for rental or hire for your event. No one machine type can work well for every environment, but other companies offer the same basic machine for all jobs. We offer the right machine options can create a winter wonderland scene from a beautiful snow flurries to a full blown intense Blizzard Snowstorm made from special effects snowflakes. We offer many different machines that produce refined light flurries to outdoor heavy blizzard conditions and we can provide the service with the least amount of machines and the most snow.
We can supply fake snow scene and winter effects that is amazingly realistic and looks as real as mother nature in any location USA. Our Theatrical snow machine blowers offer the look of real snow without the mess, discomfort or expense that would be involved with producing real snow outdoors and impossible indoors. Our mega snow machines can cover large areas that will allow for snow to fall on cue anywhere, anytime, any temperature and when the cue is over the snow is gone. Snow just like we do for the Theme Parks! We can control with wireless DMX. We have factory relationship's with the special effect designers inventors and manufacturers of all brands of snow machines which makes us a step above the rest to service, sell or rent snow machine systems.
Movie Premiere Snow for CBS An Elfs Story in the Fox Theater Atlanta GA
We service all of Florida with Tampa - Orlando our home base. We do travel all over the USA with our confetti special effects with Texas, Alabama, Tennessee, Atlanta Georgia and the Eastern Seaboard the territory we mainly cover. We have worked in 40 states. We have traveled to 18 countries in the concert touring industry, we have produced Las Vegas style Illusion show in Reno Nevada, have performed shows in China, we have toured the USA with theatrical touring shows. We have worked for NHL, NFL, MLB, NBA-DL, Orange Bowl National Championship ABC TV, Super Bowl Events,Sony Ericsson Open Tennis Tournament, Real Fighting Championship, Warner Brothers Studios, NASCAR Budweiser Shoot out FOX TV, Ten/Four Pictures - Hollywood Motion Pictures Productions, TV Commercial industry, Las Vegas Hard Rock Casino, Pro Wrestling WCW on TNT TV at MGM Arena Las Vegas. We have supported Broadway road tours, Concert tours and have done hundreds of corporate industrial and trade shows job. We have worked and/or consultant for all the Major Theme Parks such as Disney, Universal Studios Harry Potter, Busch Gardens, Legoland, Paramount Kings Island,Disney Blizzard Beach, Seaworld, Silver Springs, Disney Animal Kingdom, Cedar Point Amusement Park, California's Great America, Universal City CA., Retahhuleu Guatemala Theme Park. We are fully insured with million dollar public liability insurance policy.
Check Out our latest Work For HSN TV Commercial At Universal Studios Back-lot Click Here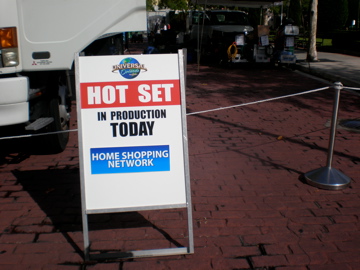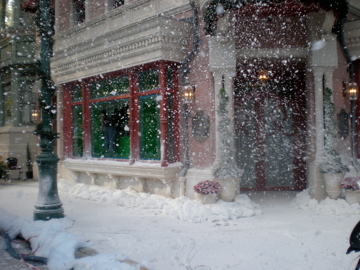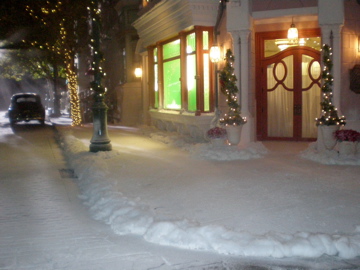 Watch this video demo of the high range long distance that our snow machines can spray at a recent trade show
We rent snow machines Nationwide @ Zigmont Magic FX Inc 813 689 6269 e mail us @ zigmont@effectspecialist.com
Call Us @ 813 689 6269
Professional Artificial Snow Machine Rentals Nationwide Price Guide
This Music video by Justin Bieber performing Mistletoe used all Snowmaster Brand snow machines including the Magic Lamp snow machine and 4- T 1500s. All snow effects are ground based.
Power Snow Tube and Tour, The Newest Generation of Massive Snowfall Machines from Universal Effects. With the ability of Power Snow Tube you can have a Serbia Winter snow storm indoors or outdoors. These units are weather proof rateof IP 54. These Snow tube machines throw 40 - 60 feet outdoors with a consumption rate of 1 gals every 1.5 hours. It would take 3.5 T-1500's to do what this one machine is capability of. Compact and powerful Snow machine to be hung or put on the ground. Designed for easy use, low noise and very reliable. Works great at events for walk in the building, as well in concert, theatre or TV shows. The electric is a easy 1100 watts at 5 amps. Works by compressed air without pump so very little moving parts.
EU Snow Power 500 Massive snow machine for indoors or outdoor events, Them park in France uses 16 of these to do Main Street USA. These produce and snow spray and more snow further than the snow tube. Power requirements are two 20 amp circuits.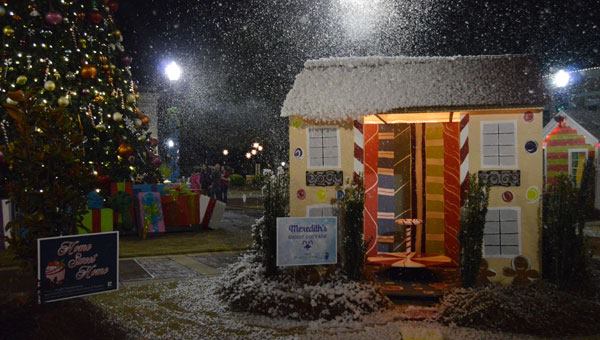 We supply 100's of professional snow machines and commercial snow machines rentals every year seen by millions of people in the USA at Live Events, on TV, Theme Parks, Malls, Concert Tours and in Movies. We are a special effects company dedicated in providing snow machine effects for hire or rental. Allow our experienced design specialist to help with snow event installation planning, consulting with snow machine logistics and advise with turn-key services for your big event, long term runs or commercial studio shoot. You'll receive the same Special Effect Experts to work with that we provide to Hollywood Movies Productions and Theme Parks Studios.
Check Out our latest Work For HSN TV Commercial At Universal Studios Back-lot Click Here
Technology for all of your Wintertainment needs.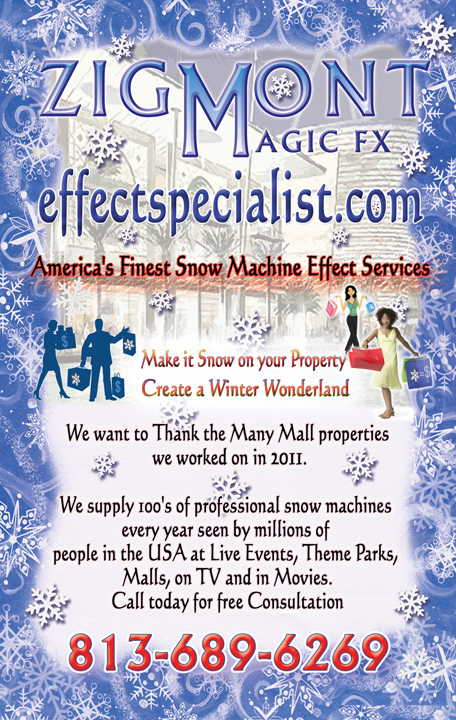 Malls
Your Shoppers can experience an indoor winter wonderland in your mall property while the stores will see increasing foot traffic. Allow our snow specialist to design an automated falling snow event on your mall property. Want Disney Quality snow effects we can provide that! Last year we helped 12 malls to do-it-themselves with our rental and consultant services.
A respected marketing manager in the Northwest, noted in the Seattle Times that in 2010, two major shopping centers saw double-digit jumps in sales every time it "snowed." Many malls are now incorporating Zigmont Magic F/X Inc. snow machines with true evaporating snowflakes and over a dozen of machine options to excite and brighten the season for shoppers. Just like what Disney is doing for 15 years.
Shopping becomes a fun event for the whole family. When people hear on the radio or read in the newspaper that its going to be snowing inside your mall at certain times of the day, they don't want to miss it! People look forward to going to a store that has excitement for the kids.
It's a media magnet. Snow masters the original patented and trade Mark and most popular snow machine made in the world. It is also has quietest 68DB, other at 72 DB and other 74DB's and above (if you don't see the DB rating and just has the sale pitch or named silent it may not be as quiet as it can or could) Our machines are robust and can be run continuous year after year producing the best looking most realistic snowflakes.
You can have falling snow effects at rock bottom prices. Prices always equals; machine rental, accessories rental, snow fluid (Malls use 50- 150 gals), and shipping. We offer installation if desired, but in this economy allow us to tell you can make snow happen on your property. Last year all 12 malls did the install themselves, you can do it too with our help. Our snow display will create a buzz in the community and will provide a memorable holiday experience.
THE SNOW SPECIALIST WILL DESIGN A UNIQUE SNOW FALL FOR YOUR PROPERTY WITH A FREE CONSULTATION PDF ADVERTISMENT
Professional Artificial Snow Machine Rentals Nationwide Price Guide
We can rent one of our high-powered snow machines or provide a snow machine rental manned by one of our trained snow technicians to create a falling snow effect for you and your guests. Beware of the cheap machines and fluid used by other companies, as there are 15 different consumers snow machines on the market with only two worth using, so don't be fooled into renting a consumer snow machine. See our Our Complete Series of Best Rated Snow Machines Quick Reference Guide Click Here.
Reference Guide for services for;
Snow Service Experience for Theme Parks
Snow Services For Shopping Malls and Retail Community Centers
Snow Services for Sporting Events
Our artificial snow machines and snow blizzard cannons will blow 10's thousands of tiny clusters per minute of (millions during an event) biodegradable foam that gives the illusion of a real snowfall. No other company in the nation has more snow machines options. Our experiences shows us that one snow machine model will not work for all jobs and not one else will offer over a dozen different snow machines.
Take a Look at Our Results of Artificial Snow, that Looks Like Real Falling Snow with our You Tube Streaming Videos embedded along with Photos of those Events.
Look at these two (above) streaming video's and see what you can do with 6 T-1500 max snow machines. Here the machines are installed for a corporate industrial show at the JW Marriott Orlando Florida Jan 2010. The truss is 72 feet long with 4 machines facing toward the audience, two toward the stage and two in the rear of the room. You can even hear how low noise the 8 machines are with regular audio playing. Looking for theme park quality special effects for your event?
We are Tampa - Orlando - Miami Florida and Southeastern U.S. Based Snow Effect Specialist since 1994, with over a 100 snow machines from Snowmasters and other commercial studio brands from around the world in rental inventory. We rent snow machines and offer full service for events and also a Snowmasters dealer in selling snow machines. Magic FX specializing in Fake Evaporating Snow ™ Snow Machines Services for any Event nationwide with artificial our full line of falling snow flake machine rentals and simulated special effects ground snow decor.
Magic FX leads the industry by providing 100% free 24/7 product tech support to all its rental customers.
THE SNOW SPECIALIST WILL DESIGN A UNIQUE SNOW FALL FOR YOUR PROPERTY WITH A FREE CONSULTATION PDF ADVERTISMENT
As well as free phone consultation by a snow specialist to evaluate your space for a unique snow fall design for your property or venue. Plus expert advise on setup and proper placement of the installation. Let The snow specialist advise you now by calling 813 689 6269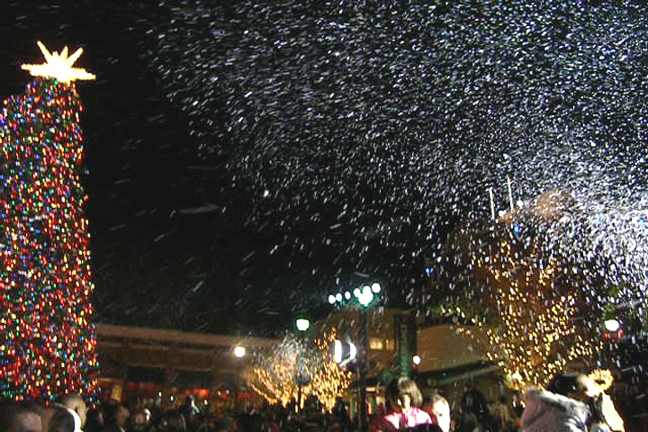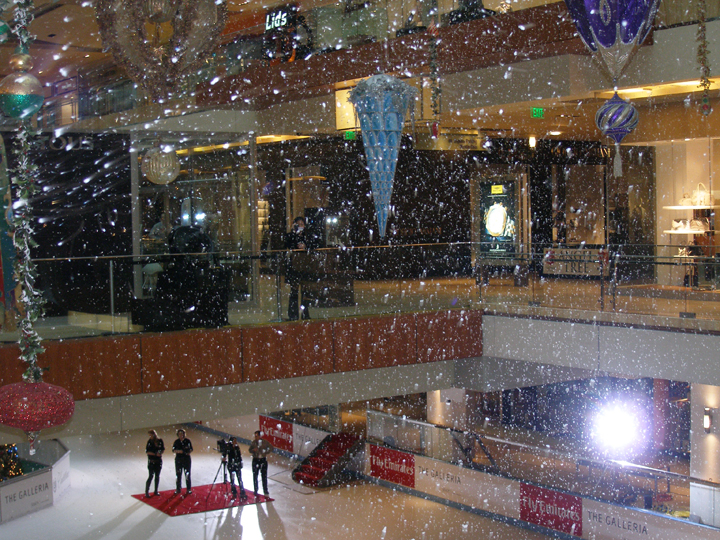 The T 1500 Snow Zone Event Outdoors with Faux Snow on the Ground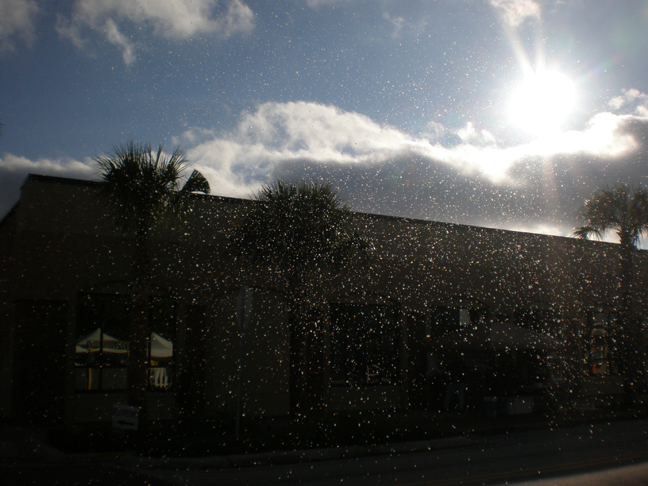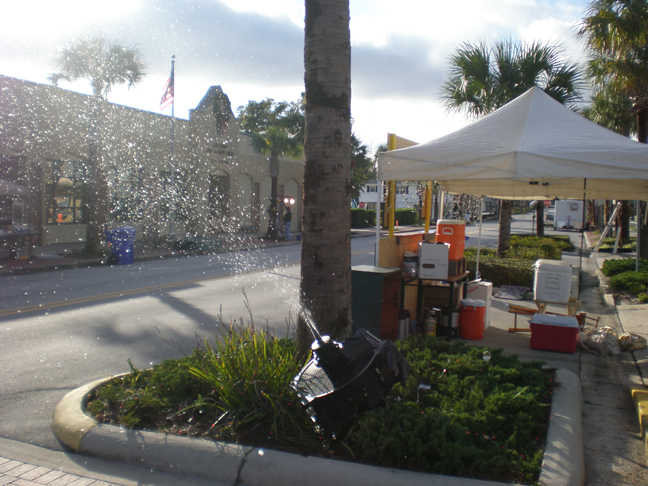 A T-1500 Ground Base Working an Intersection For A Winter Festival with our professional series.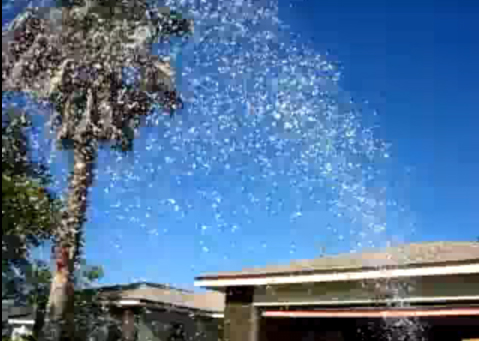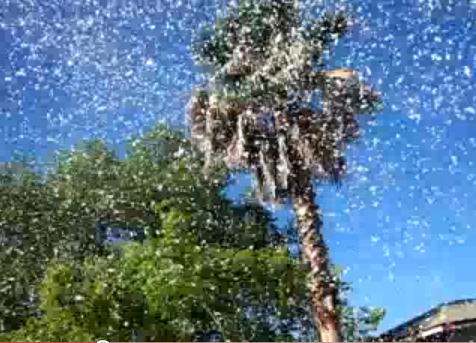 The Commercial Series output of snow for one machine.
T 1500 Positioned On The Ground shooting Up, For The City of Tavares Florida Christmas Event
A Night time Snow Falling Event at a outside Mall Plaza Video Demo of 4 Snow Machines
Our artificial / fake Snow making equipment can make it Snow warm or cold weather, indoors or outside with the driest most realistic snowfall in the world. Just like a Hollywood Movie Scene. Our Artificial snow looks exactly like real snow and falls at the same rate. Snow effects for film, television, stage and winter theme events.
We offer full production services that includes artificial snow effects including artificial snow decorations, special effects falling snow machines equipment that simulate realistic artificial falling snow. We offer snow services for TV shows, studio films, print ads, movie productions as well as commercial building and Mall properties. We offer the widest selection of faux snow production supplies for film production, special events, hotels, shopping malls, and theme tourism attractions.
Our Special Effects Coordinator and Technicians will use the world's best paper cellulose snow, snow polymer, artificial icicles and artificial ice special effects, snow blankets ground cover, artificial snow display snow dressing with real world professional solutions to apply these products indoor or outdoors for a snow covered scenic effect. We offer outdoor snow services to decorate and spray cellulose snow onto your facility for Christmas and seasonal winter occasions.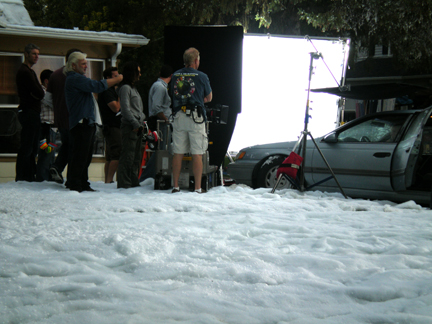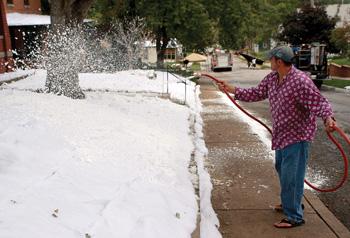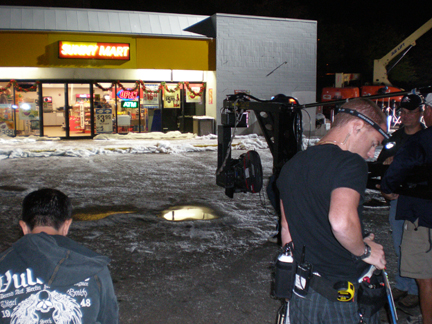 We offer snow effects for motion picture and television film, and commercials as well as The gentlest flurry to white-out blizzards, from deep snow for the directors vision of his winter scene regardless of the size, location, or temperature of his shoot. Snow on a house lawn, city street snow, fields and landscape, snow bank on roof tops, snow within a parks, indoors window dressing, shopping mall property, city tree lighting. We offer Hollywood Grade Three-Dimensional Display Flakes Snowcel Snow Blowing Services. See our Snow Deco Snowcel Page for snowcel snow dressing and many other snow flake products such as snow blankets, expanded polystyrene snow pellets, decor display snow, plastic shredded snow, paper snow, polymer snow, snofoam flocking. See our Snow Dressing Work in the soon to be Release Major Motion Picture Called Lucky.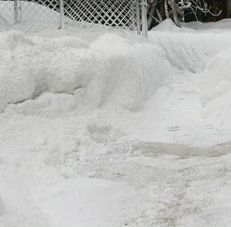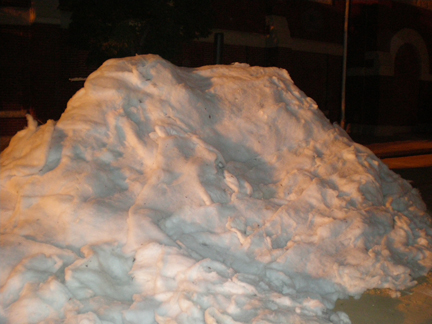 Who else can give you a mountain of snow to a yard full of snofoam that is totally artificial snow products or we can create a Blizzard like we did in in Las Vegas for the Hard Rock casino, our services are used for motion picture production, video production, photo shoots, winter theme events and parties.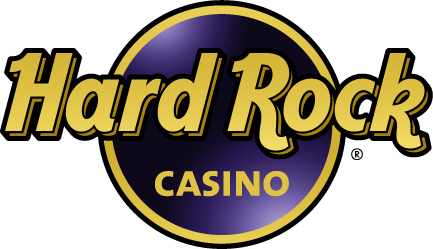 Snow Video demo Test at the Hard Rock Casino Rehab Pool side Blizzard in July Party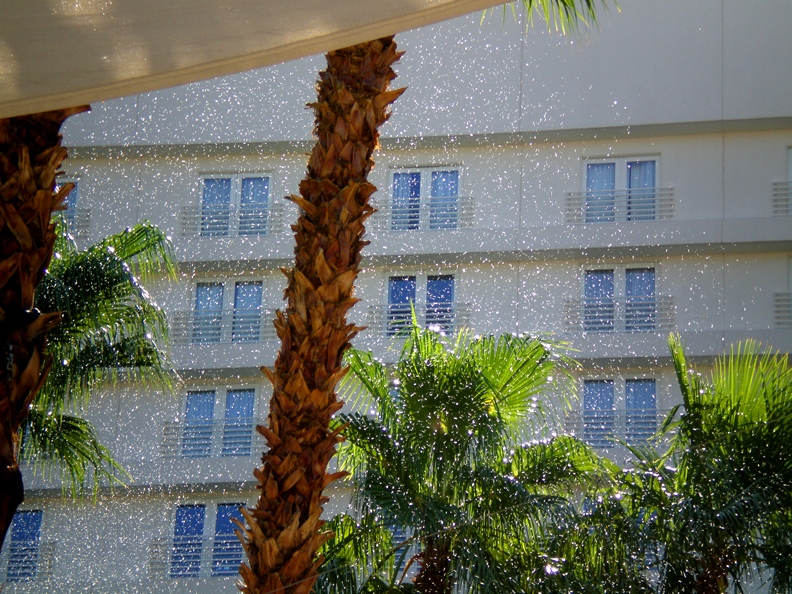 We also provide snow at the Hard Rock Casino Las Vegas at stage side at the ReHab Pool all day Sunday Blizzard in July Party, within in a 90 foot long section along with snow deco 2009. All 7 of the snow machines used are 14 foot off the ground shooting up from the deco rocks and two on the truss.
Snow for ReHab Pool at the Hard Rock Casino Las Vegas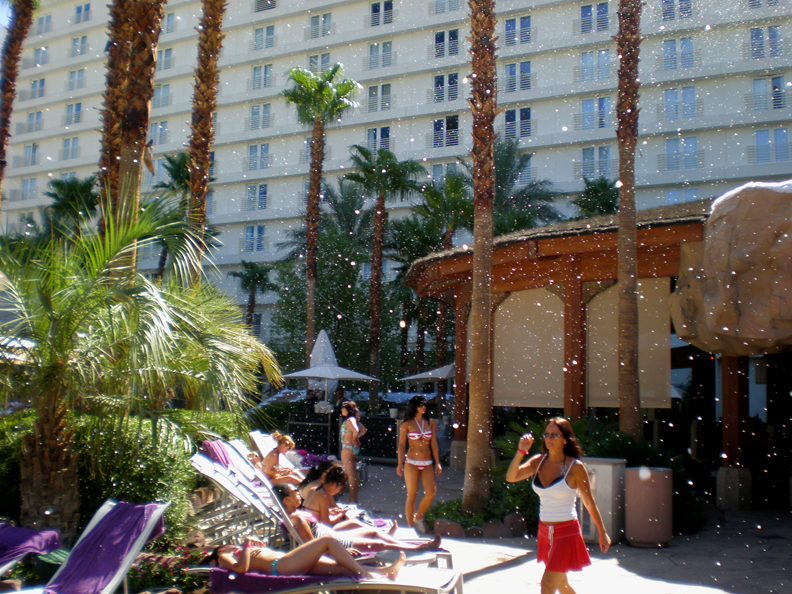 Make it Snow at your Next Event By Calling 813.689.6269
Service or Rentals
We offer snow machine rentals and full turn-key production service for events countrywide. See FX Rentals or call for pricing on our fake snow machine rentals, call for turn key service. You can treat your audience to a snowfall experience in any climate at any location. We recently made an entire arena snow. We made a arena snow for The Salvation Army Holiness Congress Event 2008 with 12 of our Mega snow machines for their huge industrial show with great success.
Snow Service Experience for Theme Parks
Zigmont Magic FX is used by most the major Theme Park Studios, Universal Studios, Disney Magic Kingdom Orlando, Disney Blizzard Beach, Paramount Studios, Busch Gardens Tampa, Legoland, Silver Springs all these Theme Parks use our continuous floating snow effect that evaporates on contact and they consider us the snow effect experts and uses our experience as a key resource. It makes sense to use the same resources as they do and same machines as well!
We bring Disney snow machines to our Benchmark standards.
Disney Mickey's Christmas Party - Harry Potter Theme Attraction Universal Studios - Seaworld Christmas Celebration - Holidays at Busch Gardens and soon to have snow Disney Blizzard Beach
We are experience in designing and mocking snow effects for major theme parks projects. Which included design conceptualize effects for their specific applications considering aesthetics, technical feasibility, proper machine placement, movement, snow flake size configuration selection and budget. We advise as to the best use and staging of the snow effects with responsibilities for snowfall concept mock-up design, sound stage testing, Coefficient of Friction Test. Guiding this projects through mechanical integrity throughout pre-production and installation for Theme Park Attractions worldwide. We are Snowmasters outsource vendor to head-up projects and working as the effect master on all theme park projects. Zigmont Magic FX and Snowmasters Studio are the leading innovators of realistic Evaporating Snow™ snowfall.
Florida Theme Park Visitors Dazzled With Snowfalls
Effectspecialist.com snow effects help provide a one-of-a-kind magical adventure for The Wizarding World Of Harry Potter™. Snow effects for the Orlando resort's special effect applications took into account mechanical integrity throughout pre-production and installation to include; aesthetics, technical feasibility, proper machine placement, movement, snow flake size configuration and budget. We mock the studio effect to the final installation.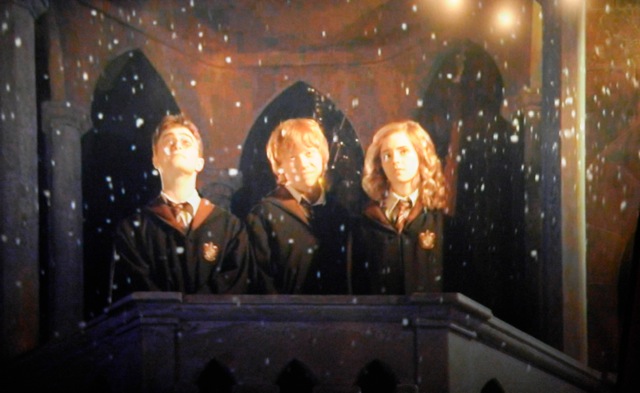 Whether your experience snow at Universal Studios The Wizarding World of Harry Potter™, or if you're on a Disney Cruise Ship and it's snowing throughout the Walt Disney Theater, perhaps at SeaWorld Texas and you're seeing a snowfall at a Sesame Street Theater you have seen our work.
You Can See Snowmasters Machines at Legoland worldwide.
Sea World Theme Park Texas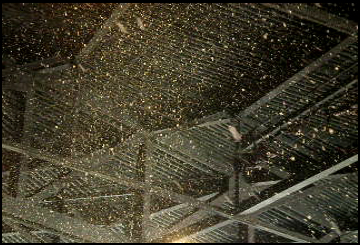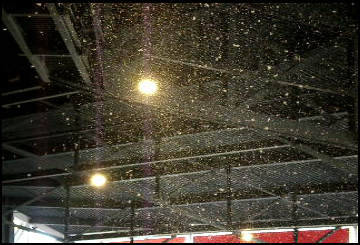 Photos from Sea World Texas Sesame Street Christmas using 8 T 1600's, pictures above.
Sea World Texas Snow Machine Test for Sesame Street Christmas Snow
We were hired to perform a onsite services at Sea World Texas with complete corrective inspections, placement corrections, fine tuning machine performance and output, on site machine repair and giving technical knowledge for additional machine placement. Sea World owns 25 machines and uses them in 4 different areas. If your renting, buying or long term leasing we offer a premium level of customer service. No other company offers authorized factory smow services like Zigmont.
A Short Montage of Our Snow Videos
Our Disney Theme Park and Disney Cruise Line Work
We are snow consultants and a key resource for Disney Theme Parks Florida and Disney Special Effects Dept.., we are a authorized Snowmasters satellite repair facility for Disney and we make sure the falling snow is Disney Top Quantity with our park visits to tweak the snow systems to the Zigmont Standards.
No other special effects company provides this service or improves snow effects for Disney but the effectspcialist. We have worked at Universal Studios and Seaworld as a independent snow technician, advisor, designer and vendor.
In 2000 Disney Theme Parks started to do Nightly Snow Falls Snow Nightly at Disneyland Theme Park and they use our Brand Snowmasters T 1000's. In fact the 1200 ft long feet of show falling in the streets were placed on roof tops and on lampposts using around 72 T - 1000 snow machines. That set the pace for snow events all over the country. In 2010 they made the snow experience short to 400 foot street area and calling the event Mickey's Christmas Party while using 28 T- 1500's for Main Street USA snow event. In the past years we installed the T 1100's snow machine effects for Disney on both of their Cruise Ships in the Walt Disney Theater, snowing the entire showroom.
You can use the very same snow machines as Disney Theme Parks, Disney Cruise Ship Line, MGM Studios, Universal Studios, Paramount Kings Island, Seaworld Florida and Hollywood Movie Studios use.
We were ask to do a feasibility study and survey for Disney Blizzard Beach by Disney Special Effects for a permanent snow install at several locations within the property. We provide the snow machines specifications and design type. We provided a demo for the parks management and will installed the snow machines.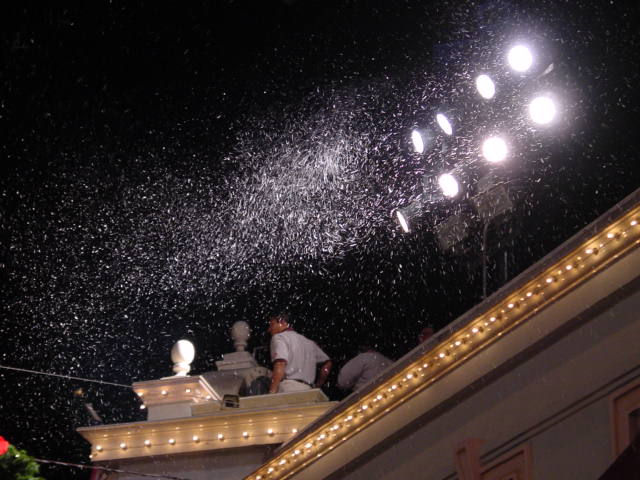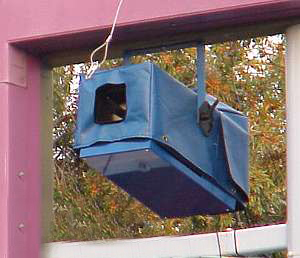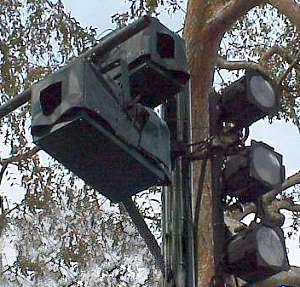 We do snow for Disney and they use hundreds os T - 1000's - T 1500's installed all over Disney property.
Disney snow has always been done right, from when they started snow showers in 2000 they have always gone over the top to make the falling snow on Main Street USA perfect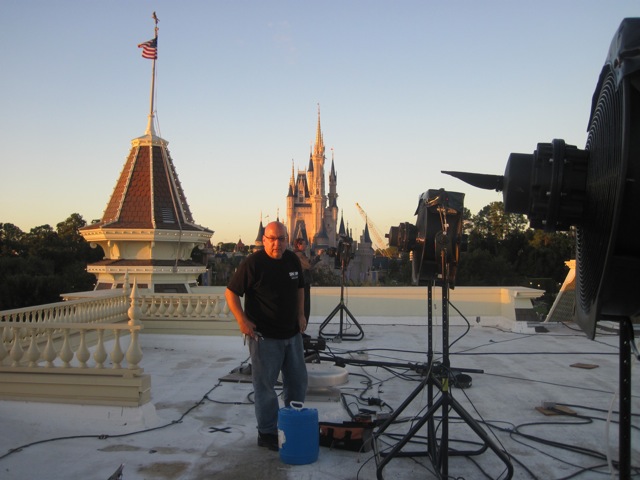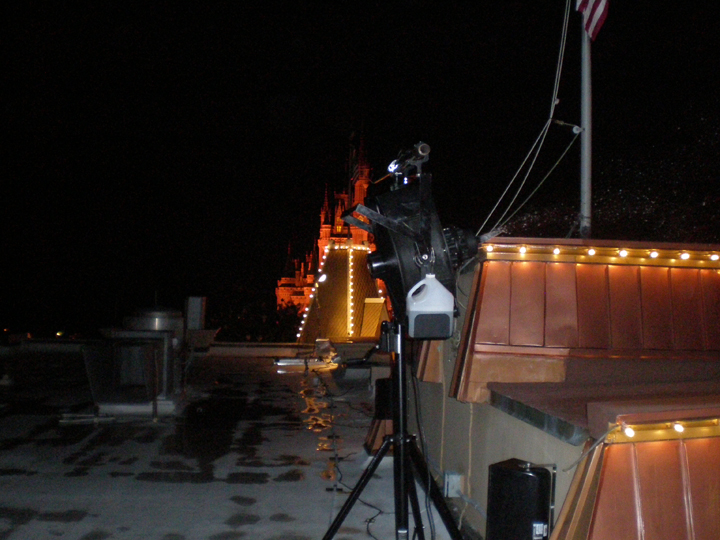 Zigmont on Disney Main Street USA roof top tweaking the snow machines like only he can for Mickey's Christmas Party.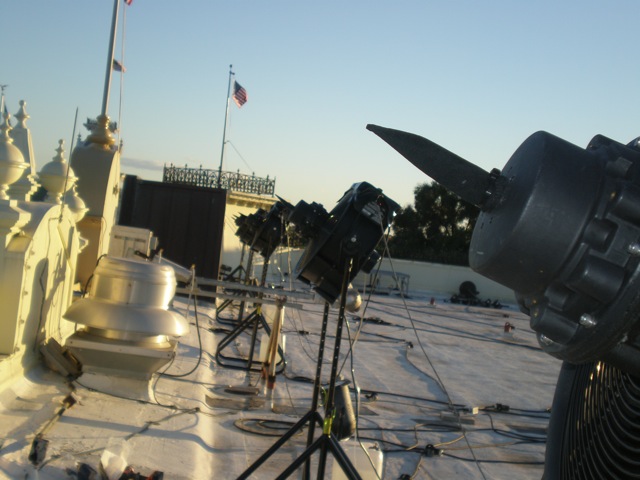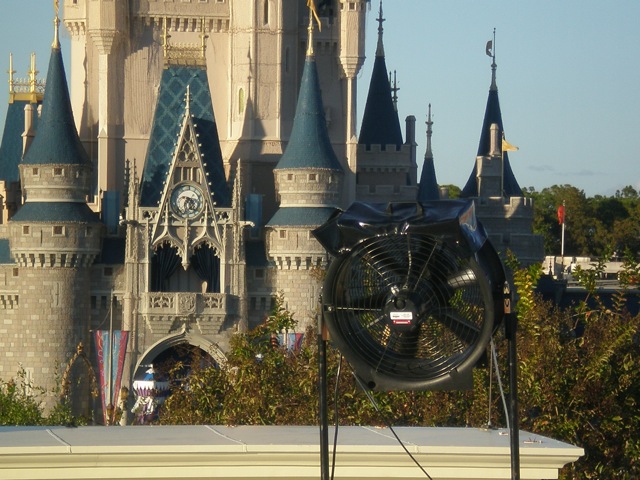 Now Disney uses 28 of the Snowmasters T- 1500 Max models in Florida and 33 of the T 1500 Mini's In Anaheim. Snowmasters is the Machine of Choice for Disney.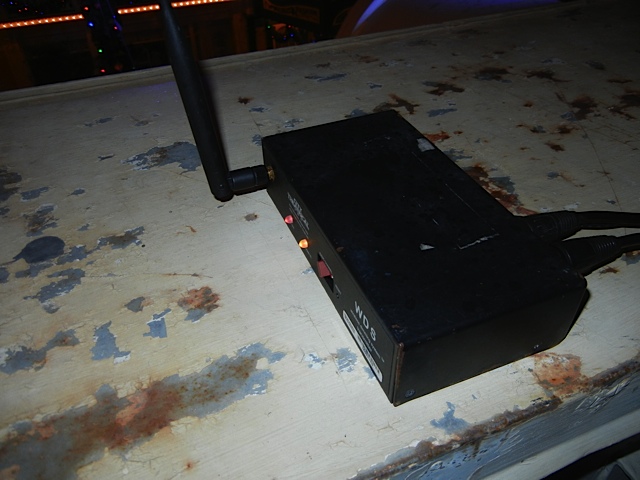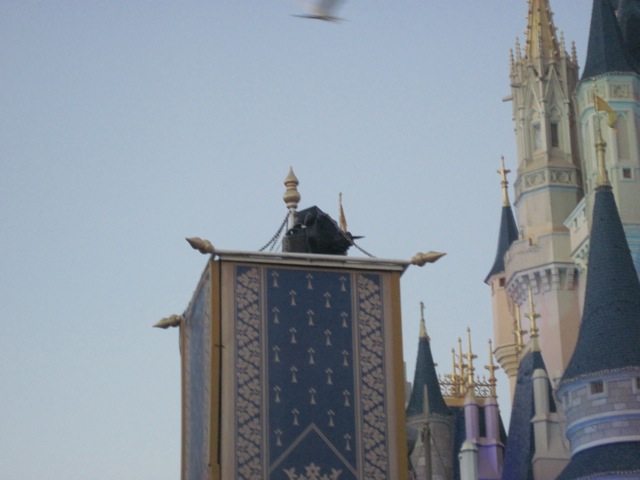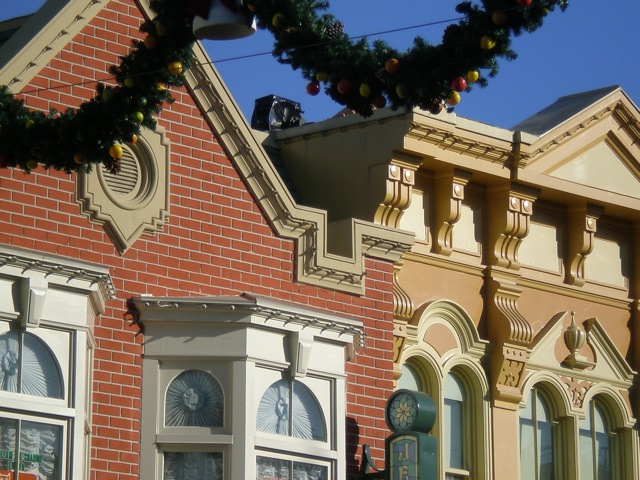 Disney Controls snow machines with wireless DMX and a Whole Hog controller, snow machines next to machine castle and a snow machine on the roof seen from the street.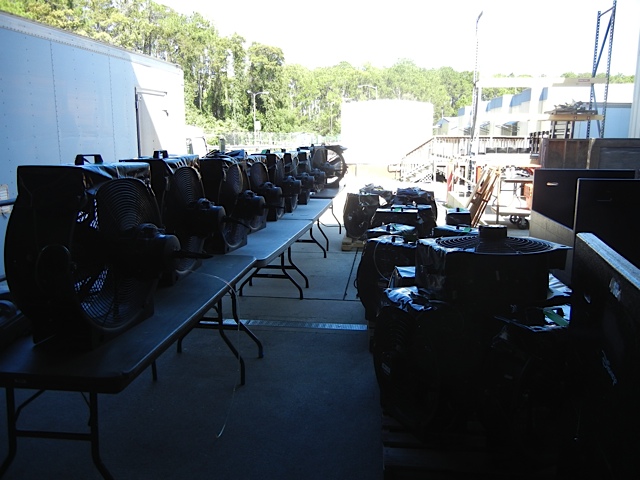 W
e tech and tweak all of Disney snow machines ( as see above, is a sampling) each year at the Disney Pyro Compound, as well as supervising the rooftop install. Making Disney Snow Shine.
The sound of the video is the street washers Not the snow machines.
A redesign of Snow Machines 2012 at Disney MGM Studios for the Famous Osborne Light Show will be implemented after we performed a demo and advise to the best results for an install. We install and you cansee the stunning results this season.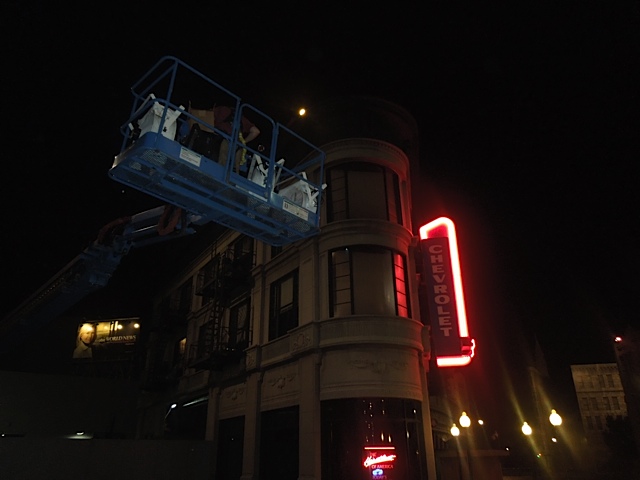 The Disney MGM Studios Snow Machines Redesign demo Roof-tops are always tricky with up draft winds and cross winds that keep the show from pushing out. At Main Street USA we get snow traveling 54 feet which is the entire street width.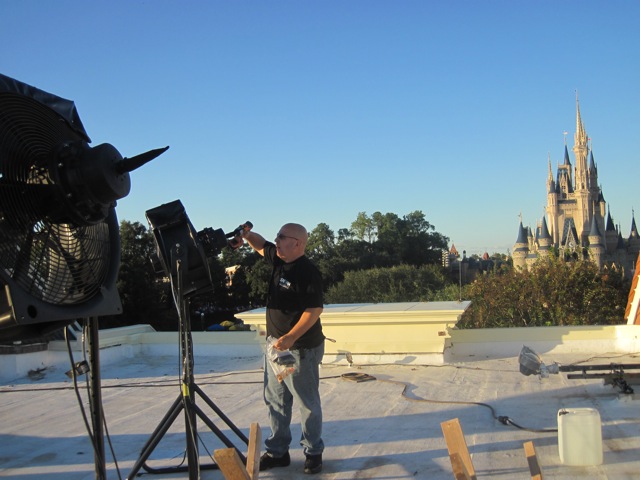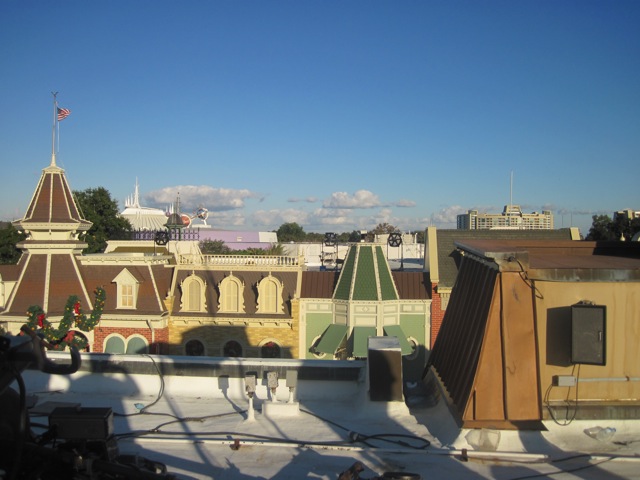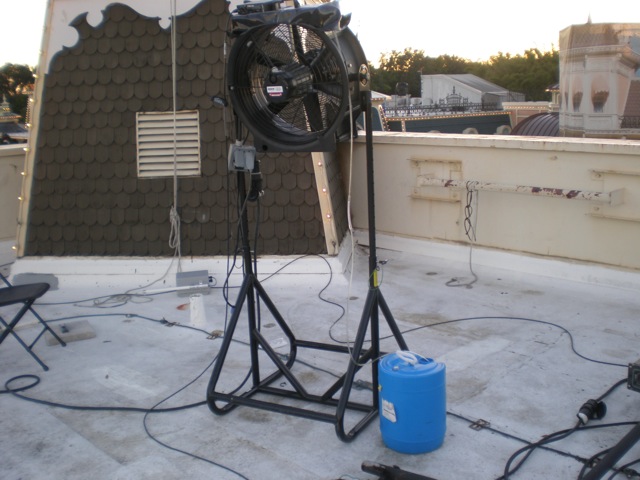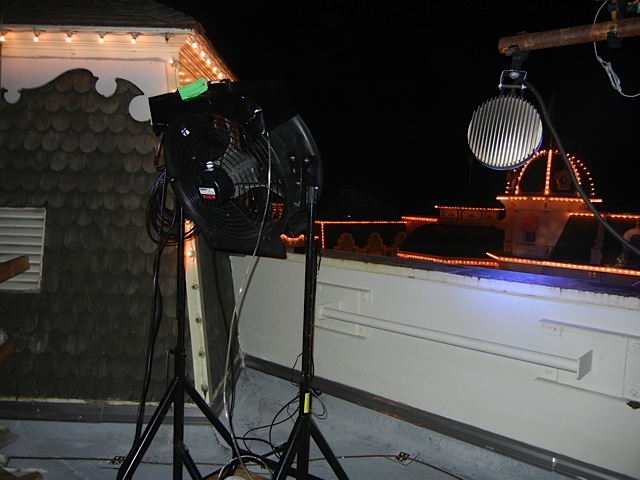 Zigmont Magic FX working on his magic for Disney Main Street USA Snow Machines. Photo right view of machines across the street.
Disney Main Street USA Snow Test and Demo Video
In 2009 we mocked up and demo our T 1500 machine at Disney World Theme Park this Snow Machine demo was to modernize the Main Street USA with new larger machines (replacements) for the Christmas Holiday Season 2009 - 2010 snowfall. Disney forecasters predict the first snowfall of the season will swirl a winter-like effect Down Main Street USA.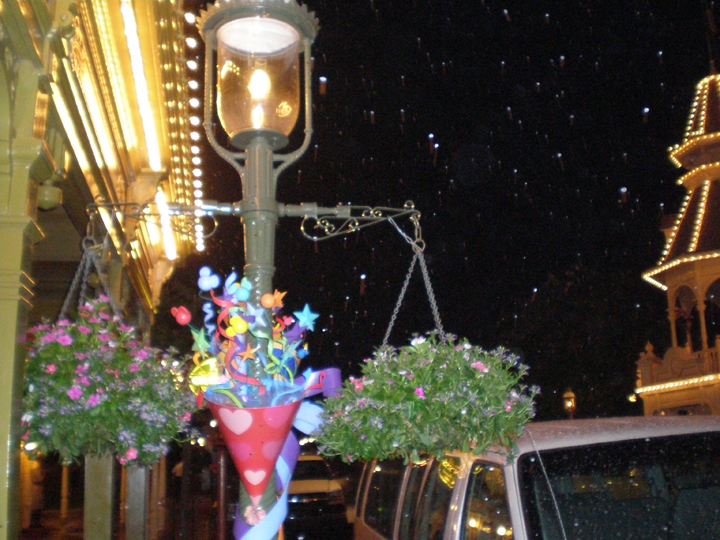 In a Hotel Ballroom we can make a snow globe effect as we did for Chrysler Financial Services @ Disney Contemporary Resort 2008. We used 2 truss based snow machines and two floor bases special effects snow machines covering 50 x 100 with a blizzard. Our technique of snowing a ballroom with 4 snow machines is unmatched in the FX industry.
Yes That is Zigmont installing 24 Snowmasters snow machines on Disney Cruise lines for Disney Special Effects Dept. 2007
Our Snow Falling Events receives Rave Reviews wherever we go. See our references
Legoland Florida
We are the snow machineand Snow Fluid provider for Legoland Florida this 2011- 2012 - 2013 - 2014 holiday season. Above Video is one Magic Lamp Snow Machine operating at the Lego Christmas Tree as a test. The Two Magic Lamps Snow Machines are at the Christmas Tree lighting area.
We have have several other areas that are snow zones with T 1500s snow machines as well. See the snow effect is legoland 3D theater were there 9 T 1600's.
The Magic lamp is like having 3 snow machines spraying at once and they are at the perfect height and right over your target audience. The added benefits the machines are hidden, they are quiet, holds 5 gals snow fluid and re fluid at ground level, 360 % spray and they provide lighting.
Universal Hard Rock
Video Clip #2 Of Our LSG For Coors Party At Universal Studios Hard Rock Live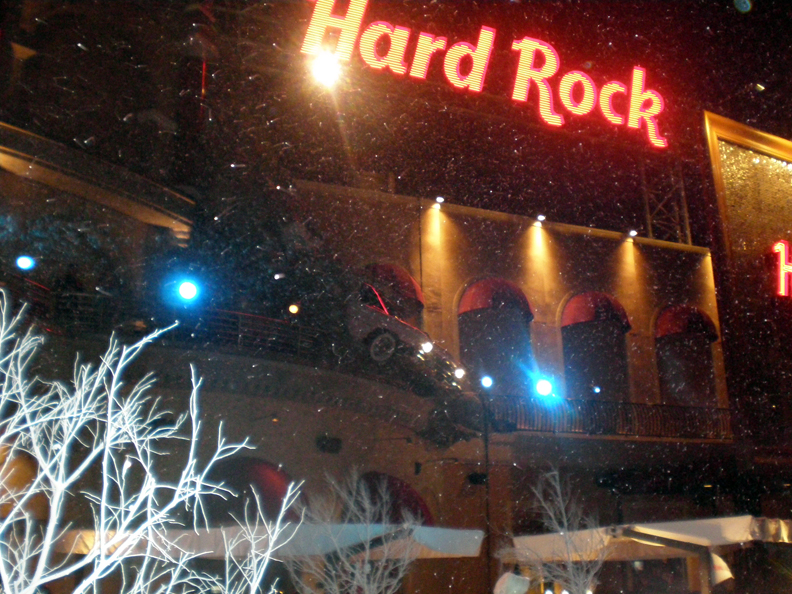 Coors wanted a frosty mountain entrance for their guest to walk through for their Super Bowl Party Staring Nelly 2009. We supplied FX effects indoors and outside at Universal Studio Hard Lock Live.
We used two (2) of our professional series fake snow machines and achieve these results seen.
Video Clip of Snow outside the Hard Rock at Universal Studios
Video Clip Of Snow Falling and Crawling fog for a Chilly feel at a Coors Light Party at Universal Studios
You can count on our special effects snow experts (Snowologists) design the proper placement, install the setup and adjust the settings of the snow machines, so that the snowfall can be viewed best from your audience and is perfectly integrated in your performance or event. Our fake snow is known as Evaporative Snow™ a fast dissolving substance, leaving no residue, but creating authentic snow effects from a nice calm snowfall flurry to a blowing blizzard storm effect.
While there are less than a dozen companies that design snow events with full production services and less than a handful that can service the motion picture industry. It makes sense to use the snow experts at effectspecialist.com just like the Major Theme Park Film Studios, MLB, Retail Mall Properties, Major Hotel Chains, TV Shows, Theatrical Production Shows, Trade Shows, Mega Churches, Cities, Corporate Conventions, Cruise Ships , Industrial Productions and Big Name Arena's all do. The Biggest Names have been using Zigmont Magic FX for years. Take a look at who we have worked for at our Snow Clients page or All Of Our Clients for all Special Effects Here.
Tavistock Cup Golf Tournament at Isleworth 2009
Gaylord Hotels Flagship Property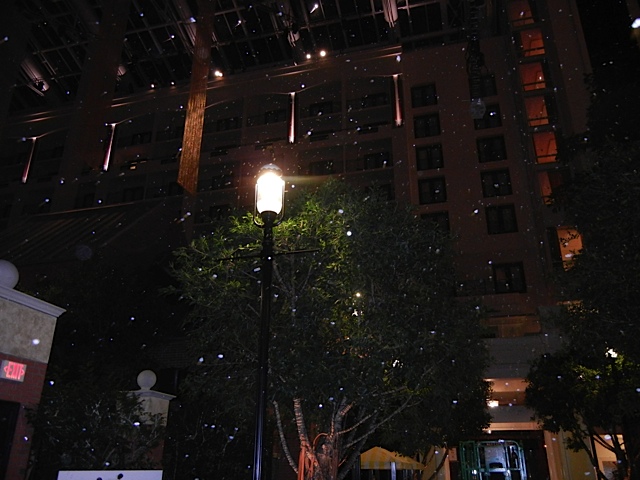 The Gaylord National Harbor Resort is the flagship property of Gaylord Hotels. We are the Gaylord national snow machine vendor provider and are proud to be take part in the 2008 - 2009 - 2010 - 2011 - 2012 - 2013 - 2014 of the The DreamWorks® Snow Fallimg Experience! That's is 6 years of service. Gaylord Nation Harbor Resort Hotel "Christmas on the Potomac event" with nightly snowfall. The Gaylord National is the flagship property of Gaylord Hotels. This year we used the Main 120 ft long (Hanging) Truss which is at a 60 foot trim (high) making a 120 ft wall of snowfall inside the atrium as Nightly Entertainment Tradition.
When The Gaylord National Resort and Convention Center wanted to add artificial snow to their Holiday event, they called for demos from many different companies. They just couldn't get the long distance spray of the Snow Simulator Machines nor the high volume of snow needed for the coverage required. They tried snow machines like Le Maitre Silent Storm and the Little Blizzard. They were also disappointed with the results which did leave a foamy mess on the ground. When they found Zigmont Magic FX and asked for a snow design they were surprised that just 4 of our snow zone machines would be all that is needed with great results. Plus with the evaporation control of our snow flakes the flakes were gone in a few seconds of hitting the ground. Once we were able to cover a 120 feet long and 40 feet wide with 4 of our snowmasters mega machines, we became the vendor of choice for the e Snowfall on Holiday Lane. (See the add) You won't believe your eyes as it snows inside our atrium! (Snowfalls nightly, Atrium Lower Level)
Video Of the Gaylord National Harbor Resort Hotel Snowfall Click Here
WTOP interviews and reports on the snow at Gaylord National Harbor
Radio Spot advertisement for Snow At the Gaylord National Harbor Resort Hotel
Radio Advertisement Spot For the Gaylord National Harbor Resort On The Potomac

When you compare our service (please review video link above) to other companies, please compare them to our long range and high volume snowmasters machines. Our expertise along with our powerful snow machines is why the biggest names use The Snow Specialist at effectspecialist.com
"The Snow fall is one of the most magical things, the Gaylord Resort guests said, to be loving about the Christmas On The Potomac experience"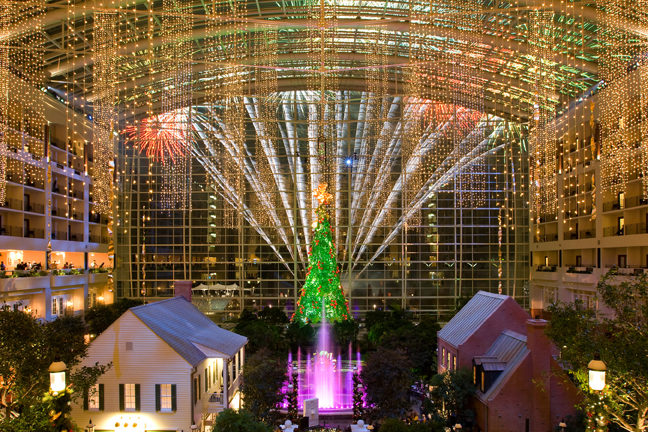 Gaylord National Resort Hotel Snow Test 2009
Gaylord National Harbor Resort Snow TV Commercial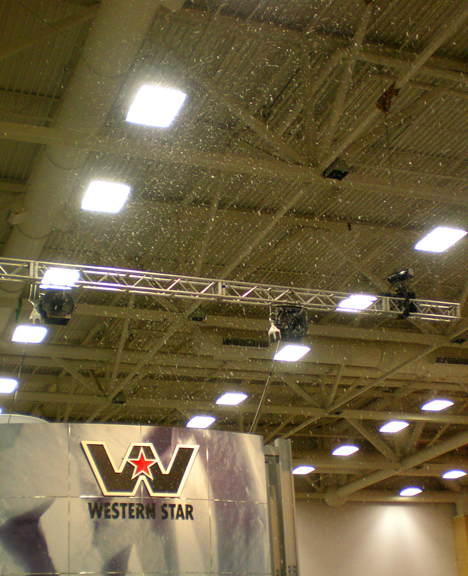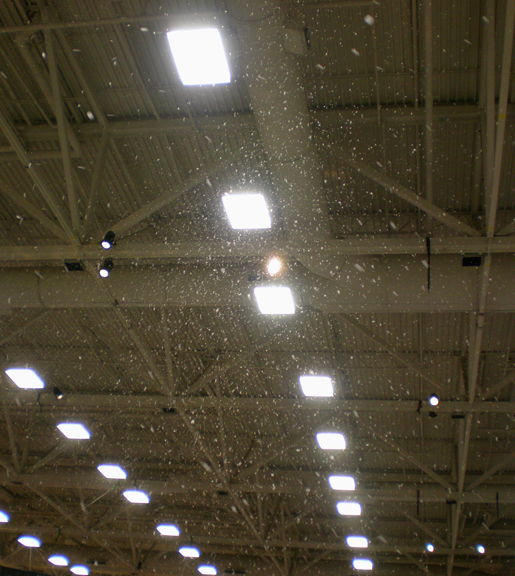 The photo's are two Mini T 100's snow machines at the Great American Trucking Show 2008 in Dallas for Western Star, Daimler Trucks North America and you know they don't want any spots of residue on the show trucks. Our compact snow machines are built into a effects fan that can travel distances of 50+ feet. We have snow machines that can blow to 100 ft. Machines seen here are wireless control and fluid is being pumped to the machines from the ground.
Watch this video demo of the high range long distance that our snow machines can spray at a recent trade show
We can rent your the gear or offer you full service production services for one day for a 45 day run. Call for rental information
Call us @ 813-689-6269
Snow Services For Shopping Malls and Retail Community Centers
Magic FX has a Turn-Key Service producing automated Simulating Artificial Snowfall Events for Entertainment Venues and Shopping Malls. Events Large or Small. Fake snow effects that look as real as mother nature with our snow making machines.
We are the snow company of choice for the biggest names in the mall industry, working with Houston's (Texas) The Galleria 2007, A Simon Mall, as Air Emirates kicked off a media campaign with a Snow Spectacular event. We helped promote business while gaining extra media publicity for this new ad launch. We helped The Galleria to stand out and becoming a local talking point, as wells as attracting new passing customers with snow that is virtually indistinguishable from the real thing allowing you to recreate falling snow flakes virtually any time of the year.
Air Emirates Snow Spectacular News Article
The Galleria Snow Spectacular Video Demo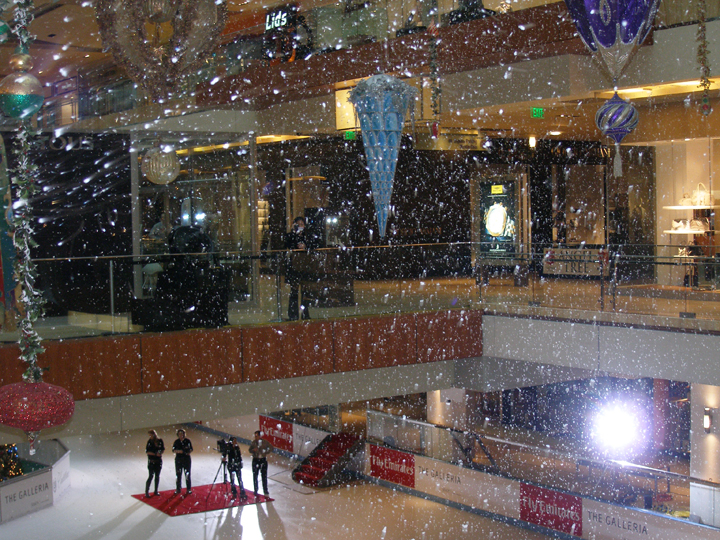 Our Snow Experience program can produce a Blizzard that looks as real as mother nature's snow inside a venue or outdoors.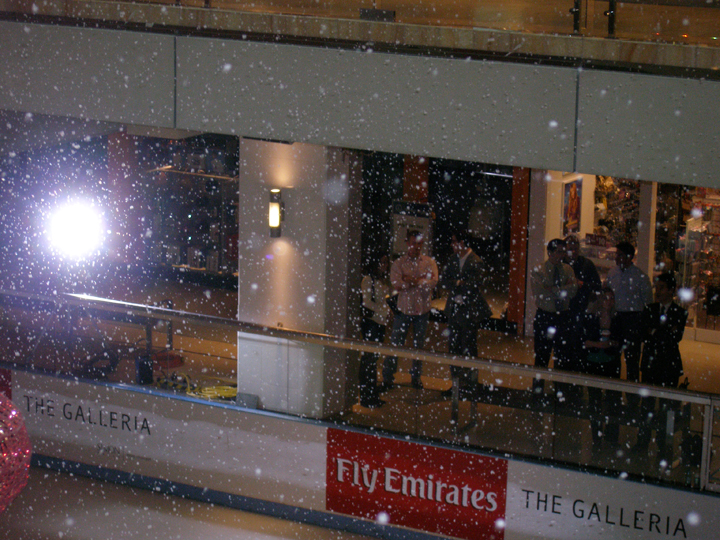 Houston Galleria Snow Spectacular 2007, The Galleria is the fourth largest mall in the nation.
We use less snow machines while producing more snow, in fact One (1) of our snow machines is equal to our three (3) of our competitors snow machines and we do it quieter. With our ground based machines that shoot high into the air allows us to shoot snow from a second level mezzanine (no hang points needed) of a mall to the fourth level. Snow filling 55 feet of horizontal open space. From the ceiling to the ice with our stand alone machines. Snow filling the entire space of 42 x 68 (55 high) with 4 machines.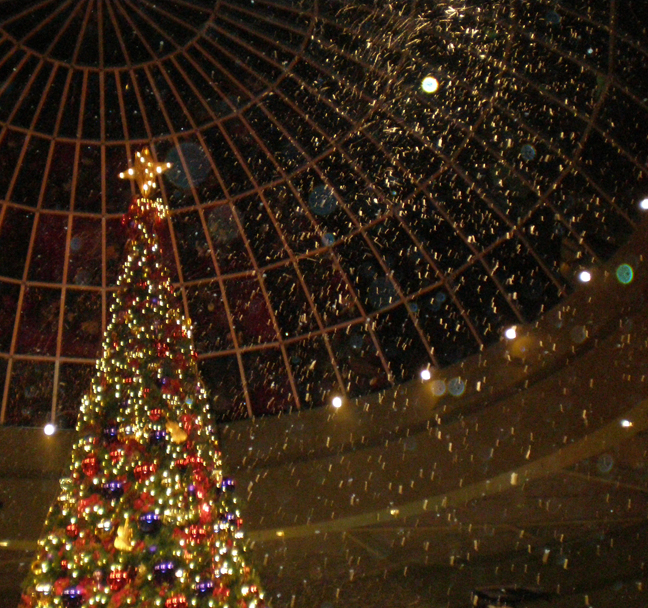 Wiregrass Commons Mall, Dothan, AL 2008
Our Snowfall Events are a Big Hit at Malls and Retail Shopping Centers for the Holiday Season with Snowfalls Nightly.
We are serviced 12 Retail Shopping Centers in 2009 - 2010 - 2011 - 2012 - 2013more Malls calls on the Snow Specialist to get there snow events done right.
With Zigmont Magic FX your hiring a Trained Special Effect Specialist that is a Certified *Snowmasters Master Technician, Authorized Factory and Field Trained, Dealer Representative, Snowmasters # 1 top installer of snow events for movies theme parks, entertainment venues, city events, retail shopping centers nationwide for nightly snowfall flurries events.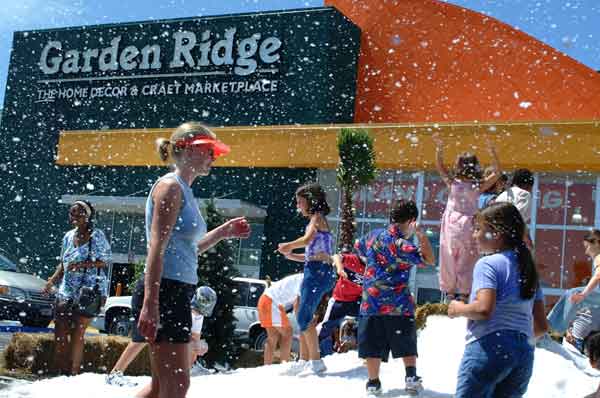 We maintain the highest industry standards and use the latest state of the art equipment. Effects Specialists at Zigmont Magic FX uses Snowmasters, the professional brand of snow machines. Ask to compare Snowmasters brand by name! If you don't seen the Snowmasters brand, it's not a professional snow machine as seen in Movies and Theme Parks worldwide for a 100% safe and approved method for realistic snowfall. No matter where you live, regardless of the time of year you can have the best realistic-looking snow flakes in the effects business.
We can fill a city street or a city park with falling and blowing snow for the Holiday Tree lighting event. City events can use 6- 8 snow machines on hanging over head on lighting truss or on tripods.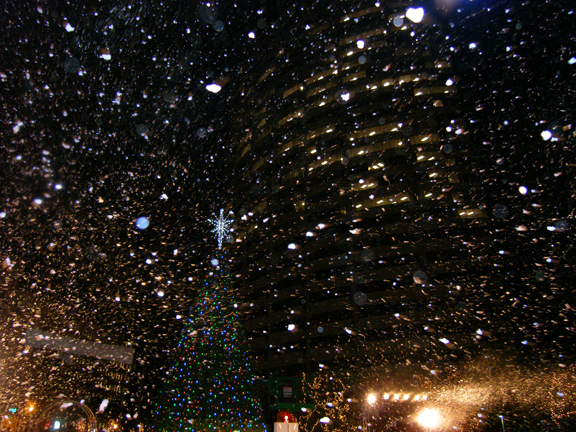 City of Tampa Tree lighting 2006
Watch these videos below of a Tampa Florida City park having a snow storm on cue.
Spectacular Winter-time Snow Falling Displays with Realistic Simulated Snow Flakes for a Winter Wonderland.
The largest supplier of snow machines for Leasing, Rental and Full Service Install.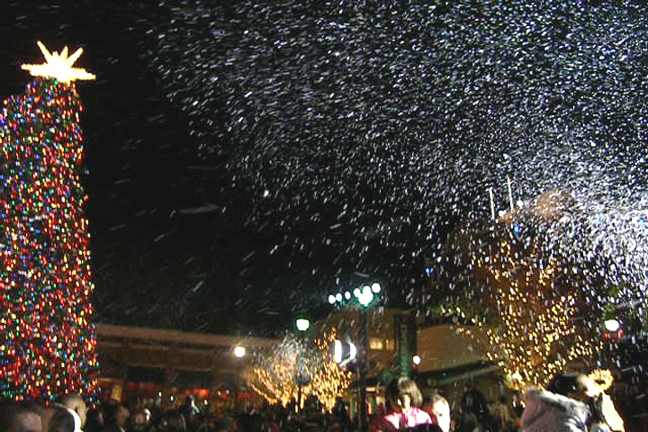 Atlantic Station Tree Lighting Atlanta GA 2006 - 2012 and still going 2014
Watch this small city property fill a 160 ft x 80 ft park with snow at the annual tree lighting ceremony using 10 fake snow machines.
Seen us on Extreme Makeover: Home Edition Sundays on ABC TV in 2008.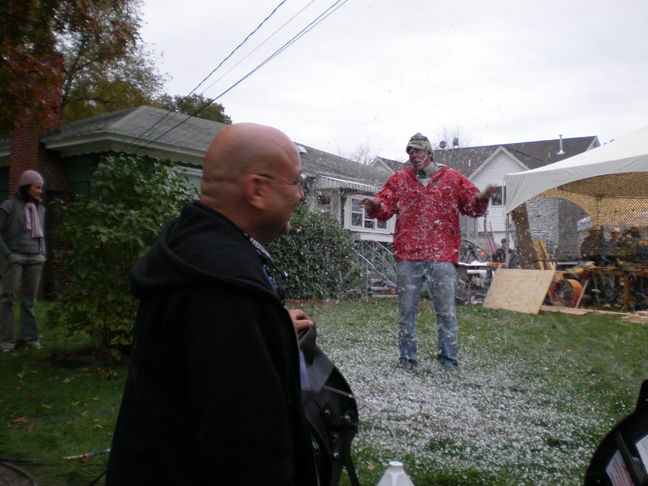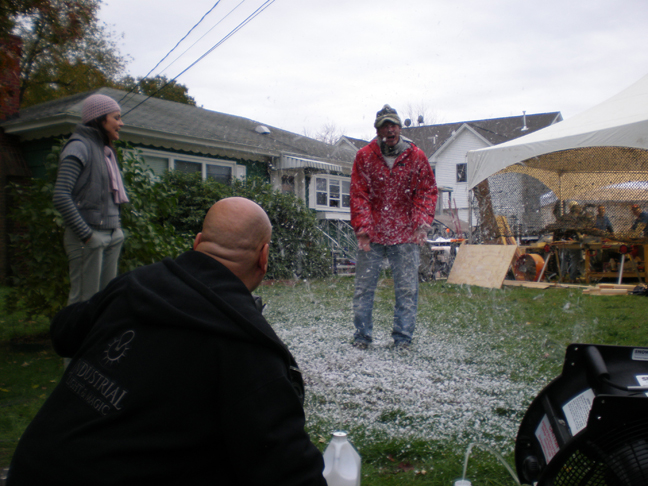 Steve Zigmont of Magic FX Inc was a designer guest for Extreme Makeover as an snow expert. We Flocked the ground to get the ground accumulation.
Video Segment from Extreme Home Makeover
Zigmont with Tye Pennington and Tanya McQueen on location. Did you see us in action on show 514 - Jan 27th (season 5) 2008. We supplied a special effect snow machine in the snow board bedroom. The room was 11' 9" x 11" 9" with the snow machine built into the wall.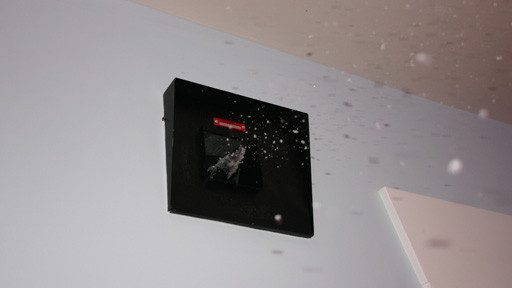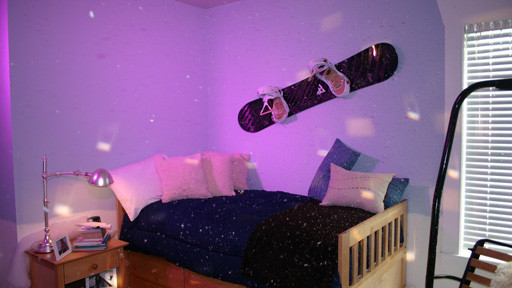 We were a guest designer on Extreme Makeover Home edition and with the help of Snowmasters we provided a Snow machine Simulator icicles and snow blankets and we designed the lighting with the help of our friends at Baystage Lighting Tampa and Josh that made it all possible for the Voisine Family.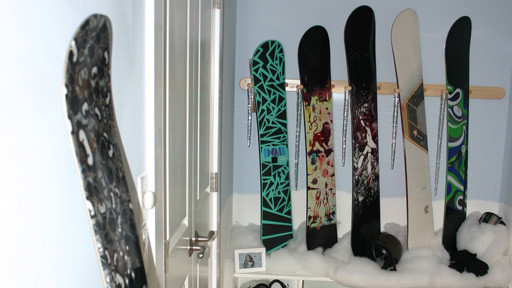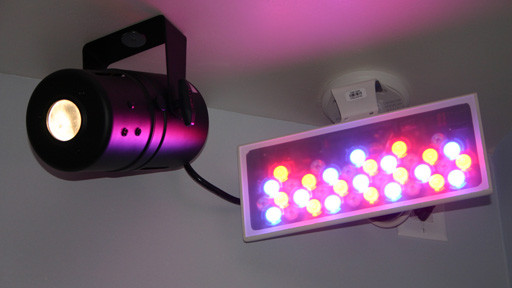 Please Watch our Videos Demo and call our References!
For pricing for services or rentals call 813.689.6269 or e mail us @ zigmont@effectspecialist.com
Snow Services For Corporate Events
We will plan the logistics and execute your next corporate party snow project to have a ballroom filled with snow.. We install projects for Snowmasters the Manufacturer that invented the technology and we can install snow machines to the highest standards at your event. We can turn any Hotel Ballroom into a Walk-in Snow Globe with our Simulated snow. With 6 options of snow machines we can find a machine right for your application.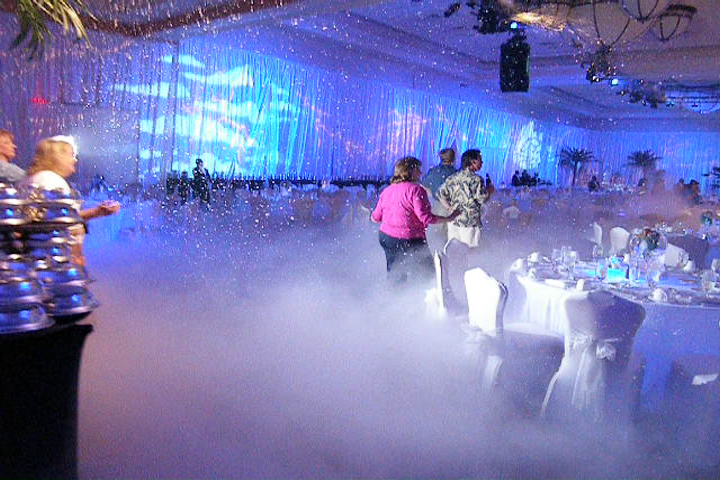 A Corporate Event with a Snow and Ice Theme in Phoenix AZ. As the outdoor temperature is exceeding 112% F, the ballroom is filled with Falling Snow and chilly CO2 ground fog. Watch the video below to see a Ballroom filled with snow like a walk in Snow Globe.
Using Special Effects, Fake Snow Effects That Will Wow Any World Class Audience
If your planning a winter wonderland Party having fake snow machines at the event spraying millions of tiny bubbles that looks like real snow will be the WOW factor. If your in the the warmer states like Florida, Texas and California, real snow is rarely ever seen so the experience will be tons of fun.
We service snow events, rent snow machines and sell new machines with True Artificial Evaporative Snow ™ Machines.
The original professional grade industrial snow machine system, Often Imitated But Never Duplicated!
Snow Services for Sporting Events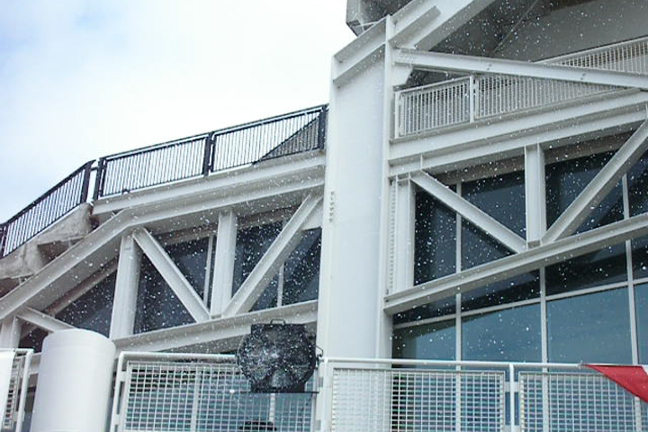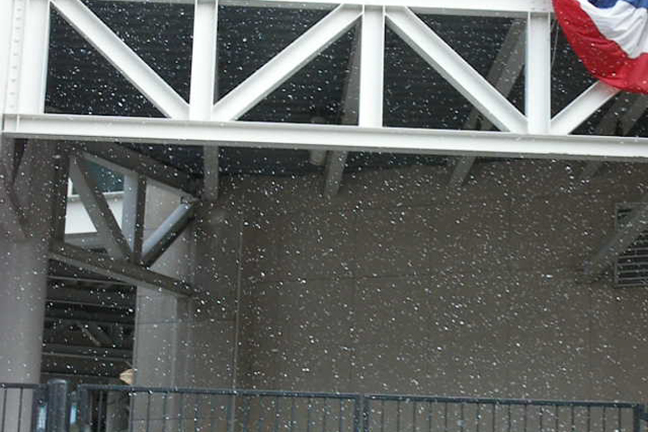 We provided snowfall for Major League Baseball Teams as we provided snow for The Cleveland Indians at Jacobs Field. Seen is a T- 1500 spraying artificial snow. We also provide the MLB Atlanta Braves snow machines effects. Have tons of snow falling that evaporates before it hits the ground.
Call Zigmont 813.689.6269
Snow Services for Theatrical Productions
From falling Flurries to a blowing Blizzard can be done Quietly (68db from 9 ft away) for theatrical stage performances, snowing an entire theater, filling a hotel ballroom.
Dance companies, who try to avoid having anything on the floor that might cause their performers to slip, stumble or fall, love the fact that they can have a realistic fake snow effect without the worry of anything under their dancers' feet. Rock 'n' roll bands and other entertainers have started making use of fake snow to create blizzards over the audience without having to pay exorbitant cleanup fees to the venue's management. Because the fake snowflakes that the machine creates are mostly air, they behave more like real snow as they fall and simply evaporate. Using true Evaporative Snow ® machines and patented Evaporative Snow ™ Solution Brand.
Our test of excellence; we will leave two snow machines on for an hour over a stage dance floor at the correct setting and we will have a dry floor with no residue.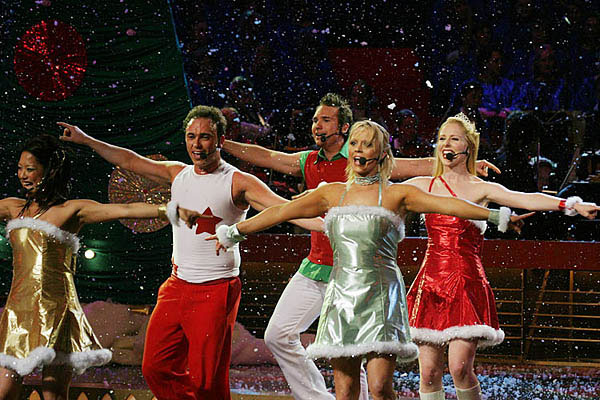 For Ballet Dance Companies we can place two of our snow machines at trim height over the stage. We will leave them on as we take the director to lunch, an hour later when we return the stage will be dry and the snow will still be falling.
We would be glad to give you a demo of our simulated snowflakes. Schedule an appointment 813 689 6269.
Value Snow, economical by virtue of being thicker, whiter and longer lasting.
We now have Value Snow fluid is recommended for use for long drops and needing snow to travel far, a "dry power" snow that is fluffy! No-slip formula. Not harmful to plants, skin or eyes. Safe for kids. High Quality fluid. An extremely dry flake that floats over long distances. Water content evaporates leaving a beautiful falling flake that is dry when you touch it and disappears after contact. Perfect for use where dry snowflakes are necessary without residue or mess. Produces a heavier flake which allows more volume of not producing the smallest flakes of 1/16 - 1/8 in size. The Snow is a light weight and floats and drifts in the air and when it lands it a white snow particle that evaporates on contact. That a snow fluid that last and floats longer and a dry flake lands unit contact is made. That as real as faux snow can be. Will make any machine pop.
Extra Dry Snow Juice Fluid - Most Popular Evaporative Formula. Specially formulated for the full range of snow machines available on the market today. Industry Standard Snow Fluid creates a high yield of dense, white, air-born snow ideal for any stage or theatrical setting.
PERFECT Snow Juice Machine Fluid - Flakes Perfect (30-50 Foot Float / Drop) Low Residue Formula. Specially formulated for the full range of snow machines available on the market today. Industry Standard Snow Fluid creates a high yield of dense, white, air-born snow ideal for any stage or theatrical setting. DRY Snow Juice Machine Fluid - Flakes (50-75 Foot Float / Drop)
Low Residue Formula. Specially formulated for the full range of snow machines available on the market today. Industry Standard Snow Fluid creates a high yield of dense, white, air-born snow ideal for any stage or theatrical setting.
LONG LASTING Snow Juice Machine Fluid - Flake (75 Foot Plus Float / Drop) Slow Evaporation Formula. Specially formulated for the full range of snow machines available on the market today. Industry Standard Snow Fluid creates a high yield of dense, white, air-born snow ideal for any stage or theatrical setting. The new formula snow fluid -Slow Evaporation Formula.
The new snow fluid will not have the smaller 1/6 - 1/8 flakes and will have 1/4 to 1/2 flakes. (at times the smaller 1/6 - 1/8 flakes doesn't make it to the ground) The flakes are design to fall and not evaporate for and until the entire fall of 30 ft 50, 75ft. Further more the bigger flake size is more visible because the elimination of the smaller flakes plus the volume increase of high yield of dense, ,snow. The snow instead of evaporating in a time frame 30 to 90 seconds, it evaporates on contact after the 30 foot fall. These flakes will not evaporate until they come in contact. Its a white snow so you have it fall the entire drop.
Evaporative Snow ™ is a laboratory formulated foam based solution that makes the brightest looking evaporative snow product.
Snow Services Frequently Asked Questions
What is Evaporative Snow made of?
Evaporative Snow ™ is a laboratory formulated foam based solution that makes the brightest looking evaporative snow product. It is basically 98 percent water and two percent surfactant. Surfactants are elastic chemicals that make the hollow flakes. This solution, used in our snow machines, creates a realist looking snowfall. The solution is aerated at 1/10,000. The water starts to evaporate within seconds making the flakes become smaller and lighter until they disappear. The surfactant chemical becomes microscopic particles. The surfactants used in our formulation are of the highest cosmetic grade possible.
Our snow fluid formula is made of 98.7 % De ionized filtered water and 1.3 % surfactant and other agents ( "surface active agent") Surfactants are wetting agents that lower the surface tension of a liquid, allowing easier spreading, and lower the interfacial tension between two liquids with Fatty acids, while fatty acids derived from natural fats and oils, a fatty acid is a carboxylic acid often with a long unbranched aliphatic tail (chain). The Snow Solution other % is Triethanolamine.
The Triethanolamine ingredient is used as a pH balancer in cosmetic preparations in a variety of different products - ranging from skin lotion, eye gels, moisturizers, shampoos, shaving foams etc
They are non-allergenic, biodegradable, non-toxic and non-staining. Other brands of snow fluid can make you cough or give a irritated throat. The water content evaporates quickly leaving a beautiful falling flake that is dry to the touch and disappears after contact leaving no residue or mess.
We have no alcohol in our snow fluid like other snow fluids that the flakes get smaller unnaturally as they float through the air
Will the Evaporative Snow ™ stain anything?
When our fake snow machines are used properly, they leave no moisture. We have been making it snow for almost 20 years, and we have never received one compliant about staining. Our fluid uses De ionized filtered water; this product was originally used in the movie industry so that if the snow landed on a camera lens it would not leave a water ring.
Is it slippery?
The product, when used with the right settings, can run continually without causing any damp or slippery surfaces. The non slip factor is based on the Fatty acid derived. We need a starting height of 15 and max height or 30 ft.
Can it be used around food?
Many caterers and event planners use this product as part of a display, entrance ways to a party or as a "wow" effect as guests sit to have a full course meal. It is also used for weddings as the bride and groom cut the cake. It is even kosher. The 99 steps of Flake control is the key. Its only a snowmasters snow machine feature.
Does it have an odor?
No, it has no odor or taste.
So what is it?
This is not ice or real frozen snow. The quick answer is its a fake snow flake, which is dense foam blown through a special filter that creates small and various sizes of tiny white bubble flake like clusters creating the illusion of snow. Once it falls to ground, snow will remain white for up to 90 seconds when it will disappear DRY.
Our Snow is:
MADE IN USA
REALISTIC SNOWFALL
BIODEGRADABLE
EVAPORATES WITHIN 30 - 90 SECONDS
FIREPROOF
NO MESSY RESIDUE NON SLIPPERY
ODORLESS
WON'T STAIN
NON-ALLERGENIC
KOSHER COMPLETELY SAFE WITH FOOD
SNOW LANDING ON A CAMERA LENS WILL NOT LEAVE A WATER SPOT
NO MOISTURE
NO CLEAN UP, NO MESSY RESIDUE & NON SLIPPERY, ONLY WITH SNOWMASTERS EVAPORATIVE SNOW™ BRAND
Static coefficient of friction
We are the only snow provider that tests snow fluid for wetness - slippage on various floor surfaces, a coefficient of friction meter test. We have had several independent tests recently with major theme park clients and past with flying colors. We also can provide coefficients of friction measurement slip tests for our clients when requested.
A 0.50 COF or above has been recognized as providing non-hazardous walkways surfaces which is accepted industry standards as adopted by UL, ASTM and OSHA. These agencies set many requirements for floor safety under 29 CFR-1910 referring to providing floors of anti-slip surfaces or maintaining surfaces in non slip conditions in commercial building. It is generally considered in the industry that a walkway surface with a coefficient of friction higher than 0.50 is non-hazardous.
In all cases, the coefficient of friction value increased after running hours of falling snow with Snowmasters Evaporative Snow® fluid brand.
Our snow fluid test results found that floor surfaces are rated drier by 0.20+ after we ran snow for a long duration cycles over time and tested the same surfaces when dry. No particle accumulated weigh on the surface either. That why you only see Evaporative Snow ™ machines and Evaporative Snow® fluid brand only used in theme parks worldwide.
Recent Results From Surface Slip Test Word Doc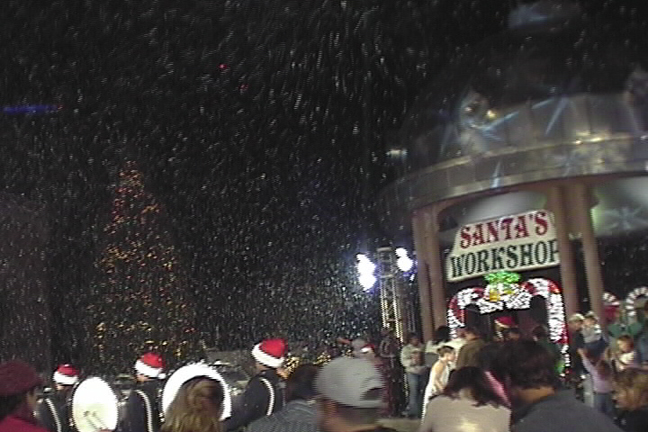 Please see side Menu for all Pages
Systems are Not Equal - Ever Wonder Why/Facts about Snow - Snow Option- Choices - Snow Clients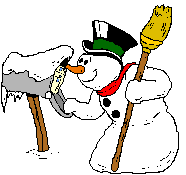 Call Us @ 813 689 6269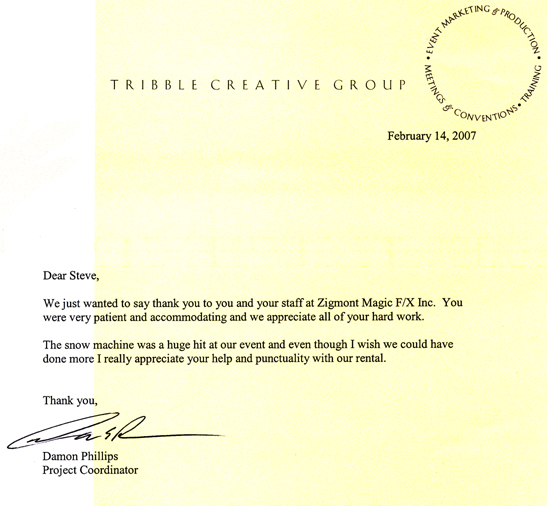 Magic F/X specializing snow displays, Fake snow shows, artificial snow machines for snowfall events - full service production of simulated realistic snow falling events and indoor blowing, snow machines, snow machine that produces snowfall simulation for theatrical and visual effects , snowmaker, snowmasters, snow maker, Snow Machine Generators. snow machine, artificial snowflakes, snowflake, snow machine, snow making machine, snowmasters display, snow, making snow, snow manufacturer, snow products, snow system, magic fx snow system, artificial snow, flakes, snowflakes, fake snow, fake snowflakes, plastic snow, holiday window displays, theatrical snow machine, snow simulation, snowfall simulation, snow machine snow maker snow machine for indoor snow shows. Learn how do you make artificial snow? How much is it to rent a snow machine? What does an artifical snow machine make?
Please see side Menu for all Pages
Systems are Not Equal - Ever Wonder Why/Facts about Snow - Snow Option- Choices - Snow Clients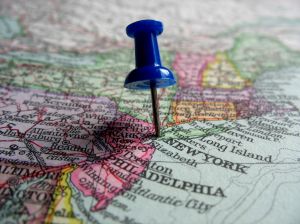 Our PinPoint List of cities we serviced
Effectspecialist.com provides snow machine rentals and Snow falling presentations with turn-key snow machine services We operate in North America United States we can service you in the follow cities with speedy services in;
Snowfall Events for Entertainment Venues and Shopping Malls Service in Alabama; Anniston, Birmingham, Dothan, Huntsville, Mobile, Montgomery, Tuscaloosa
High Range - High Volume Artificial or Fake Snow Flake Machines Service in Arizona; Flagstaff, Phoenix, Tucson, Yuma
Evaporative Snow Service in Arkansas; Eureka Springs, Fayetteville, Fort Smith, Jonesboro, Little Rock, Monroe
Snow machine from flurries to a beautiful full blown Snowstorm Blizzard Service in California; Anaheim, Antelope Valley, Antioch, Bakersfield, Burbank, Chico, Eureka, Fresno, Hollywood, Huntington Beach, Inland Empire, Lake Tahoe, Livermore Valley, Long Beach, Los Angeles, Medford, Monterey, Napa Valley, Oakland, Orange County, Palm Springs, Pasadena, Sacramento, San Diego, San Francisco, San Jose, Santa Barbara, Santa Monica, Temecula, Ventura County, Yuma
Theatrical Snow falling Service in Colorado: Aurora, Boulder, Colorado Springs, Denver, Fort Collins, Grand Junction, Vail,
Special effects Service in Connecticut, Danbury, Hartford, New Haven, Stamford
Fake snow machines Service in DC; District of Columbia
artificial snow Service in Delaware; Dover, Georgetown, Wilmington
special effect fake snow machines rentals Service in Florida; Boca Raton, Daytona, Florida Keys, Fort Lauderdale, Fort Myers, Fort Pierce, Gainesville, Jacksonville, Marco Island, Melbourne, Miami, Ocala, Orlando, Panama City, Pensacola, Sarasota, Tallahassee, Tampa Bay, West Palm Beach
snow machine rental Service in Georgia; Albany Athens, Atlanta, Augusta, Columbus, Golden Isles, Macon, Savannah
outdoor snowfall machines Service in Hawaii; Hawaii Island, Honolulu, Kauai Island Lanaie Island, Maui, Molokai Island
foam machine rental Service for Idaho; Boise-Pocatello, Coeur D Alene, Idaho Falls, Lewiston, Sandpoint, Twin Falls
falling snow with foam bubbles Service in Illinois; Bloomington, Champaign, Chicago, Davenport, Evanston, Mt. Vernon, Oak Lawn, Peoria, Quincy, Rockford, Springfield, Wheaton
falling snow machine Service in Indiana; Evansville, Fort Wayne, Hammond, Indianapolis, Lafayette, South Bend, Terre Haute
Evaporating DRY Snow machines Service in Iowa ; Cedar Rapids, Davenport, Des Moines, Ottumwa, Quincy, Rochester, Sioux City
rent snow machine and sell new machines Service in Kansas ; Dodge City, Goodland, Great Bend, Kansas City Lawrence, Manhattan, Salina, Topeka, Wichita
America's Finest Snow Effect Events Service in Kentucky; Ashland, Bowling Green, Elizabethtown, Hopkinsville, Lexington, Louisville, Owensboro, Paducah
artificial simulated Snowfall FX Service in Louisiana ; Alexandria, Baton Rouge, Lafayette, Lake Charles, Monroe, New Orleans, Shreveport
snow inside a venue or outdoors rentals Service in Maine; Augusta, Bangor, Lewiston, Ogunquit, Portland, Presque Isle, York
artificial outdoor snow falling Service in Maryland; Annapolis, Baltimore, Columbia, Eastern Shore, Laurel, Montgomery County, Rockville, Salisbury, Southern,
Western
Magic FX Service in Massachusetts; Birkshire County, Boston, Cape Cod, Lowell, Springfield, Worcester, Service for Michigan , Ann Arbor, Detroit, Flint, Gaylord, Grand Rapids, Jackson, Kalamazoo, Lansing, Marquette, Port Huron, Saginaw, Saint Clair Shores, Sault Saint Marie, Traverse City, Tri-Cities, Warren,
party foam machines Service in Minnesota; Duluth, Mankato, Minneapolis, Moorhead, Rochester, St. Cloud, St. Paul, Twin Cities
simulating snow flakes Service in Mississippi; Biloxi, Greenwood, Hattiesburg, Jackson, Meridian,Service in Missouri . Clinton, Columbia, Jefferson City, Joplin
snow displays Kansas City; Ottumwa, Paducah, Quincy, Sedalia, Springfield, St. Joseph, St. Louis,
Snow making machines Service in Montana; , Billings, Bozeman, Butte, Glendive, Great Falls, Helena, Missoula
Snow falling events Service in California; Anaheim, Antelope Valley, Antioch, Bakersfield, Burbank, Chico, Eureka, Fresno, Hollywood, Huntington Beach, Inland Empire, Lake Tahoe, Livermore Valley Long Beach, Los Angeles, Medford, Monterey, Napa Valley, Oakland, Orange County, Palm Springs, Pasadena, Sacramento, San Diego, San Francisco,
San Jose, Santa Barbara, Santa Monica, Temecula, Ventura County, Yuma
Fake snow machines Service in Nebraska ; Beatrice, Cheyenne, Freemont, Grand Island, Lexington, Lincoln, Norfolk, North Platte, Ogallala, Omaha, ScottsBluff
special effect snow falling Service in Nevada; Lake Tahoe Las Vegas, Reno
Fake snow Service in New Hampshire; Concord Dartmouth, Lakes Region, Manchester, Monadnock Region, North Woods, Seacoast Region, Southern, White Mountains
snowmaster snow machines Service in New Jersey; Atlantic City, Bayonne, Belmar, Bloomfield, Camden, Carteret, Hackensack, Hoboken, Jersey City, Montclair, New Brunswick, Newark, Old Bridge, Paramus, Point Pleasant Seaside Heights, Secaucus, Trenton, Wildwood
FX Snow ,Service in New Mexico Albuquerque, Santa Fe
special effect artificial snow Service in New York; Albany, Binghamton, Brooklyn, Buffalo, Burlington, Elmira, Hudson Valley, Long Island-Nassau County, Long Island-Suffolk County, Long Island-The Hamptons, Manhattan New York City, NY City, Oneonta, Queens, Rochester, Rockland, Staten Island, Syracuse, Utica, Watertown, Westchester,Service in North Carolina
Charlotte Durham, Fayetteville, Greensboro Greenville, Raleigh, Rockymount, Western, Wilmington, Winston Salem
special effects snow falling Service in North Dakota; Bismarck Dickinson, Fargo, Grand Forks, Jamestown, Minot, Williston
artificial snow falling events Service in Ohio; Akron Cincinnati, Cleveland Columbus Dayton Lima, Toledo, Wheeling, Youngstown, Zanesville
falling snow events Service in Oklahoma; Oklahoma City, Tulsa, Wichita Falls
snow falling FX machine Service in Oregon; Bend, Eugene, Klamath Falls, Medford, Portland, Salem,Service in
Special effect rentals Pennsylvania , Allentown, Erie, Harrisburg, Johnstown, Philadelphia, Pittsburgh, Poconos, State College, Wilkes Barre, York
snow shows Service in Rhode Island; Newport, Providence
snow displays Services in South Carolina ;artificial indoor snow Charleston, Columbia, Florence, Greenville, Hilton Head, Myrtle Beach, Rock Hill
Foam machine Service in South Dakota; Rapid City, Sioux City, Sioux Falls
snowmaster snow machine Service in Tennessee; Chattanooga, Jackson, Knoxville, Memphis, Nashville, Tri Cities
artificial simulated Snowfall FX Service in Texas ; Abilene, Amarillo, Austin, Bay City, Beaumont, Corpus Christi, Dallas, El Paso, Fort Worth, Galveston, Harlingen, Houston, Laredo, Lubbock, Odessa, San Angelo, San Antonio, Texarkana, Tyler, Victoria, Waco, Wichita Falls
artificial indoor snow Service in Utah; Provo, Salt Lake City
indoor snowfall machines Service in Vermont; Burlington, Manchester, Middlebury
simulated snow flakes Service in Virginia; Charlottesville, Fairfax, Fredericksburg, Hampton, Harrisonburg, Manassas, Norfolk, Northern, Richmond, Roanoke, Vienna
special effect snow Service in Washington; Olympia, Seattle, Spokane, Tacoma, Vancouver, Wenatchee, Yakima
fake snow machines Service in West Virginia; Beckley, Charleston, Clarksburg, Huntington, Parkersburg, Wheeling
artificial snowfall events Service in Wisconsin; Appleton, Ashland, Eau Claire, Green Bay, Janesville, Madison, Milwaukee, Oshkosh, Prairie du Chien, Racine, Rhinelander, Superior, Waukesha, Wausau
Theatrical Snow Service in Wyoming; Casper, Cheyenne, Gillette, Jackson Hole, Rock Springs
*Snowmasters invented the snow machine and holds the patents and licenses all Snow Machines Brands